Writer's Grove
Atticus and Oberon's Elevator Ride
July 28, 2013
Need to thank Houston yet again for being such awesome hosts! Had a great time at Murder by the Book with Jaye Wells, Nicole Peeler, Mark Henry, Delilah S. Dawson, and Liliana Hart! If you're near Austin, you can catch them Monday night on the Carniepunk tour at BookPeople!
But I cannot rest! I get to go to San Diego next, and if you've somehow missed this before, here we go: I have two events in San Diego, one on Tuesday, the 30th, and one on Wednesday, the 31st.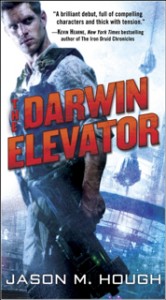 The first one (Tuesday) is a joint appearance with Jason M. Hough at Mysterious Galaxy in SD to launch his debut novel, THE DARWIN ELEVATOR. It's open to the public and if you are in SoCal and missed me earlier, this is your last chance to catch me this year. I won't be back until next Comic Con!
Jason's book is utterly awesome. Best sci-fi I've read in a long time, fabulous pacing, character-driven, and thank all the gods, never straying into that condescending professorial tone that sounds like LET ME EXPLAIN SCIENCE TO YOU NOW. In fact, I wrote a blurb for it and you'll see the short version of it on the front cover. Here's the long version: "The best part about alien stories is their mystery, and Jason M. Hough understands that like no other. Full of compelling characters and thick with tension, The Darwin Elevator delivers both despair and hope along with a gigantic dose of wonder. It's a brilliant debut and Hough can take my money whenever he writes anything from now on."
You know what's cool? Jason's second and third books will come out in August and September. It's that same bam-bam-bam release I had with my series. That tells you that the publisher believes in his books like they believed in mine. You guys are going to dig it!
So I hope to see you at Mysterious Galaxy at 7pm on Tuesday! Come meet Jason on his debut day and shake his hand before he's über-famous! And of course I'd be delighted to sign any (or all) of my books for you as well! If you can't make it to San Diego on Tuesday but would like to get a first-edition signed copy of THE DARWIN ELEVATOR, you can probably just give Mysterious Galaxy a call and they'll take care of it for you, shipping it out as soon as they can!
On Wednesday, July 31, Jason and I are having a ticketed event called Atticus n' Oberon's Elevator Ride. Tickets are all sold out and I'm looking forward to it—it'll be all tacos and tequila and spiffy readers who get things like limited-edition pint glasses with Oberon on it and other goodies.
After that I'll be disappearing from the Internet(s) for a couple weeks and returning August 14. Thank you all again for reading and for spreading the word! Hope I get to see you at some point down the road!