Writer's Grove
Elevengeddon Again!
April 19, 2016
It's time again for Elevengeddon, a multi-author sf/f extravaganza that bears little relationship to the number eleven!
It did start out with eleven authors, honestly, but the number grew to twenty and that's simply fabulous. So fabulous I think we need a Pulp-O-Mizer poster for it: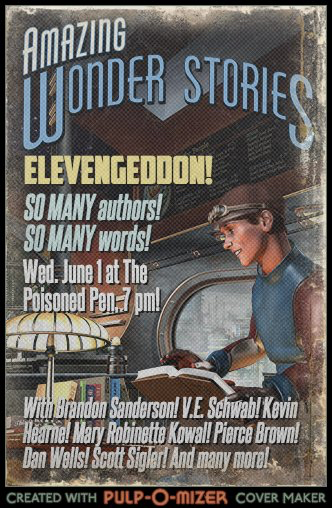 On Wednesday, June 1, at 7 pm, come meet a whole honkin' bunch of authors and get all your holiday/birthday shopping done by snagging signed books at The Poisoned Pen in Scottsdale! I'll be there, of course, but here's the full list of who else will be there, happy to sign and say hi and take a selfie and so on—and yes, they all deserve exclamation points:
Brandon Sanderson!
V.E. Schwab!
Pierce Brown!
Mary Robinette Kowal!
Scott Sigler!
Dan Wells!
Beth Cato!
Jason Hough!
Django Wexler!
Leanna Renee Hieber!
Sam Sykes!
Michael J. Sullivan!
Adam Christopher!
Michael Martinez!
Ryan Dalton!
Tom Leveen!
Myke Cole!
Joe Nassise!
Sarah Remy!
Not in Arizona but want to get signed books from any of these folks? Call The Poisoned Pen ahead of time and place an order and they'll ship anywhere in the world! Here's the event on The Poisoned Pen's site, which may/may not be updated to include all the authors above—my list is accurate, I promise! Hope to see you there if you can make it!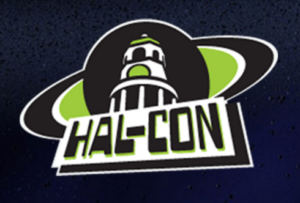 Also: Very excited to announce that I'll be a guest at Hal-Con in Halifax, Nova Scotia, from Nov. 4-6! This will be my first Canadian con, where I assume there will be poutine and beer! And also lots of spiffy people. My previous visits to Canada (Toronto and Vancouver) have been uniformly delightful and I expect this to be no different. So if you're available and of a mind, I'd love to see you at Hal-Con!