Writer's Grove
Iron Druid Tattoos!
May 27, 2013
I've had a fair number of requests to provide a detailed design for the Iron Druid tattoos, not only for cosplay but for people who might consider getting them for real. Well, here you go! Many thanks to Phil Balsman at Odin Star Industries for drawing these up.
We don't have the full body design here, but we have the arm stuff, which is what most people would see and cosplay. I do have a schematic for the whole body where there is a different sequence of knotwork for all the stuff a Druid can do, but getting it done would be costly and time-consuming when very few people would actually use it. I have high hopes, however, that I'll see some of this in cosplay at conventions in the future. :)
You are free to print out and use the designs below however you wish. If you print them out on temporary tattoo paper you'll be all set. I've provided the shapeshifting forms for Atticus only, and if there is significant demand I might provide the forms for Granuaile as well. If you're so inclined, now that you've seen the style you can of course design your own zoomorphic forms to suit you.
I will place smaller jpegs below, but for printing purposes, please download this PDF file.
First, here's a diagram showing how the tattoos should be placed: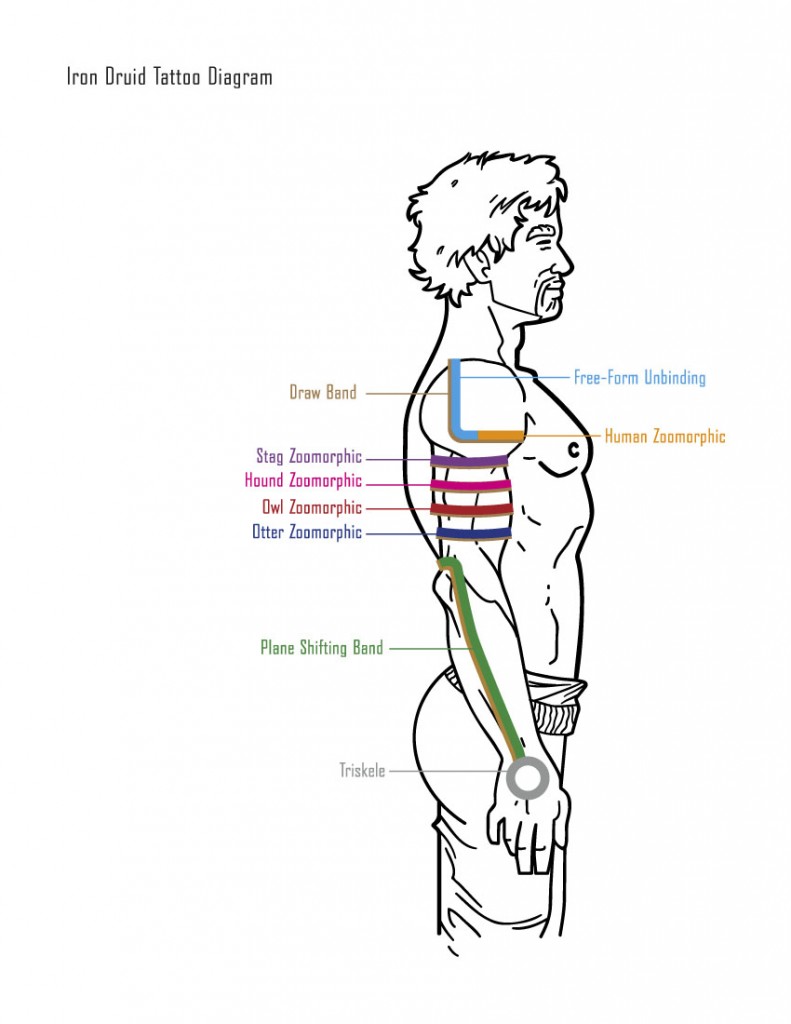 Next, we have the strip falling down from the top of the shoulder and the transition curve to the shape-shifting bands that wrap around the biceps: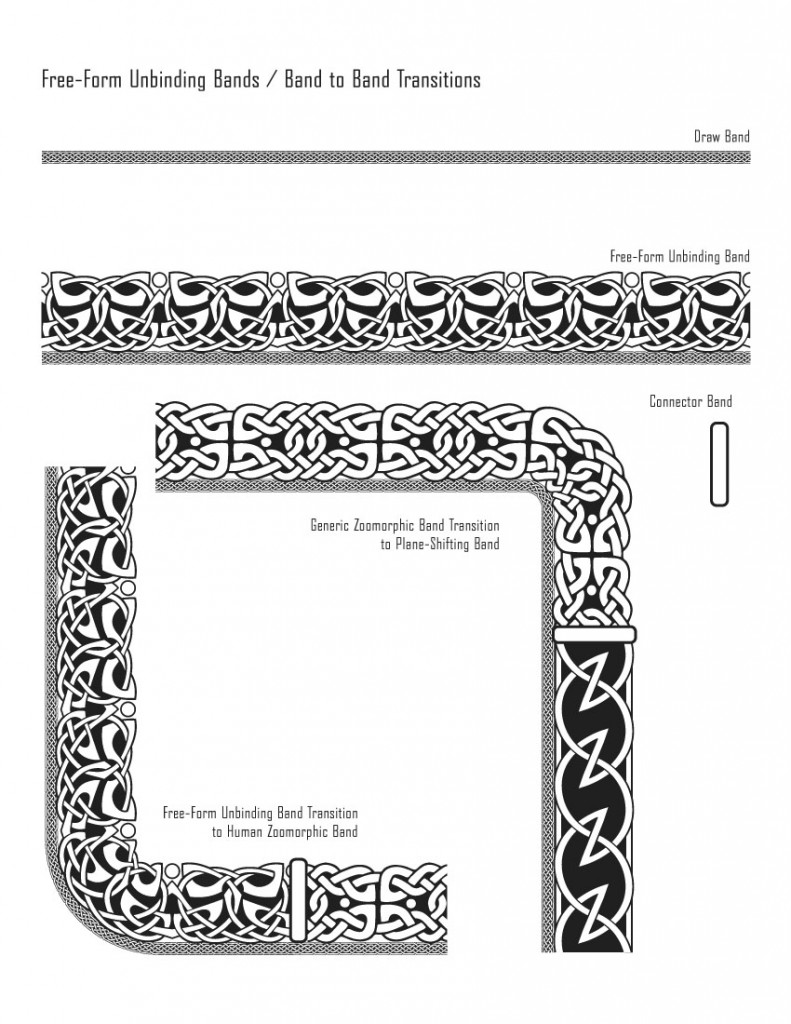 Here's all the fun: The shape-shifting bands. This will require some adjustment depending on the diameter of your arm. However, we've included another band of the default shapeshifting pattern to fill in as needed. When you first transition from the shoulder you'll probably find that the human form kind of disappears into your armpit, but hopefully you can work things so that the four animals appear on the outside of the arm. Use that extra default pattern to fill in!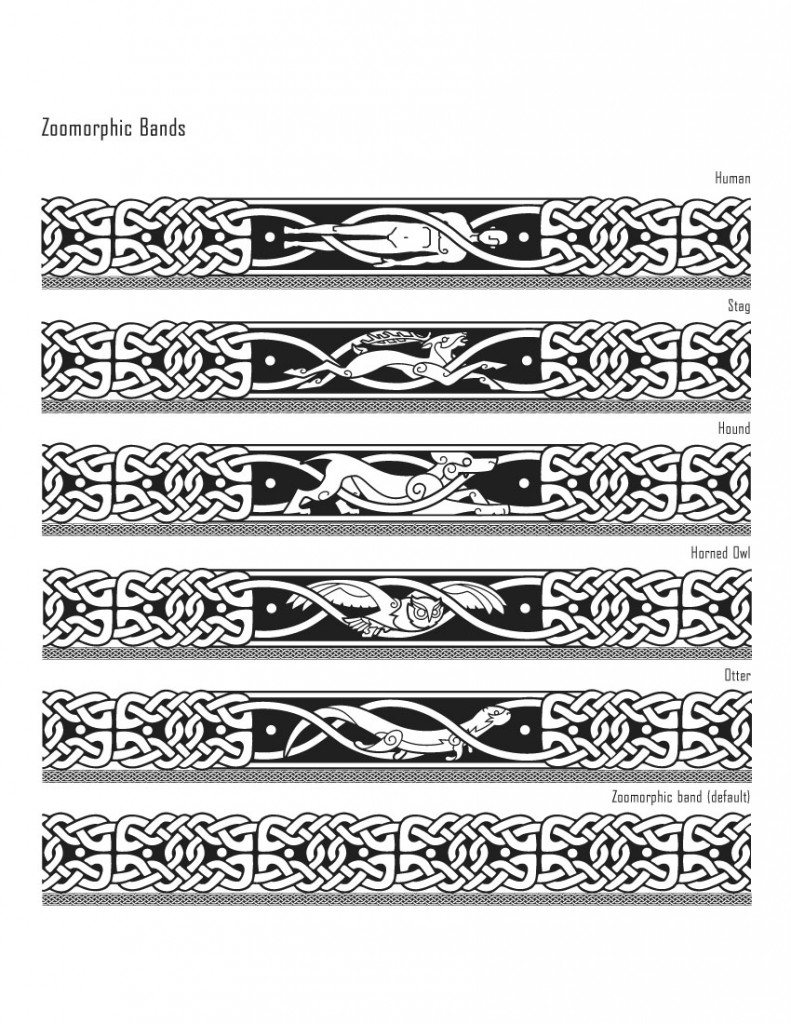 Lastly, you have the planeshifting knots down the forearm and the healing triskele on the back of the hand. The transition curve from shapeshifting to planeshifting can be found on the first page of designs. We have two strips of the planeshifting knotwork to allow for shorter or longer forearms. And then we've provided the triskele by itself and with the transition to the planeshifting knots.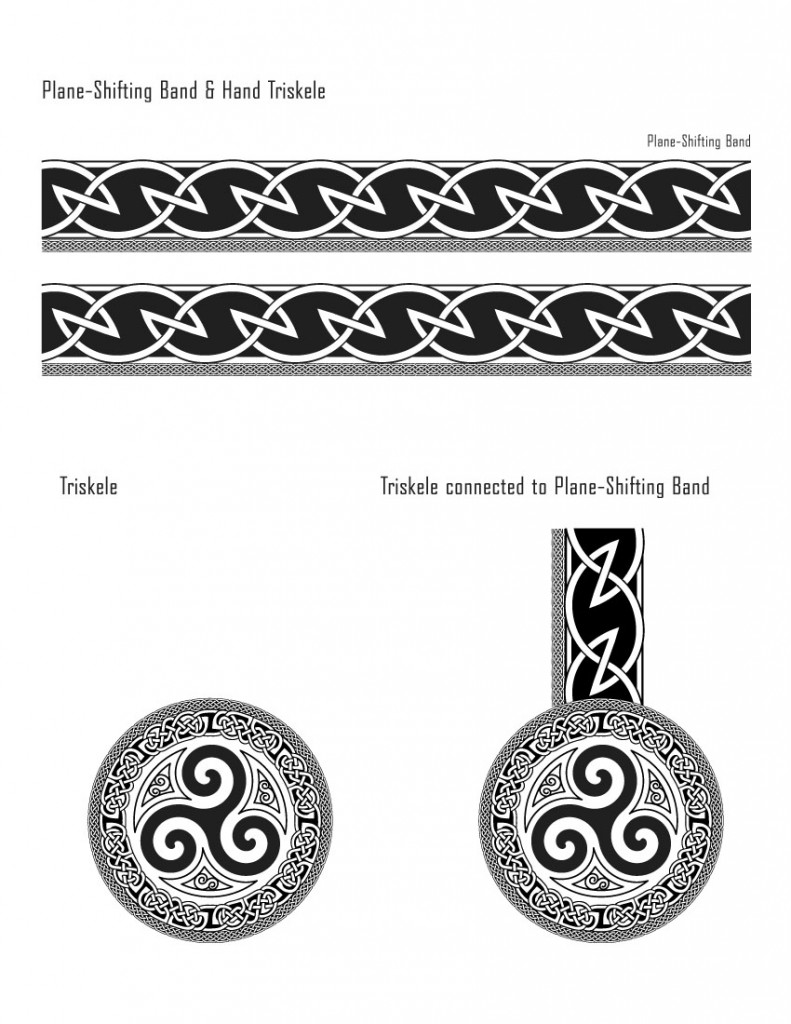 Happy cosplay!