Writer's Grove
Mugshot Contest!
January 3, 2014
Whilst going through my closet and garage as a sort of New Year's ritual—out with the old, you know—I ran into some pretty cool stuff. You know, this n' that. And all of that stuff added up to the point I figured I should give it away in neato little grab bags o' swag. I actually have real bags you can grab! Should you win, you'll get a random sampling of the goodies listed below:
*Four Third Eye Books & Herbs T-shirts, 2 large and 2 small. These are extremely rare—I only made 20 for my friends and my editors.
*Signed copies of HUNTED.
*A few bonus signed copies of THE DARWIN ELEVATOR by Jason Hough.
*Audiobooks on CD of HEXED. Couldn't believe I still had any of those.
*Extra author copies of various volumes of IDC from England and Australia, which are slightly different from the US versions, almost impossible to get hold of in the US, and pretty cool. I'd sign 'em for you.
*Some neato books that I enjoyed reading and am ready to share with others. I might send you one and write a brief review on the title page. So it wouldn't be signed by the author but it would be signed by this author.
*Signed Oberon bookmarks.
*Atticus n' Oberon pint glasses!
*You will definitely score Cheetos or something. I want my grab bags to be all that AND A BAG OF CHIPS.
THE MUGSHOT CONTEST RULES
*Anyone can enter but I can only ship grab bags to US residents. If you're overseas and you win, I'll send you a signed bookmark and a personal note, but no big parcels, sorry.
*Deadline for entries is Sunday, January 19. I'll post entries as they come in on my Facebook author page for everyone to admire.
*You are required to have fun making your entry. No point to it otherwise.
*Basically you're taking a picture and sending it to me as a jpeg using kevin (at thingie) kevinhearne.com. If it's not a jpeg or not sent to that address, it won't be entered. That picture must be a mugshot…of a mug. The coolest freakin' mug you can find. And then you need to have something completely weird next to your mug. A beaver. An action figure. A Wankel rotary engine. I don't care—it just needs to be visually arresting. Artistic. But I should probably stress there shouldn't be any naked bits. Let's make this a fun still life. Mugs should have coffee or tea or maybe Irish Coffee in them…something tasty.
*Photoshop filters and such are okay. I've done a couple example shots for you. I'm sure you'll do much better, but this is the kind of thing we're talking about…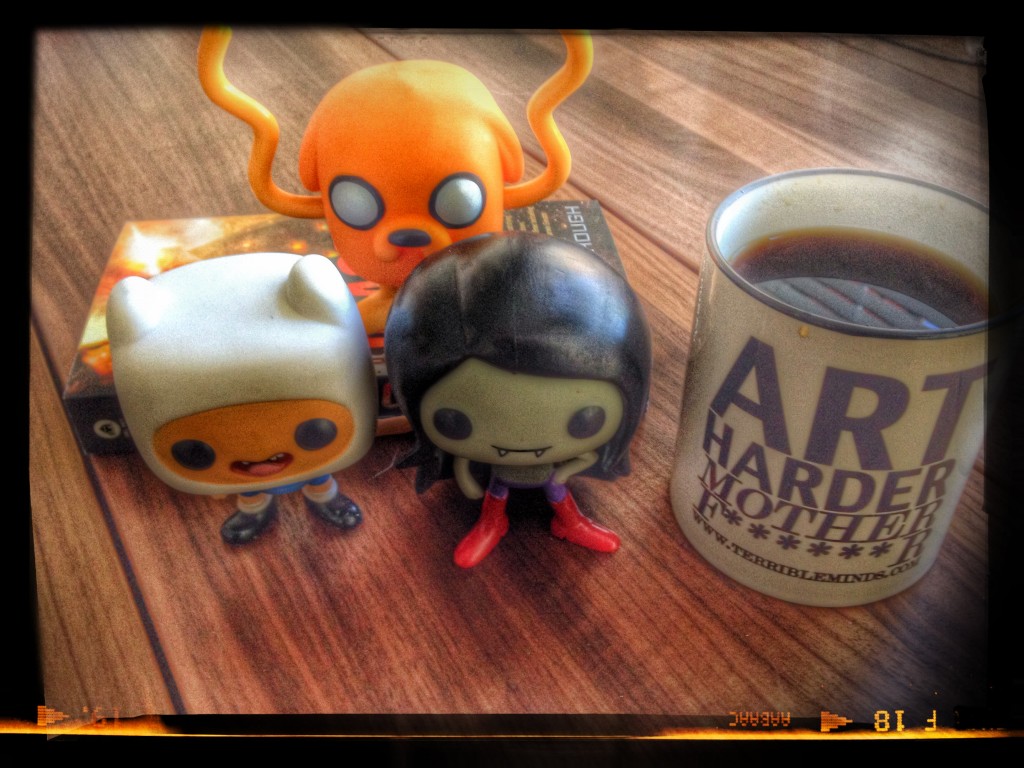 In this one I have Jake, Finn, and Marcelline from Adventure Time ready to go on an adventure with me, next to a mug designed by Chuck Wendig, which exhorts me to ART HARDER. You can kinda see the steam coming up from the coffee, which I think is rad. And the grain of the table gives it some action lines even though they're just chillin' there. HOLY HAMSTER CHEESE, THAT WAS FUN! LET'S DO ANOTHER ONE!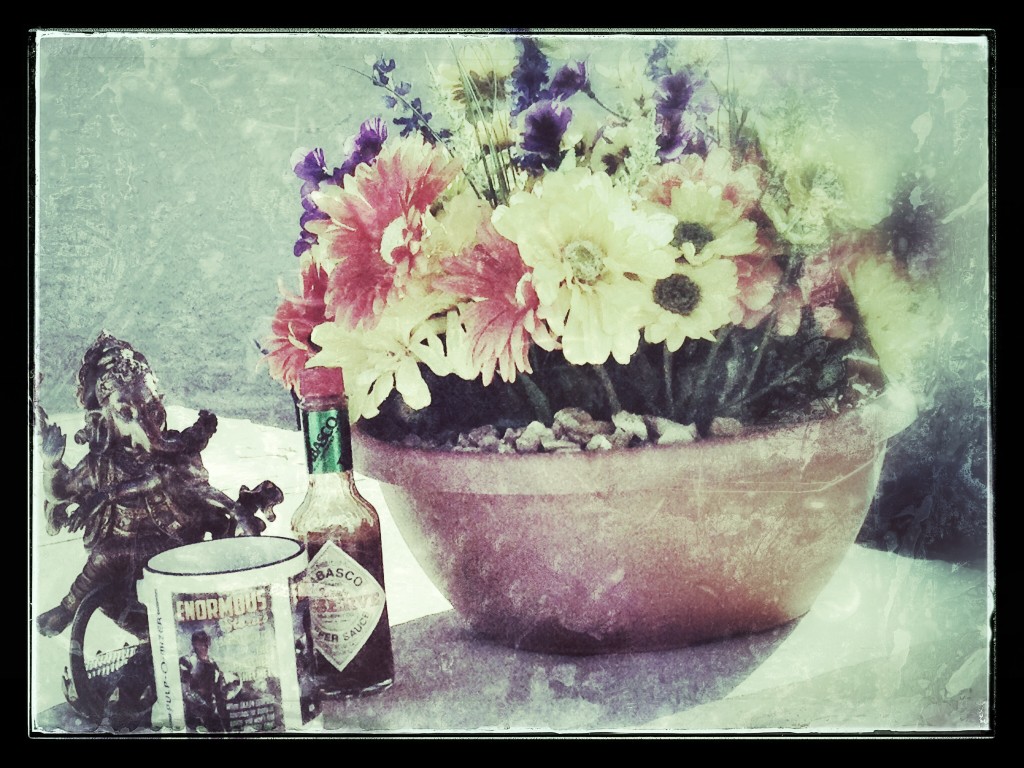 Here we have Ganesha, a bottle of Tabasco Reserve, and a lovely floral arrangement next to my coffee. This is my favorite SAXON CODPIECE mug, by the way. I applied a grungy filter to it and now it's like WHOA THIS IS EDGY SOMEHOW.
Who wins?
I'll probably pick 3-5 winners because I think they're gorgeous. Gorgeousness most likely derives from excellent composition, depth of focus, a sense of doge-like "very wow, much awesome," and spiffy mugs. Then I'll choose 5-7 more (adding up to 10 total winners) at random, so that everybody who enters has a chance to win regardless of their photography skills. US winners will get a grab bag o' swag full of random bookish goodies, and international winners will get the aforementioned signed bookmark and note.
Have fun! Get your favorite mug and make some art!