Writer's Grove
Tour info and other goodies
April 10, 2017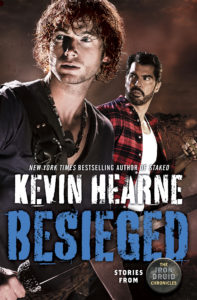 I'm excited about touring for BESIEGED because every single city on the tour (except for the last) will be a city I've never visited before! Since I'm based in the west it's tougher for me to get out east very often. Or, you know, at all. So I told my publisher I wanted to make a special effort this tour to head east since folks out that way have been very patient. Plus I want to meet them! And ride on a train. I want to see if the snacks are different from airplanes. Or if I even get snacks. Snacks are important. I'm watching you, Amtrak.
If you're anywhere near these cities, this is (an extremely rare) chance to say hi! Keep in mind a couple o' things:
1) I have absolutely no limits on the number of books I'll sign. Bring your copies from home. Bring your friends' copies. Or buy them all. Clean out the store's inventory! Either way, I'm there for you.
2) If you can't make any of these dates, call any of the stores and preorder whatever you like, and they will have me sign it for you while I'm there and then ship it to you or keep it for you to pick up at your convenience. I'm including phone numbers for that purpose. Do give them a call! I will not be selling signed copies of this on my website later.
So here's the tour:
July 11: Richmond, VA! Fountain Bookstore, 6:30 pm. (804) 788-1594
July 12: Washington, D.C.! Politics & Prose, 7 pm. (202) 364-1919
July 13: Baltimore, MD! Barnes & Noble, 7 pm. The Power Plant location, 601 E. Pratt St. Signing only, though we can chat and take a selfie when you get to the front!
July 14: Philadelphia, PA! Philadelphia Free Library, 7 pm. With special guests Chuck Wendig and Fran Wilde, who also write amazing books and will sign them for you and yeah I am already geeking out about this. This is going to be a heck of a good time. Books will be available for sale on site! At the Parkway Central Library, 1901 Vine St.
July 15: New Haven, CT! The Yale Bookstore, 2 pm. (203) 777-8440. Appearing with audiobook narrator Luke Daniels! Woohoo!
July 16: Cambridge, MA! The Harvard Coop, 2 pm. (617) 499-2000.
Appearing with audiobook narrator Luke Daniels! Squee!
July 17: Burlington, VT! Phoenix Books, 7 pm, 191 Bank St. (802) 855-8078
July 18 or 19, still confirming: Denver, CO! The Tattered Cover on Colfax, 7 pm. Appearing (I hope!) with Carrie Vaughn, who's launching a new series with BANNERLESS. Geeking out about this too because I must have it.
Sorry if your town isn't included—my travel budget is not unlimited and I can never visit all the places I'd like to.  The fact is we (the publisher and I) lose money on tours! We just do what we can because 1) holy crap I have to get out in the sunlight once in a while and 2) we like to make readers happy because readers are awesome. Hope you can make it to one of these if you're in the northeast!
OTHER GOODIES:
Iron Druid merchandise is now available at the Tinker's Packs and the majority of your purchase benefits Worldbuilders, a charity that helps feed hungry people through sustainable agriculture. They have Third Eye Books & Herbs T-Shirts and dishwasher-safe stoneware mugs, along with some pretty spiffy stickers that would look great on your laptop or bumper or whatever. Check it out—the mugs look like this:
If you like your speculative fiction with an Antifascist  tilt, then I have a deal for you! Join me in the Antifascist Fiction Club and get the spiffy enamel pin below. It requires a $20 Patreon subscription to Fireside Fiction but you get stuff: The pin! Amazing speculative fiction every month! (Seriously, Fireside is publishing the best authors these days.) Wallpapers from artist Galen Dara! And $5 goes to the ACLU and SPLC every month in your name!Peace & tacos, friends!