Welcome
to the website of
Kevin Hearne
Author of The Iron Druid Chronicles
You can navigate around the site using the spiffy links on the left. Writer's Grove is the name of my blog if you're looking for that.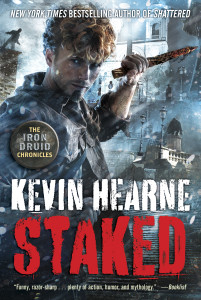 Staked
Out January 26!
Book 8 of the Iron Druid Chronicles is on the way!
Atticus, Granuaile, and Owen each have their own problems to solve,  but all roads lead to Rome and a showdown with the ancient vampire that engineered the destruction of the Druids at the hands of the Roman legions. Trouble is, he's got an awful lot of help…
Now available for pre-order in ebook and hardcover wherever you like to snag your books! (Pre-orders cost you nothing now but help authors mucho.) Audio pre-orders should show up near the end of December.
…or your favorite indie store!
Tour information coming soon!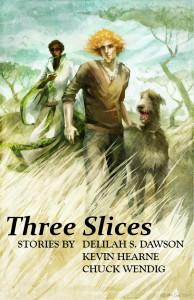 Three Slices
All-new Atticus & Oberon! Out now!
This anthology of three novellas contains IDC 7.5, A PRELUDE TO WAR. It picks up right after SHATTERED, book 7, and gets you primed for book 8, STAKED (which I'm working on now).
It also features novellas by two of my favorite writers, Delilah S. Dawson and Chuck Wendig. If you've never sampled their work before, you're in for a good time. And if you have sampled their work before, then you know that there's awesome ahead!
THREE SLICES is out now in ebook and audio! You can find it on  iTunes, Amazon, Nook, and Audible.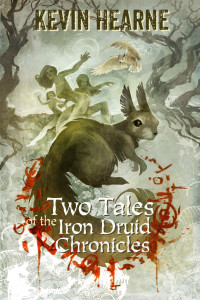 SQUIRREL!!!
A couple o' short stories for just 0.99!
So turbo happy to have this cover by Galen Dara for Two Tales of the Iron Druid Chroncles, out now in ebook and audio! Includes the stories "Kaibab Unbound" (which is the inspiration for the cover illustration) and "A Test of Mettle." Available in the usual places—
0.99 Ebook: iTunes Nook Kindle
Audiobook narrated by Luke Daniels: Audible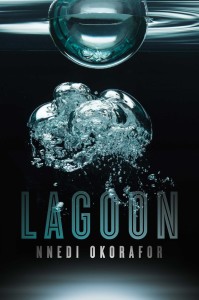 What I'm Reading
I read several books at a time. Here's my current list:
Lagoon by Nnedi Okorafor
Such vibrant writing, fascinating humans and really cool aliens. Enjoying this very much!
Nemesis Games by James S.A. Corey
Have you started The Expanse? Ye should!
Wake of Vultures by Lila Bowen (Advance Copy)
Ye gods, this book is so damn good. A must-read. Pre-order and give a gift to your future self.
Series you gotta start if you haven't already:
DIRTY MAGIC by Jaye Wells
DEAD THINGS by Stephen Blackmoore
MY LIFE AS A WHITE TRASH ZOMBIE by Diana Rowland
And anything, really, written by a member of the Holy Taco Church.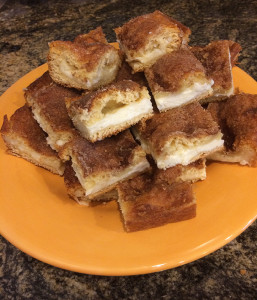 MACHURROS!
OM NOM NOM OMG
When young churros grow up and become mature churros we call them MACHURROS. Cinnamon-sugar topped pastry with cream cheese filling? HECK YES!* Click here to get the easy-bake recipe and impress your friends.
*May destroy your pancreas, but what a delicious way to go!
"Hearne, a self-professed comic-book nerd, has turned his love of awesome dudes whacking mightily at evil villains into a superb urban fantasy debut."
"This is the best urban/paranormal fantasy I have read in years. Fast paced, funny, clever, and suitably mythic, this is urban fantasy for those worn-out of werewolves and vampires. . . . Highly recommended."
More Reviews