Home
Welcome to the website of Kevin Hearne, author of The Iron Druid Chronicles. You can navigate around the site using the spiffy links at the top of the page. Writer's Grove is the name of my blog if you're looking for that.
The first six and a half books of the series are now available, and there are handy links to order them if you head over to the Books or Novellas pages and choose one—a veritable cornucopia of vendors await your mouse click! I also have a couple of short stories out there in anthologies; details on those as well as some free stories are available on the Short Stories page.
In case you're in the gift-giving mood and you'd like to send someone signed & personalized books for a birthday or whatever, you can call The Poisoned Pen toll-free or order online. Please note that they are an indie store and can't do super-fast shipping, but they can grab me anytime and get something special done for you. Their number is 1-888-560-9919.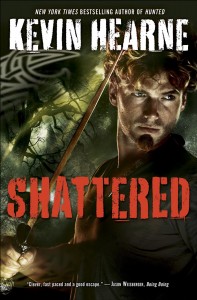 Upcoming work: Book 7 of the Iron Druid Chronicles, SHATTERED, will be out June 17, 2014, in hardcover, e-book and audiobook. I'm working on some other projects and those should drop sometime in 2015. Pre-ordering for SHATTERED is available on Amazon and B&N and maybe elsewhere too; Audible usually puts up its pre-order links about a month before the publication date, so check for it in late May.
Here's what Publisher's Weekly says about HOUNDED, book one, in a Starred Review: "Hearne, a self-professed comic-book nerd, has turned his love of awesome dudes whacking mightily at evil villains into a superb urban fantasy debut." Read the full review here. And there are more reviews on my Reviews page, plus the flood of stuff you can find out there on the Internet.
From John Ottinger III, editor of GraspingForTheWind.com: "This is the best urban/paranormal fantasy I have read in years. Fast paced, funny, clever, and suitably mythic, this is urban fantasy for those worn-out of werewolves and vampires. Fans of Jim Butcher, Harry Connolly, Greg van Eekhout, Ben Aaronovitch, or Neil Gaiman's American Gods will take great pleasure in Kevin Hearne's Hounded. Highly recommended."
There are lots of goodies on the appropriately titled Goodies page—Google maps of the books and outtakes and so on—and please don't be shy about contacting me using any of the addresses on the Contact page!