Welcome
to the website of
Kevin Hearne
Author of The Iron Druid Chronicles
You can navigate around the site using the spiffy links on the left. Writer's Grove is the name of my blog if you're looking for that.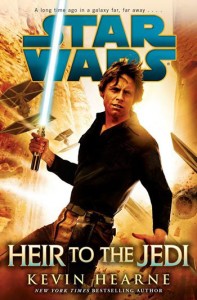 Out March 3
Pew! Pew! Pew!
I wrote a Luke Skywalker novel from his first-person POV. Set between Episode IV and V, this is a standalone canon adventure that you can enjoy without having read any other Star Wars books.
You can pre-order the hardcover, ebook, or audiobook now wherever you like to buy your books. Hope you guys enjoy it. This link will give you a good idea of what it's all about and give you handy access to vendors if you wanna snag it.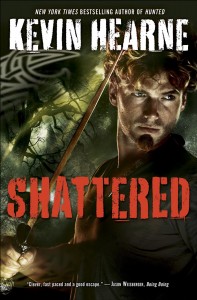 Coming in 2015
A novella, a short story, and a paperback!
A PRELUDE TO WAR will be an Iron Druid novella that picks up just a couple days after events of book 7, SHATTERED. It will be part of a three-novella anthology called THREE SLICES, and yep, it'll have an audio edition. Release date forthcoming.
The paperback edition of SHATTERED will come out March 31. You can pre-order it now!
"Goddess At The Crossroads," an Iron Druid short story, will be in an anthology out from Subterranean Press later in the year—release date forthcoming.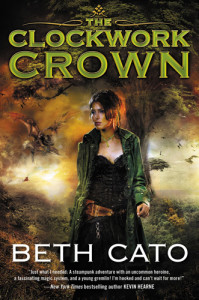 What I'm Reading
I read several books at a time. Here's my current list:
TRIGGER WARNING by Neil Gaiman
THE CLOCKWORK CROWN by Beth Cato (this is an ARC, the book is out June 9 and you can pre-order it now)
THE DIRE EARTH by Jason M. Hough
Series you gotta start if you haven't already:
DIRTY MAGIC by Jaye Wells
DEAD THINGS by Stephen Blackmoore
MY LIFE AS A WHITE TRASH ZOMBIE by Diana Rowland
And anything, really, written by a member of the Holy Taco Church.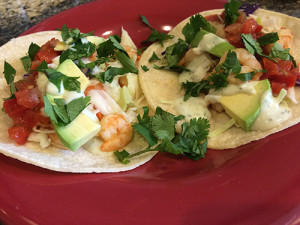 Shrimp Tacos w/ Cheat Codes
Beach food in the winter!
I know that shrimp tacos are kind of a summery thing but we're going to cheat and make them now. It'll be summertime on your tongue. Recipe here. NOM NOM NOM
"Hearne, a self-professed comic-book nerd, has turned his love of awesome dudes whacking mightily at evil villains into a superb urban fantasy debut."
"This is the best urban/paranormal fantasy I have read in years. Fast paced, funny, clever, and suitably mythic, this is urban fantasy for those worn-out of werewolves and vampires. . . . Highly recommended."
More Reviews