Say howdy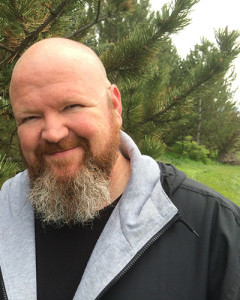 Wanna say hi to Kevin? Social media links are at the bottom of the page (where it says "I get around"). You can email using kevin (at thingie) kevinhearne dot com for personal stuff, info (at thingie) kevinhearne dot com for professional things like interviews or review copies or appearances.
Kevin hugs the hell out of trees and loves doggies and living in Colorado with his family. He is also fond of comic books, whiskey, beer, tacos, fresh air, clean energy, and friendly people. He's prone to singing in parking lots if you get him drunk enough and has been told that his handwriting is really quite lovely.
Oh, also? If you sign up for Kevin's newsletter, it'll show up in your inbox around the middle of each month and let you know what he's reading, where he'll be, what's coming next, and Oberon will talk about meat and whatever else is on his mind!