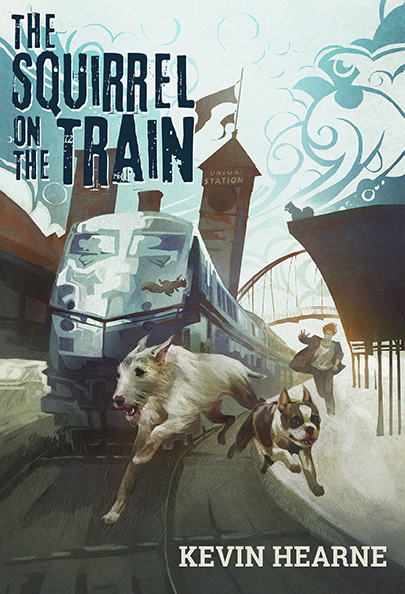 Order The Book
The Squirrel on the Train
Oberon the Irish wolfhound is off to Portland to smell all the things with his canine companions Orlaith and Starbuck, and, of course, his human, ancient Druid Atticus O'Sullivan. The first complication is an unmistakable sign of sinister agendas afoot: a squirrel atop the train. But an even more ominous situation is in store when the hounds and Atticus stumble across a murder upon arriving at the station. They recognize Detective Gabriela Ibarra, who's there to investigate. But they also recognize the body—or rather that the body is a doppelganger for Atticus himself. The police, hampered by human senses of smell and a decided lack of canine intuition, obviously can't handle this alone. Not with Atticus likely in danger. Oberon knows it's time to investigate once more—for justice! For gravy! And possibly some greasy tacos!
Review from Publisher's Weekly: 
Quick-witted, mystery-solving pooch Oberon gets a new friend in author Hearne's side-splitting newest fantasy novella set in the Iron Druid universe. This time, Oberon, an Irish wolfhound, is aided by his mate, Orlaith, and a recent addition to their pack, a Boston terrier named Starbuck. The little newcomer was adopted by Atticus the druid, Oberon's human companion, after his previous owner died. Atticus smuggles the canines by train to Portland, Ore. They intend only a sniff at the lovely local parks, but an evil squirrel leads them on a chase to the scene of a murder—and the victim looks exactly like Atticus. Hearne's hilariously conceived, well-rounded doggy detectives are champs at helping solve the mystery. As always, Oberon, Orlaith, and Atticus make a wonderful pack, and Hearne puts as much depth into this short story as he does into his novels. Series fans will be greatly entertained.