Writer's Grove
New Orleans and Phoenix!
September 24, 2016
I get to hang out with all the cool kids in New Orleans next weekend from Sep. 30-Oct. 2 at Nola StoryCon—but if you're not attending the con you can still see me!
I'm jazzed because I'll be there during the release of my novella, THE PURLOINED POODLE. Murder By The Book is doing the book sales there and they are one of only two places left where you can score a print copy (the print run was limited and they're sold out online). So here's the deal: On Saturday, Oct. 1, at 2 pm, both people attending StoryCon and the general public can attend the huge signing at the Wyndham Garden Baronne Plaza ballroom in New Orleans. I'll be there signing whatever—THE PURLOINED POODLE, the Iron Druid series, your forehead, a pack of sausages, whatever you like. They ask that you bring no more than 10 books from home—please buy something from Murder By The Book!
Who else will be there signing at the same time? OMG LOOKIT: Ilona Andrews, Jeanine Frost, Kelley Armstrong, Jennifer Armentrout, Melissa Marr, Lara Adrian,  Jeanette Battista,  Jenna Black, Kresley Cole,  Zoraida Cordova,  Cora Carmack,  Jay Crownover,  Kimberly Derting,  Sonali Dev,  Kami Garcia,  Molly Harper,  Wendy Higgins, Beverly Jenkins, Sophie Jordan,  Katie McGarry,  Chloe Neill,  Jana Oliver,  Pamela Palmer,  Aprilynne Pike,   Kristen Proby,  Gena Showalter, Rachel Vincent,  Jaye Wells,  Sarah Wendell, and  Samantha Young!
That is one heck of an event. Y'all should come.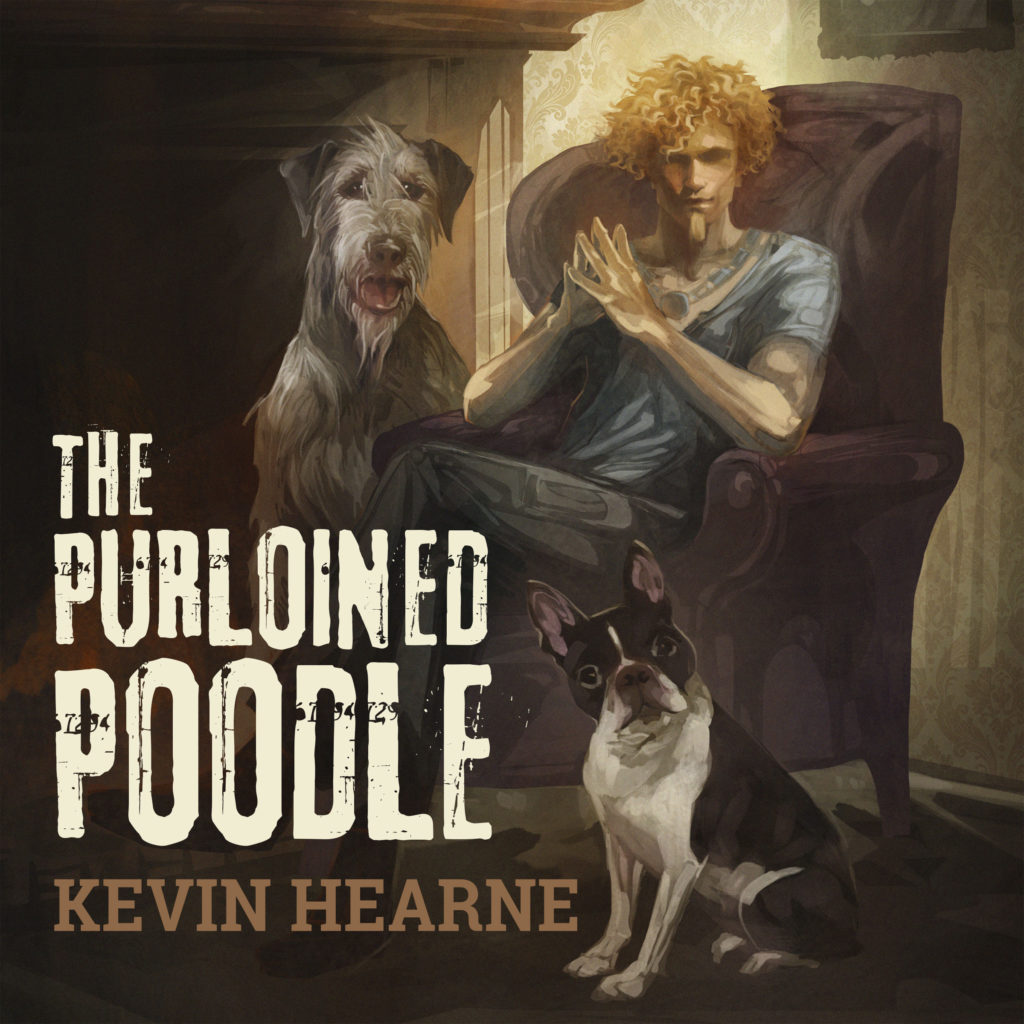 Can't make it to New Orleans? Well, maybe you can come to the Phoenix area on Monday, Oct. 3, at 7pm, at The Poisoned Pen! I'll be there signing THE PURLOINED POODLE and whatever else you'd like. It'll just be me, alas, not all those other authors in New Orleans. But on the upside, I'll tell folks there about the new stories I'm working on for BESIEGED, the Iron Druid collection coming out next summer.
Can't make it to either New Orleans or Phoenix? Well, you can score THE PURLOINED POODLE on ebook from Amazon, B&N, and iTunes, and in audiobook form, narrated by Luke Daniels, on Audible! (Reminder: Preorders are spiffy!) I hope y'all enjoy the story. It was plenty o' fun to write and I hope I'll get to write more like it. Peace & sausage~
Kevin