I have TWO spiffy deals for ya! First up, an ebook deal for US/Canada only. (It was put together by my US publisher so I can't do anything about it not being available overseas, sorry. Orbit UK would need to put together a similar package if you're overseas.)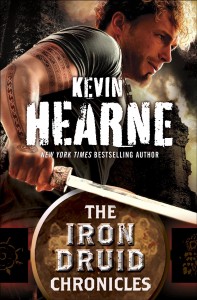 It's the first six books of IDC, plus two novellas and two short stories for $37.99! If you were to buy the paperbacks and the novellas you'd pay $53.92, so that's a huge chunk o' savings, and a great gift for peeps in your life who dig ebooks! Links here: Kindle, Nook, Kobo, iBooks,Google Play, and Books-A-Million.
SECOND DEAL (extended bonus intro): Ever since SHATTERED came out I've been getting requests to write THE BOOK OF FIVE MEATS, Oberon's magnum opus on his favorite subject. I admit that the project has appeal to me but I have little time to devote to it when I still have Other Books to write. Still, a wee bit o' fun might be had. Oberon has certainly begun to work on it, and maybe he'll finish it before he gets distracted by something else. Would you like to see the introduction, before his first recipe? Here it is:
The Book of Five Meats, Vol. 1: Sausage!

By Oberon, the Irish Wolfhound

(with a tiny bit of help from Atticus because he has thumbs)

 

Okay, I'm going to write this, but writing a book is hard—especially with Atticus as your editor. NO, ATTICUS, YOU LEAVE THAT IN BECAUSE IT'S TRUE.

I'm going to tell you the truth about meat now, and it's the undisputed truth among people who aren't vegetarians! Are you ready? Here it is: Meat is delicious!

But some meats are more delicious than others. Some meat is overcooked; some meat is spoiled; and some meat is served in 24-hour waffle joints, and it is my duty as a hound to help you avoid the terrible fate of eating any of it. I know that pedantic people—and I should totally get a snack for using pedantic properly—pedantic people could argue with the details of my classification system and say in a snooty voice, "Well, actually, Oberon, blah blah blah," but I'm not going to listen to them because they said actually with an unacceptable amount of snoot. Even if they're pedantic butchers, I won't listen. Humans are omnivores, so what do they know? The way this hound sees it, there are five basic kinds of meat, and I classify them like this: Beef! Poultry! Seafood! Deli! And Sausage!

You are not allowed under any circumstances to leave off the capital letter or the exclamation point when talking about these meats as one of the Five Meats. This is vitally important.

For example: When speaking of beef bouillon or ground beef or other recipe names or ingredients, leave out the capital letter and exclamation point. But when you are in the mood for Beef! for dinner, you capitalize and include the exclamation point. You will be excited and enjoy your dinner more: I promise. You will sit down with your family and say, "We are having Beef!" and there will be joy.

I will delve into the other four meats in other volumes—and yes, I am including freshwater creatures in Seafood! because there wasn't a single human in charge of dictionaries who had the foresight to call it Waterfood!—but this volume is dedicated to the meat nearest and dearest to my heart: Sausage!

In this volume, I'm going to share with you some Sausage! wisdom and recipes that Atticus and I have accumulated over the years and I hope you will find them delectable and filling and maybe you will even have some hot poodle dreams after you eat them like I do.

A warning before I begin: Follow all food safety rules that humans say you should follow. Humans are very good about establishing rules so I will direct you to one of them if you don't already know how to keep food safe to eat. All of the humans who follow cooking rules are on TV and have bad haircuts.

And TURBO WARNING: You should probably not share these recipes with your own hounds unless you are giving them Immortali-Tea like Atticus is giving me. Hounds will eat almost anything, of course, but human food is not always good for them. Excessive fats in Sausage! could give them pancreatitis, onions can poison their blood, and so on. Enjoy these recipes with your human friends and family and then give your hounds a belly rub and a safe snack to eat.

I should probably also mention that my recipes will have two different settings:

1) "I can do that!" in green text and

2) "GODS BELOW, OBERON, ARE YOU SHITTING ME?" in red text and said in the precise tone of voice Atticus uses when he feels his boundaries have been violated. And yes, I made Atticus do all of these things for testing. You have to test recipes before you print them and we conducted extensive tests because I wanted this book to be good.

Shall I give you an example of these settings from my ingredients?

1) A stick of salted butter from your local store, or

2) A stick of salted organic pasture butter made from the milk of Brighid's personal heifer and churned by an Amish bachelor named Jedediah on a Pennsylvania homestead. I'm not kidding about Jedediah. Atticus had him whip up a batch on a Tuesday and the man knows his butter; he's like a Butter Wizard. He might sell you a pound for three ancient Roman denarii or a favor to be named later.

And why do I do this? Better ingredients, better Sausage! Oberon's!
Heh! Good times.
Oberon wrote his first recipe after that and I'm including it as a freebie for those who'd like to give the gift of IDC for the holidays. I work with an indie bookstore in Arizona called the Poisoned Pen that ships signed editions anywhere in the world. Since I've moved to Colorado, though, I'm not quite as close to the Poisoned Pen as I used to be, so it's not as easy to sign books as needed like I did before. I have to plan. So here's the plan AND THE DEAL:
I'll be in Phoenix on Nov. 24 to sign & personalize books. Order between now and Nov. 15 (to give them time to order all they need) and the Poisoned Pen will ship 'em out to you before Thanksgiving so you'll have them before Christmas or Kwanzaa or Damn Let's Just Eat a Lot!
They have some in stock and you can get signed copies now if you like. But if you are okay with waiting until I get there, say so in the Instructions field ("Please hold until Kevin signs on Nov 24″) and then ALL OF THIS WILL HAPPEN IF YOU ORDER SIX OR MORE SIGNED IDC BOOKS:
1. I'll sign your books and personalize them too if you want (you leave that in the Instructions field also)
2. I'll throw in a signed Oberon bookmark
3. I'll also send you Oberon's first sausage recipe in THE BOOK OF FIVE MEATS, including the two different difficulty settings and photos.
Doesn't matter to me which six books you order. You can order six copies of Hounded to give away if you want—great stocking stuffers. :)
And if you just want one or three signed books and don't care about the rest of it, that's cool too! You can still have the Poisoned Pen hold on to them until I get there on Nov. 24 if you'd like them personalized, just say so in the Instructions field.
DEAL RECAP:
1) Ebook bundle deal in the US/Canada where you get six books, two novellas, and two short stories for cheap, bought wherever you buy ebooks
2) Order any six autographed IDC books from the Poisoned Pen, have them hold it until Nov. 24, and I will sign them and also send you a signed Oberon bookmark and his first Sausage! recipe from THE BOOK OF FIVE MEATS.
Hope one of those deals appeals to you, and thanks as always for reading & spreading the word! Peace & sausage~