Tacos have recently become very important in my life. Through a bizarre chain of events that could only happen on Twitter, for example, I was elected Tacopope in less than 140 characters. Somebody on the Internet(s) made me a Tacopope hat in Photoshop after that so I guess it's ironclad now and there's no escape.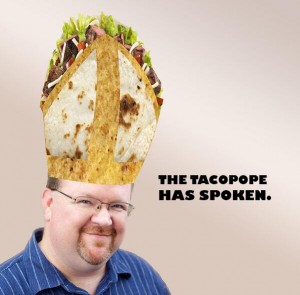 I have a taco-related thing I'm planning with some other authors happening soon, and there will be a panel called the Taco Council at Phoenix Comic Con. So you can imagine my joy when I learned of a place in Phoenix nearish the convention center called the Taco Guild, and that this particular gastropub resides in the bones of an old church, giving their tacos a somewhat holy sheen. A chorus of angels—faint but discernible—holds a beautiful major fifth for ten seconds when your order arrives. Everything about the place is turbo spiffy, so I'm going to geek out on it now.
First: The building. I wasn't kidding—it's really an old church. Behold: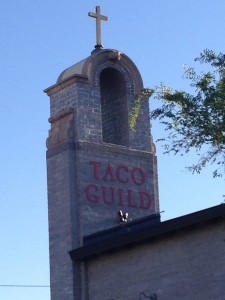 And yeah, inside? Gorgeous vaulted ceiling, a fresco, a chandelier in an iron sphere, and the original stained glass is still there from the church.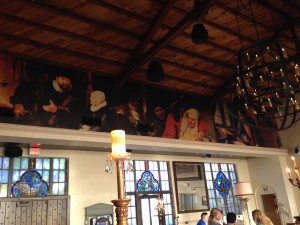 Go into the dude's restroom and you get painted portraits of hounds in uniform, which I thought Oberon may or may not have appreciated but which I certainly did: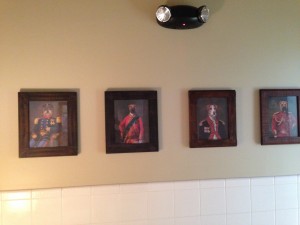 They have all local brews on tap. Stuff from Four Peaks (a brewery which is mentioned in HAMMERED), some brews from SanTan, and even three beers crafted by Cartel Coffee Lab, which is now the real-life location of Third Eye Books & Herbs (see this post for details on that).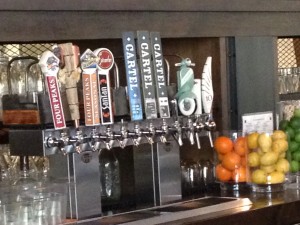 Oh, you know what else is cool? The people who work there. I am pretty tired of safe corporate restaurants where employees aren't allowed to have anything pierced or dyed or tattooed. At the Taco Guild they love all that beautiful shit. Our server, Julia, was proof. She had awesome ink on her arms and neck, loud pink hair—all the cool things, basically. Other servers were a bit more conservative in their dress or hair or whatever, but I appreciated that it wasn't all uniform and they were allowed to be themselves. One dude was super clean-cut and next to him was a guy who must sing I AM BEARD, HEAR ME ROAR every morning. All of it good. The Taco Guild is sticking it to the Man and his rigid code of conformity. Hallelujah.
Maybe I should start talking about the tacos. No, wait! First, the holy guacamole. THE JALAPEÑO BACON GUACAMOLE.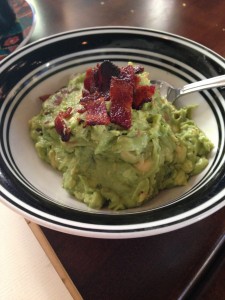 Okay, now let's talk tacos. It's all a la carte but if you order three you get a free side. The tacos are street-sized…you know, the small ones. But the fillings, my friends! The fillings! Take a gander at this menu. DUCK. LAMB. ALL THE MEATSES, PRECIOUS, MARINATED IN LOVE.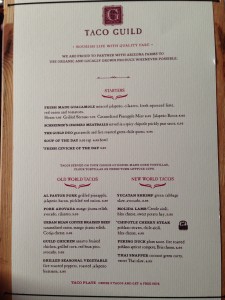 Here's the three I got: from left-right, you have the cherry chipotle steak, the urban bean coffee braised beef, and the al pastor. So freakin' nom nom. I was told the duck was good enough to inspire glossolalia and the lamb was ermahgherd-good. Oh, and that side dish is the Borracho Red Beans. :)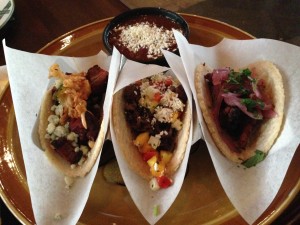 They have an extensive tequila menu as well, of course, and colorful drinks that aren't the usual thing. My wife and I were there with Hillary Jacques and her family (Hillary wrote a story in the CARNIEPUNK anthology and she's five kinds of rad), and Hillary enjoyed a drink called a Salty Chihuahua: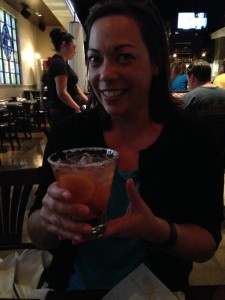 One thing they didn't have that I wish they did? Churros. Glorious gourmet churros like they have at Barrio Cafe in Phoenix. They did have an interesting dessert called the Tres Leches Cake—three different milks in the batter, I guess, basically a super-moist spice cake. But it wasn't churros with strawberries and cream or churros drizzled with chocolate and caramel or dang it churros with ANYTHING.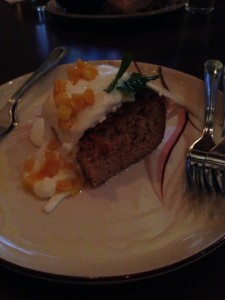 Even without churros, the Taco Guild is one of the coolest restaurants I've ever enjoyed. If you find yourself hankering for a lovely night out, I highly recommend it. Almost a religious experience. So sayeth the Tacopope.