Fear not: I'm speaking metaphorically about the kissing.
I have to miss Dragon*Con this year because that's the weekend we are closing on our home and I have to move from Arizona to Colorado. But I feel badly about it because I've heard that Dragon*Con is a good time and I know there are some people who are going who would have liked to say howdy.
Well, I WOULD LIKE TO SAY HOWDY ALSO.
So I've arranged a little something to make it up to all you spiffy southern peeps. On Saturday, October 25, at 1 pm, I'm coming to the Atlanta area to say howdy and I hope if you can manage it you'll come say howdy too! I will be at FoxTale Book Shoppe in Woodstock, GA. So it's near Atlanta but without Atlanta traffic! Reachable in an hour or two from points in Tennessee and Alabama! And, uh, also points in Georgia!
But guess what! It won't be just me! I'm also appearing with Super Duper Turbo Spiffy Authors Delilah S. Dawson and Cherie Priest! IT'S A TRIFECTA OF TERRIFIC! A TRIO OF BRIO! (How's that for an obscure word?) LOOKIT I HAVE MADE A POSTER OF OUR LATEST COVERS FOR YOU TO PRINT OUT AND BRING FOR US TO SIGN IF YOU WANNA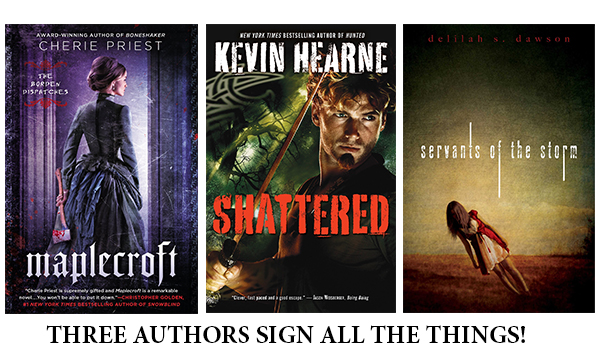 I will baldly admit (because I am pretty damn bald at this point) that I am so stoked about the chance to hang out with Cherie and Delilah. I'm a fanboy of both of them. They have written a couple of my favorite books this year and they just have these GIANT STORYTELLING BRAINS so I will be geeking out a bit. Cherie wrote MAPLECROFT and Delilah wrote SERVANTS OF THE STORM and they are awesome stories.
Both Cherie and Delilah have also written many other books. I have written a few myself. All will be available at FoxTale Book Shoppe. You are welcome, of course, to bring whatever you'd like for us to sign and to just say howdy. (We sign e-readers and e-reader covers too!) However, it's polite to buy something from FoxTale since they are going to the trouble and expense of hosting us. I will just gently drop the words "Special Holiday Gifts!" here and hope that inspires you to get some signed copies for your friends & family.
We three amigos will burble happily for a wee while, answer questions, then sign goodies and chat with you and take selfies. I HAVE HEARD THERE WILL ALSO BE CAKE.
Sometimes when I say I'm going somewhere I get asked to go somewhere else, so let me be clear up front—I'm just going to this one store on this one day to make up for missing Dragon*Con. I cannot conveniently go to your hometown elsewhere in the south or make a little tour out of this; my daughter's in high school now and I want to be around in case she wants to talk about the books she's reading (We discussed Fahrenheit 451, her summer reading, and it was so much fun). If you're an hour or three away, I hope you can make it to Woodstock on Saturday Oct 25 at 1 pm to say howdy to us. We'd love to see you! Much love!