I had the very great privilege of spending a couple of days with Cherie Priest recently, who is a goth genius and a lover of doggies. We went into a bookstore in Chattanooga and there was a rat terrier in there, so of course in about two seconds this is what was happening: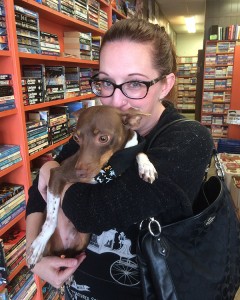 We also took a walk through a cemetery because it's October and it's foggy and you instantly lose all your goth cred if you don't lurk and/or skulk in a foggy cemetery when you have the chance. I took lots of pictures but I love this one the most because I can imagine just about anything coming out of that fog to attack me and shiver me timbers, etc.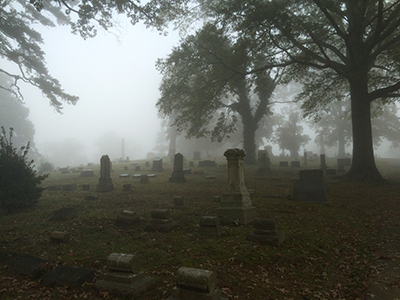 BUT LOOK. Besides being an awesome human being, Cherie can flip a switch and write beautiful, haunting stories. And she wrote my favorite book of the year. It's truly genius, y'all, and you should be reading it—right now, during the spooky season! It's called MAPLECROFT. I think of it as a combo of Lovecraft the way it should have been written (that is, well) and the structure of Mary Shelley's Frankenstein without the florid prose. This is what it looks like: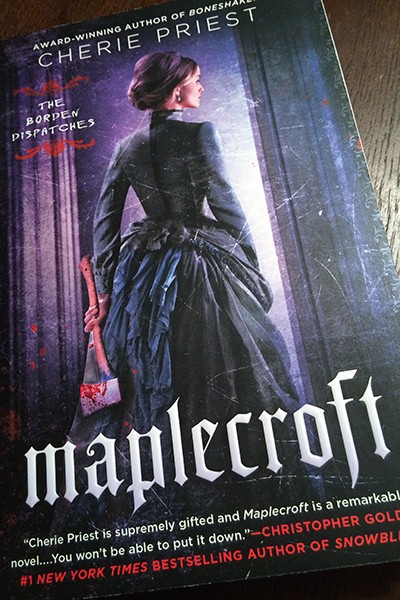 And dudes! Do NOT go thinking this is some kind of historical romance. THERE IS A BLOODY AXE BEHIND HER BACK FOR A REASON. LIZZIE BORDEN KNOWS HOW TO USE IT. I'm telling you this book is so delightful. And gory. And horrifying. And so very cleverly done. I think it's an instant classic.
You can win a signed copy of MAPLECROFT plus a signed copy of any one of my books (your choice!) by merely following Cherie on Twitter. Her handle is @cmpriest. Follow her between now and Thursday, October 30, and Cherie will pick one new follower at random. And yes—only new followers, because I want new people to discover Cherie! She is one of my favorite writers—she's written twenty books or so—and introducing you to her is my Halloween treat for you. (If you already follow Cherie you are One of the Cool People and probably already have MAPLECROFT anyway.)
Cherie will pick one new follower and let me know. I'll announce the winner on Halloween and mail him/her a signed copy of MAPLECROFT and a signed copy of one of my books too. But everybody wins, really—following Cherie and reading her books is a win, period. And if you ever get to meet Cherie's pooch, Grayson, he will give you kisses like this: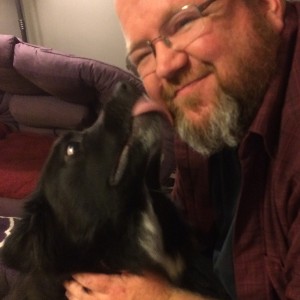 Run! Follow Cherie if you don't already! And read MAPLECROFT and thank me later! :) Here are handy links:
MAPLECROFT on Amazon Barnes and Noble iBooks Kobo