Every so often readers ask me for suggestions about what to read next. I tend to squee about things quite a bit on Twitter but I thought I'd squee some more here because more folks might see it that way.
These are all upcoming titles in the next couple of months—I wind up reading stuff ahead of publication because, well, publishers send me things now. But I don't squee about stuff I don't genuinely love, y'all. I mean, I will point to things by authors every so often and say hey, you might want to check this out because this person has a good rep and I have heard good things, or perhaps I have read other books by that same person in the past and loved them. But when I read something and love it I will say so. I squee because I genuinely enjoyed that read and think you will too, though of course your mileage may vary.
I have read and squeed over all the books below (with one exception, but it's a guaranteed squee anyway). I may have slobbered on a couple of them. Some of them are out NEXT WEEK—and if you can, pre-order 'em. It's the single most helpful thing you can do for an author besides spreading the word to your friends after you're finished. I have pre-ordered all of these through indie stores even though I've already read early copies because I must hunt these authors down and get their autographs because I'm a fanboy.
In order of release:
BROKEN SOULS by Stephen Blackmoore, out August 5!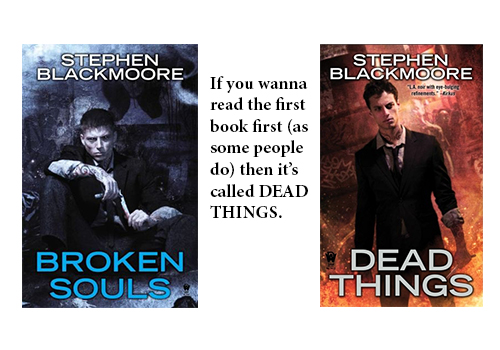 So lemme tell you about Stephen Blackmoore: He writes this super-gritty, face-punching L.A. noir about a necromancer named Eric Carter. But Eric's not a dark-lord-Sauron kind of necromancer. He can see dead people and it complicates the hell out of his life. Eric's not a sweet guy by any means. He carries a straight razor because, well… reasons. These are fast, badass reads and I desperately want everyone to buy this series for very selfish reasons—I WANT MORE. And authors don't get to write more unless people buy their books.
Pre-order the paperback or ebook wherever you wish, but here's a link to Stephen's local indie store Mysterious Galaxy, which will ship anywhere. And if you call 'em and ask 'em all nice, they'll make Stephen sign it for you before it ships! (That's what I did.) Their number is 858-268-4747.
SERVANTS OF THE STORM by Delilah S. Dawson, also out August 5!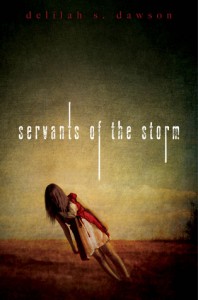 Delilah gave me this book at RT Booklovers Convention in New Orleans (because I begged for it). I was tired as hell after the con and wanted to nap on the plane home but I opened this book to read a little bit and DAMN, NO SLEEP FOR ME. I read most of it in the air and finished it when I got home before I hit the hay. Yeah. It grabbed me.
This is creeptastic Southern Gothic YA, definitely a juicy horror pie. I mean, LOOKIT THE COVER.
I like what Delilah did here. I mean she did a lot of stuff, but here's one bit I especially appreciated: The heroine, Dovey, has to deal with some grief early on and she retreats from the world for a while, and when she comes back it's a horror show out there. Kind of like life is sometimes. But the thing is, living in a haze isn't life; ignoring or avoiding pain instead of dealing with it just keeps you saddled with baggage and you can't grow that way. You have to fight through it and I admire Dovey for it.
Delilah's book can also be pre-ordered wherever you like, but her local indie is FoxTale Book Shoppe in Georgia and they're taking pre-orders for signed copies! (Scroll down to August 8 for the order link.) Delilah's also really good to follow on Twitter if you'd like to be a writer yourself one day; she often delivers a series of tweets on different writing topics and I dig 'em myself because it reminds me of stuff that you forget sometimes.
CURSED MOON by Jaye Wells, out August 12!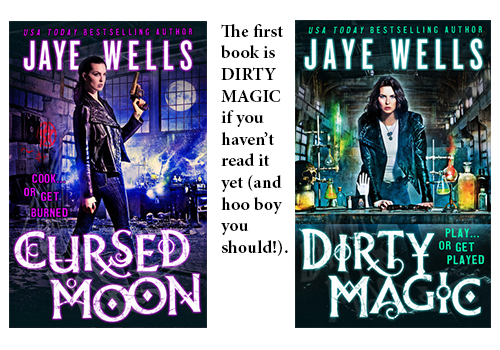 Every time I see someone bemoan the lack of "strong female characters" in SFF I'm like, FFS, have you heard of Jaye? Because she's been writing them for years. So have many other writers. If you can't find them, you're not looking very hard.
Jaye finished her Sabina Kane series a couple years ago and now she has a new one called Prospero's War that I really dig. ALCHEMY! POTION PEDDLERS! IS THAT A HOMUNCULUS GROWING OUT OF THAT PERSON'S CHEST OH MY GOD WAUUUGH!
Kate Prospero is a single mom with a bit of a sketchy past. She's trying to play it straight now and be a good cop as well as a good mom. But you know, there's these dudes out there cooking up addictive dirty potions that turn up aggression and strength while turning off most of the frontal lobe. HAVOC IS BEING WREAKED. And Kate's constantly tempted to cook up her own dirty stuff—for the greater good, you know. Great tensions here, great characters, great writing.
And yo: Jaye is one of the authors being directly affected by the Hachette/Amazon dispute. Amazon's refusal to display a pre-order button for CURSED MOON hurts Jaye, period. This is why I order from indies. Jaye's indie store is Murder By the Book in Houston, an absolutely awesome store that I visited in June on my tour. While I was there, I pre-ordered a signed copy of CURSED MOON because I knew Jaye would be there. You can order using the link above, email using orders@murderbooks.com, or give them a call at 713-524-8597 to order a signed copy. I should note that I haven't read CURSED MOON yet—I've only read DIRTY MAGIC (which I loved). So I cannot wait for this to arrive in my mailbox!
MAPLECROFT by Cherie Priest, out September 2!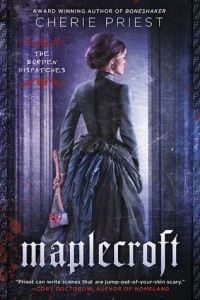 I have been a Cherie fanboy for a good while now. (By the way, she pronounces her first name like "Sherry," not "Cher-REE".) She is so masterful at creating a sense of place & time coupled with exquisite dread. I think this cover captures what I mean perfectly. You look at it and go OH HOW LOVELY AND NINETEENTH CENTURY but then OH GOD THAT AXE HAS BLOOD ON IT AND SHE'S GONNA USE IT AGAIN ISN'T SHE.
Listen: This book is delicious. I couldn't contain myself while reading it. I tweeted that it was my book of the year before I finished the book (or the year).
Here is why: It's written in epistolary style. Diary entries, in other words, like Mary Shelley's Frankenstein, except with a much clearer style than Shelley ever managed. And the voices are so well done, some of them descending into madness with a very Lovecraftian kind of vibe to them. It just hit all my geek buttons and I relished every page.
Oh, and yeah: It's Lizzie Borden, y'all. Cherie did this so cleverly. She's working on the sequel now and I cannot wait.
I don't know whether Cherie works with an indie bookstore to get you signed copies—if you're interested in that, maybe reach out to her via Twitter (she's @cmpriest) or the Interwebs somehow? But yeah, you should be able to pre-order this from a buttload of places.
THE CLOCKWORK DAGGER by Beth Cato, out September 19!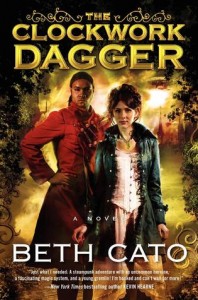 Beth has been publishing short stories and poems for quite a while but this is her debut novel. If you squint at the bottom of the cover you'll see my blurb there; I really enjoyed this. It's not every day you see a healer as the protagonist. Usually the healer's someone the badass protagonist calls in for a couple pages to fix him/her up before going out to stomp some more bad guys. So Beth is doing something different here and it works well. Octavia's a great character and I'm looking forward to the next book! Want to give it a try and see what kind of conflicts a healer deals with? You can read the first chapter for free right here. I think you'll dig it and want to read the rest.
You can of course pre-order wherever, but if you'd like to get a signed copy, you can order from venerable indie Changing Hands or call 'em (like I did) at 480-730-0205 because Beth will be there.
And there you have it, friends! That should give you some good stuff to read!