Ye gods it's been a while since I've blogged. Things have happened. Let's catch up!
1. SHATTERED hit the NY Times bestseller list! Thank you all for your pre-orders and picking it up in stores and coming to see me on tour and the many nice things you have said to me in person and online. I'm so glad you enjoyed the story!
2. For various reasons I had to cancel appearances at San Diego Comic Con, Dragon*Con, and Salt Lake Comic Con. Apologies to all; I was looking forward to seeing you. Feeling especially guilty about missing Dragon*Con because I know lots of people wanted to say hi, so I am going to see if circumstances will allow me to visit Atlanta sometime in September or October. Check back on my Events & Appearances page every so often for updates and of course if something comes together I will announce it here and on Twitter & Facebook.
3. I started a Twitter account for Owen Kennedy under @ArchdruidOwen. Like @IrishOberon, he tweets in character. He's a bit ornery about modern language and the way we live. :) Here's a sample:

And, of course, Oberon usually tweets about food and pop culture: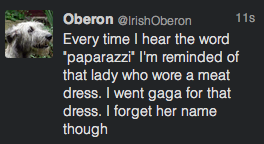 So if you're on Twitter and you'd like some occasional entertainment to fill the void between books, you might have fun following Oberon and Owen. You might find other IDC accounts out there but those aren't run by me, just random peeps. I figure that since Atticus & Granuaile are trying to keep a low profile they wouldn't spend much time on social media.
4. I'm getting lots of questions about when the next book is coming out. Well, my next book is STAR WARS: HEIR TO THE JEDI, coming out February 17, 2015. It's a first-person Luke Skywalker novel set in between Episodes IV and V, and it'll be available in hardcover, ebook, and audio. And it'll be canon, if that matters. :)
5. I don't have a publication date for the next Iron Druid book. I haven't even started writing it yet because I'm working on another project. The next IDC thing is a short story called "A Prelude to War" that picks up right after the events of SHATTERED. I don't have a publication date for that yet either, but rest assured I will let you know when I do! This will be a story integral to the series plot in the same way that TWO RAVENS AND ONE CROW was; you won't want to miss it.
6. The project I'm working on now is an epic fantasy called A PLAGUE OF GIANTS. Once I finish that I'll get back to the Iron Druid stuff. Of course I hope you'll give my epic a try and dig the hell out of it. SPOILER ALERT: It contains giants. And also people who are not giants, for otherwise how would the giants know how freakin' giant they really are?
7. Book 8 of IDC, when I get to it, will be called STAKED. I've done some preliminary setting research already and have some more ahead of me.
8. If you haven't checked out the Holy Taco Church yet, I promise it's worth a look. Very good recipes in the Taco Files already and new content posted M-Th. And of course, if you decide to become a Tacolyte (or a Tacoist?) and sign up for the newsletter, you'll get more foodie goodness along with a chance to win signed copies of books written by the church authors. (And by the way, if you're looking for someone new to read, I highly recommend any of the church authors. They all know how to tell a damn fine story.)
I'll be throwing myself into writing my epic for a while and might be a bit scarce on Facebook as a result, and though I won't be completely absent from Twitter I might scale back quite a bit just because I need to immerse myself in the world.
Thank you always for reading and spreading the word. You're the bestest!