Writer's Grove
thanks and giving
November 23, 2017
It's time for both thanks and giving. So, addressing those in order:
Thanks for being kind and loving doggies and caring about the planet and each other. I see you doing that and it's important and I'm grateful to you.
Thanks for reading and for telling your friends about my books. All of them, of course, but turbo thanks to those who have been reading A Plague of Giants and saying nice things, because starting a new series is always a fragile, uncertain enterprise. It was wonderful to see folks on tour—if you came to see me, thank you so much! And leaving a review on Amazon, believe it or not, is super helpful—true for all books and all authors. (Algorithms kick in when you get certain numbers of reviews, making your book more visible.) So thanks.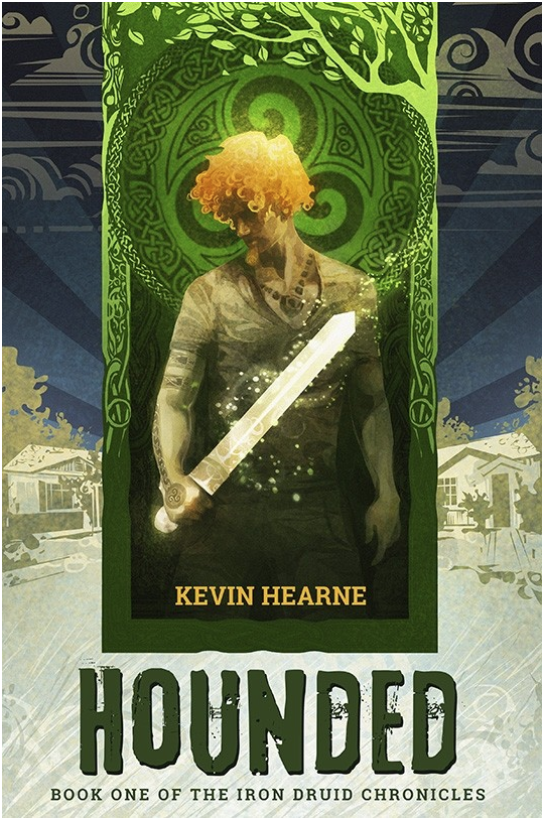 Thanks to those who have preordered The Squirrel on the Train and/or the hardcover edition of Hounded (pictured here). Squirrel will be out on Nov. 30 and I hope you enjoy! If you've somehow missed the announcement, book 9 of the Iron Druid Chronicles, Scourged, will be out April 3, and you can preorder that now from any indie, online, or chain store you like.
But let's get to the giving, shall we? I donate books every year to Worldbuilders, a charity that benefits Heifer International in a specific way: It collects signed books and other goodies like games and fantasy-based jewelry such, lets folks buy the equivalent of a raffle ticket for $10 each, and then pretty much everybody wins. (Right now as I write this there are 1,734 supporters for 3,768 prizes, so, yeah, your odds of winning are GREAT.) You win signed books and rare stuff, and Heifer International gets the money to help hungry folks around the world eat in a sustainable manner. They give families chickens or goats (or something that will work where they live) and then they're able to eat and sell the eggs or goat milk or whatever. Their annual drive is going on right now, so if you have the means, maybe send them a Hamilton? Also, you can get signed books from me (and other stuff) from The Tinker's Packs and that money goes to Worldbuilders (and thus Heifer International) as well.
Thanks for giving. Love and doggies, peace and tacos and whiskey to you and your family.
I'm gonna disappear from the Internet for a while now; I tend to just hunker down through the winter and the time away is good for my mental health. I'm working on two books right now: A Blight of Blackwings, the sequel to A Plague of Giants, and No Country for Old Gnomes, the sequel to Kill the Farm Boy, which I'm co-authoring with Delilah S. Dawson. We should have cover art for you soon on that and I might pop in briefly to say HEY LOOKIT THIS and then disappear again.
I'll be back in the new year, and I have two comic cons on the west coast I'll be attending if you want to come say hi: Emerald City Comic Con in Seattle, and WonderCon in Anaheim, both in March!
Yours in caffeinated joy,
Kevin
the preorder deal
September 11, 2017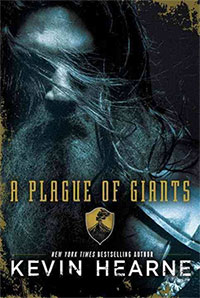 Had someone ask on the ol' social media why preorders are a big deal and it reminded me that it's not really common knowledge outside the sphere of the publishing biz. I do know other writers have explained it and I probably have before, too, years ago, but it won't hurt to share the info again. So here goes:
Preorders are super turbo mega helpful to authors. That doesn't mean you have to do it, or if you don't do it you're doing it wrong. Y'all should read and shop however, whenever, and wherever you like. I'm just explaining why it's helpful. Here goes…
About a month from release (which is where I'm at right now, a month until A PLAGUE OF GIANTS is out), bookstores start putting in their orders for new books. They have limited shelf space and on any given week they have hundreds of titles available. They can't order them all. They order a mere fraction of what's available, and they have to pick based on what they think will sell. And one of the best predictors of what will sell is what has already sold. Preorders! If people are enthusiastic enough about an upcoming release to preorder it, that tells bookstores that title has some buzz. Some juice. Some moxie. Bookstores are more likely to order a few copies of such titles for their shelves. And that is really the ball game, isn't it? People who don't see my book on the shelf can't pick it up, can't even become aware of its existence unless they're already following me. All that work the publisher did on the cover won't have a chance to work its magic if I'm not in the stores to begin with. Preorders are HUUUGE for that reason; it helps us reach folks who don't already know about us.
Because yeah, the publisher has sales teams pushing their books to bookstores, you bet. But Johnny Salesman covering Territory X has a huge catalog of titles to push and he probably hasn't read my fantasy novel. He's got a paragraph about it, a little blurb, and that's probably about it. He's also selling the next big cookbook and the next big thriller and so on and those are probably what he's going to mention in his sales call. Johnny's not going to do a deep dive into his catalog and magically strike up a conversation about my new release. Unless, of course, he hears from my editor that preorders on my book are really strong. He then gets to tell bookstores that hey, look at this fantasy novel, this thing has legs already. It's running fast and it's ready to leap off your shelves! You just gotta stock them!
And it works the other way as well: Say five people preorder a book at an indie store before Johnny Salesman arrives, months out. The buyer for that particular indie is going to look at that and say dang, my community is kind of excited for this already. I should probably order a few copies for the store. They might do it based on that alone, or they might ask the publisher's salesperson for more info about that title. And then the salesperson might go back to the publisher and say, hey, maybe we should throw some marketing muscle behind this title, folks seem to be excited about it. Either way, those preorders helped that author.
Ebook and audio preorders help with this too—those count as books!—and of course help sell more in their own formats. That's algorithmic stuff; sell a certain number of preorders on a site and that triggers a price drop, generating more interest and sales, and perhaps it'll pop up more often in the "customers also bought" section. Or it might even get bumped to the front page! Ever go to the front page of an online bookseller and wonder how those 20 books or so got front page promo out of MILLIONS available? Well, part of that's payola from publishers, probably. But the Hot New Releases section or Bestsellers section in each genre is based on what that retailer is already selling. Preorders, in both ebook and print, get titles some extra visibility. Retailers want to sell more of what's hot and so they put that cover in front of more eyeballs.
From a "Yay, career!" standpoint, preorders help an author's chances of hitting the NYT or USA Today lists, because regardless of whether you preordered six months or two days in advance of publication, those all count toward the first week of sales, and that first week is typically what gets looked at when determining whether to let that author write some more books down the road. Hitting a list is good.
From an "O, thank the gods!" standpoint, seeing some preorders means to authors that we can safely buy a taco for dinner. And maybe for breakfast too, because mmm breakfast tacos.
There are some upsides to preordering for readers, too.
1. If you preorder from an indie store, lots of times—like, almost all the time!—they'll call you when it's in store and ready to pick up. Which is often a few days before the release. This is the Secret No One Wants You to Know, except for me. For everyone who says they can't wait, well, you almost always wait less when you preorder from an indie store. The downside, if it is one, is that you pay up front when you place the preorder.
2. If you preorder from an online retailer, they won't charge you until the book comes out and you can cancel anytime.  And sometimes they ship early too. And if you preordered ebook or audio, it downloads in the night and you get to wake up to that spiffy story you wanted on release day.
3. If you like signed copies but the author isn't  touring near you, you can often get them anyway…by preordering! Call (or visit online) any of the bookstores on  the author's posted tour schedule and preorder a signed copy. Once the author swings through there, the bookstore has him/her sign it for ya and they ship it out.
So there you have it. That's why preordering is spiffy. You don't gotta do it. I'm grateful whenever you buy a book, wherever you buy it, and in whatever format. It's all good, thank you always!  Just…bonus thanks for preordering, I guess, because it's super nice and super helpful.
I'd be remiss if I didn't provide some preorder links for A PLAGUE OF GIANTS (Shelf Awareness gave it a kind review and a non-spoilery summary):
Amazon, B&N, iTunes, Kobo, Books-a-Million, Google Play, Hudson
If you want signed copies, you can get them from B&N or Books-a-Million, or any of the indies on my tour (below).
Oct 15 with Mysterious Galaxy at special ticketed event; or you can preorder signed copies from them to be shipped
Oct. 17 in San Francisco at Borderlands, 7 pm*
Oct. 18 in Portland/Beaverton at Powell's Books, 7 pm*
Oct. 19 in Seattle at University Temple UMC, books on-site from University Bookstore, 7 pm*
Oct. 20 in Phoenix/Scottsdale at The Poisoned Pen, 7 pm
Oct. 21 in Houston at Murder By The Book, 4:30 pm
Oct. 22 in Tampa at Inkwood Books, 4 pm**
Oct. 23 in Minneapolis at the HarMar Mall B&N, 7 pm
*with Chuck Wendig and Fran Wilde
**with Delilah S. Dawson
Giants tour all set
August 25, 2017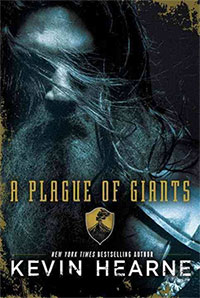 Yay! Dates and times are all confirmed! No cities are a repeat of the BESIEGED tour in July, so between the two tours I've seen a good chunk of the country this year. Of course I still can't make it everywhere—sorry!—but perhaps you can round up some peeps and road trip to see me if the scheduling gods are kind. Even though this tour is for A PLAGUE OF GIANTS (which I really hope you'll give a try), I'd be delighted to sign anything from the Iron Druid Chronicles as well.
Oct. 15 in San Diego for the Giant Book Fiesta! Special pre-release party with Fran Wilde! You get dinner! Books! Other goodies! And I will come to you rather than you standing in line to see me. It's a pretty awesome time. A few tickets are still available, snag yours here!
Oct. 17 in San Francisco at Borderlands, 7 pm*
Oct. 18 in Portland/Beaverton at Powell's Books, 7 pm*
Oct. 19 in Seattle at University Temple UMC, books on-site from University Bookstore, 7 pm*
Oct. 20 in Phoenix/Scottsdale at The Poisoned Pen, 7 pm
Oct. 21 in Houston at Murder By The Book, 4:30 pm
Oct. 22 in Tampa at Inkwood Books, 4 pm**
Oct. 23 in Minneapolis at the B&N HarMar Mall, 7 pm
*with Chuck Wendig and Fran Wilde!
**with Delilah S. Dawson! Please note their current address will not be the one we'll be using. By that time they will have moved to a new location, and that address is: 1809 N. Tampa Street (store entrance is on Franklin Street) Tampa, FL 33602
If ye can't make it to any of these but would like a signed copy, you can contact any of the stores on my tour with a phone call and preorder a signed copy. Just specify you want a signed copy when I come through, any personalized message you want, and then they will ship it to you after I visit and sign it!
Looking forward to seeing y'all. This book means a lot to me & it's somewhat unusual in terms of structure: If you've been looking for something different, well, this might be it! Here's a recent kind review from Shelf Awareness.
Giant Book Fiesta!
August 23, 2017
Haven't thrown a party for a few books now, but I thought it would be fun to do it again. I'm talkin' about TACOS and BOOKS here. Or fajitas, in this case, which you can turn into many tacos.
For books 4-6 of IDC I had shindigs where folks could get a signed book without standing in line to see me. Instead, they'd enjoy some spiffy food and drinks and I would come around to see them!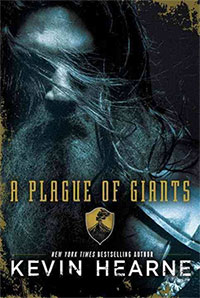 Thought we should do that for A Plague of Giants, so let's roll! We're having a special pre-release event on Sunday, Oct. 15, at Casa Machado in San Diego, called the GIANT BOOK FIESTA! And by we I mean me and Turbo Rad, Award-Winning Author Fran Wilde. Both of us will be there and we'll come visit with you and sign all the things. And you will get to chill with your homies plus lots of other folks who like to read fantasy novels. In San Diego! With fajitas! And maybe some margaritas!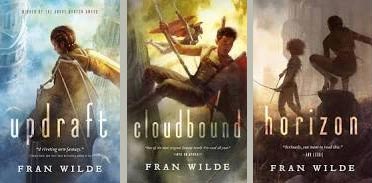 Tickets are limited to 100 and include your dinner, a signed & dated copy of A Plague of Giants, a signed copy of one of Fran's books from her Bone Universe, and some extra goodies we're throwing in. If you're unfamiliar with Fran's work, her first book, Updraft, is beautifully written story for all ages that won the Andre Norton and Compton Crook Awards, and was nominated for a Nebula as well. People dwell in cities of living bone and fly around these towers and there are SKYMOUTHS OMG that just open up and eat folks midair! I loved it so much and think you will too. If you've already inhaled that with your eyeballs, you can snag either Cloudbound or the new one, Horizon!
Want a signed book from either/both of us but can't make it to San Diego? You can preorder from Mysterious Galaxy, Fran and I will sign them on Oct. 15, and then they'll be shipped to you wherever you are in the galaxy! Important to do that soon, though, so Mysterious Galaxy has time to order enough copies from the publisher. So here you go, links below to the Giant Book Fiesta with books and food included, plus links to snag individual books:
Tickets to the GIANT BOOK FIESTA
Preorder a signed copy of A PLAGUE OF GIANTS by Kevin Hearne
Preorder a signed copy of HORIZON by Fran Wilde
(Important note: You can ALSO get signed copies of A Plague of Giants from any indie store I'm visiting on tour below by giving them a call—links are provided—and Barnes and Noble and Books-a-Million will also be selling signed copies. And if you want signed copies from Fran, or Chuck Wendig, or Delilah S. Dawson, please note the stores they'll be visiting with me below, click on the link, give those stores a call, and they'll hook you up!)
You are of COURSE welcome to bring any of my Iron Druid Books with you to the Fiesta—I'll happily sign them all, and the same goes for Fran and any of her books. Mysterious Galaxy will also have extra copies there on-site if you want to buy some bonus ones. I hope you'll enjoy A Plague of Giants—I'm so excited about this world! Many thanks for giving it a try and I'm looking forward to seeing you in San Diego, or else on my tour:
Oct. 17 in San Francisco at Borderlands, 7 pm*
Oct. 18 in Portland/Beaverton at Powell's Books, 7 pm*
Oct. 19 in Seattle at University Temple UMC, books on-site from University Bookstore, 7 pm*
Oct. 20 in Phoenix/Scottsdale at The Poisoned Pen, 7 pm
Oct. 21 in Houston at Murder By The Book, 4:30 pm
Oct. 22 in Tampa at Inkwood Books, 4 pm**
*with Chuck Wendig and Fran Wilde
**with Delilah S. Dawson
Cover reveal: SCOURGED
July 13, 2017
Hey everyone! Hope you're enjoying BESIEGED right now, which has so much stuff set between books 8 and 9 that you can consider it book 8.5. But here's the cover for book 9, SCOURGED, which will be out April 3!
Super chuffed about this—the wraparound image has some Irish stone ruins on there. That's right…Atticus back in Ireland! Woohoo!
Hope you're excited as I am! I should probably finish writing it now, huh?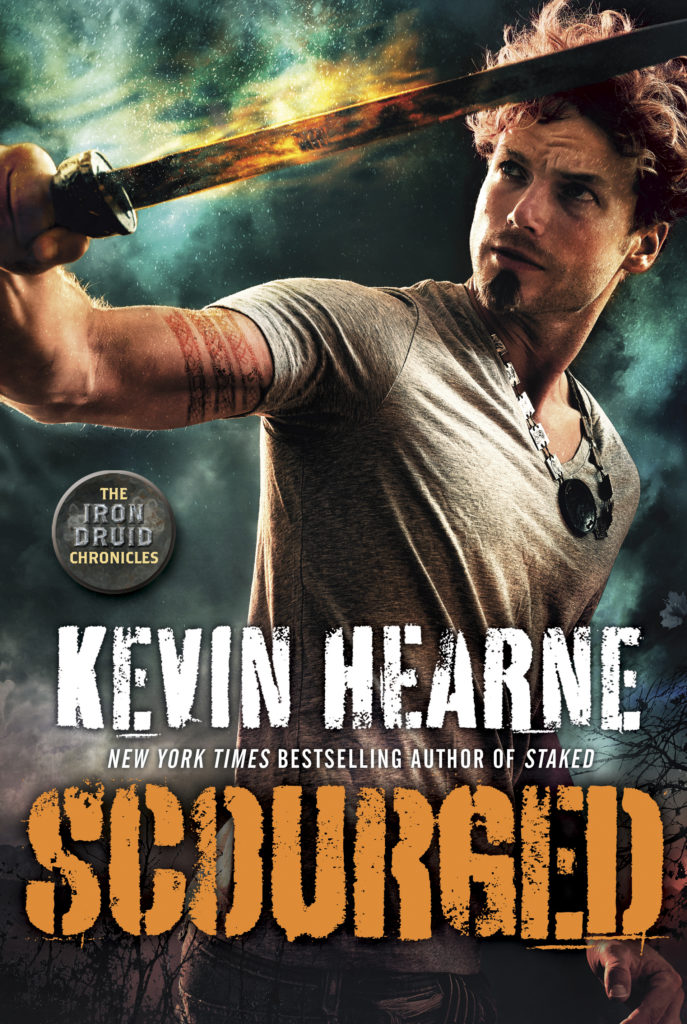 BESIEGED tour all set!
June 16, 2017
For this tour I wanted to try to visit places I've never been before, especially some places out east, and I'm happy to say we've put together a pretty spiffy list. Only Boulder is a repeat visit; every other stop will be my first time there!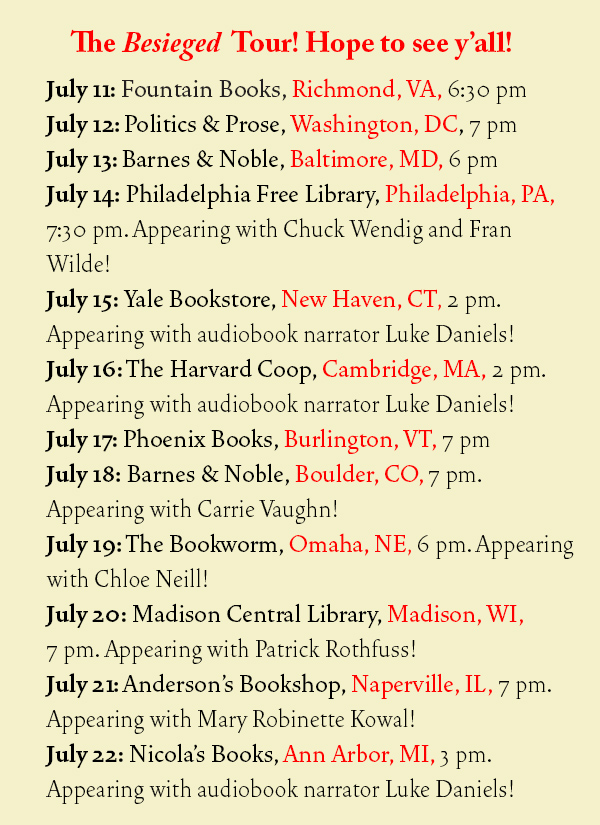 If you're in driving distance of these places I hope you can come for a visit since I obviously don't get there often! And bring your friends, please! Make an event of it. You're welcome to bring books you already own though it's appreciated if you buy at least Besieged from the store hosting me. Two events are in libraries but there will be a local bookstore in each case to sell you whatever goodies you want. If you want me to sign my whole series I'm happy to do so, but we might sign three and then ask you to come back through the line to keep it moving for folks who just want one or two.
If you can't make any of these dates, I have three happy things to share with you:
You can call any of these stores, preorder a signed copy, and once I come through town, they will have me sign it and either ship it to you or hold onto it for pickup.
I will have another tour in October for A Plague of Giants. West coast peeps—I'll see you then! San Diego, San Francisco, Portland, and Seattle for sure. I'll head east from there but we haven't planned that far yet so I can't say where. I won't be returning to any of the places on the Besieged tour, though. I try to get around.
I'll be in New Orleans for StoryCon in September, and they have a public signing on Saturday, Sep. 16. You can see me there plus a buttload of other amazing authors if New Orleans sounds like a good time to you. (Seriously, check out the link and look at the list of authors who will be there.)
In other news—other books! I have three other books besides Besieged coming out in the second half of this year, and you can preorder 'em wherever you snag books (except for The Squirrel on the Train, you need to grab that direct from the publisher) and make my mom smile!

July 11: Besieged
August 1: Urban Enemies (my story in this anthology features Loki)
October 17: A Plague of Giants
November 30: The Squirrel on the Train
Thank y'all for reading. Hope you enjoy what I've been working on for a while.
Peace & tacos,
Kevin
Tour info and other goodies
April 10, 2017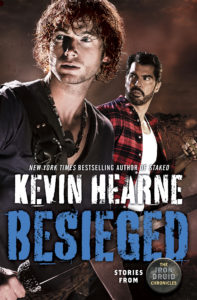 I'm excited about touring for BESIEGED because every single city on the tour (except for the last) will be a city I've never visited before! Since I'm based in the west it's tougher for me to get out east very often. Or, you know, at all. So I told my publisher I wanted to make a special effort this tour to head east since folks out that way have been very patient. Plus I want to meet them! And ride on a train. I want to see if the snacks are different from airplanes. Or if I even get snacks. Snacks are important. I'm watching you, Amtrak.
If you're anywhere near these cities, this is (an extremely rare) chance to say hi! Keep in mind a couple o' things:
1) I have absolutely no limits on the number of books I'll sign. Bring your copies from home. Bring your friends' copies. Or buy them all. Clean out the store's inventory! Either way, I'm there for you.
2) If you can't make any of these dates, call any of the stores and preorder whatever you like, and they will have me sign it for you while I'm there and then ship it to you or keep it for you to pick up at your convenience. I'm including phone numbers for that purpose. Do give them a call! I will not be selling signed copies of this on my website later.
So here's the tour:
July 11: Richmond, VA! Fountain Bookstore, 6:30 pm. (804) 788-1594
July 12: Washington, D.C.! Politics & Prose, 7 pm. (202) 364-1919
July 13: Baltimore, MD! Barnes & Noble, 7 pm. The Power Plant location, 601 E. Pratt St. Signing only, though we can chat and take a selfie when you get to the front!
July 14: Philadelphia, PA! Philadelphia Free Library, 7 pm. With special guests Chuck Wendig and Fran Wilde, who also write amazing books and will sign them for you and yeah I am already geeking out about this. This is going to be a heck of a good time. Books will be available for sale on site! At the Parkway Central Library, 1901 Vine St.
July 15: New Haven, CT! The Yale Bookstore, 2 pm. (203) 777-8440. Appearing with audiobook narrator Luke Daniels! Woohoo!
July 16: Cambridge, MA! The Harvard Coop, 2 pm. (617) 499-2000.
Appearing with audiobook narrator Luke Daniels! Squee!
July 17: Burlington, VT! Phoenix Books, 7 pm, 191 Bank St. (802) 855-8078
July 18 or 19, still confirming: Denver, CO! The Tattered Cover on Colfax, 7 pm. Appearing (I hope!) with Carrie Vaughn, who's launching a new series with BANNERLESS. Geeking out about this too because I must have it.
Sorry if your town isn't included—my travel budget is not unlimited and I can never visit all the places I'd like to.  The fact is we (the publisher and I) lose money on tours! We just do what we can because 1) holy crap I have to get out in the sunlight once in a while and 2) we like to make readers happy because readers are awesome. Hope you can make it to one of these if you're in the northeast!
OTHER GOODIES:
Iron Druid merchandise is now available at the Tinker's Packs and the majority of your purchase benefits Worldbuilders, a charity that helps feed hungry people through sustainable agriculture. They have Third Eye Books & Herbs T-Shirts and dishwasher-safe stoneware mugs, along with some pretty spiffy stickers that would look great on your laptop or bumper or whatever. Check it out—the mugs look like this:
If you like your speculative fiction with an Antifascist  tilt, then I have a deal for you! Join me in the Antifascist Fiction Club and get the spiffy enamel pin below. It requires a $20 Patreon subscription to Fireside Fiction but you get stuff: The pin! Amazing speculative fiction every month! (Seriously, Fireside is publishing the best authors these days.) Wallpapers from artist Galen Dara! And $5 goes to the ACLU and SPLC every month in your name!Peace & tacos, friends!
Besieged cover reveal
January 19, 2017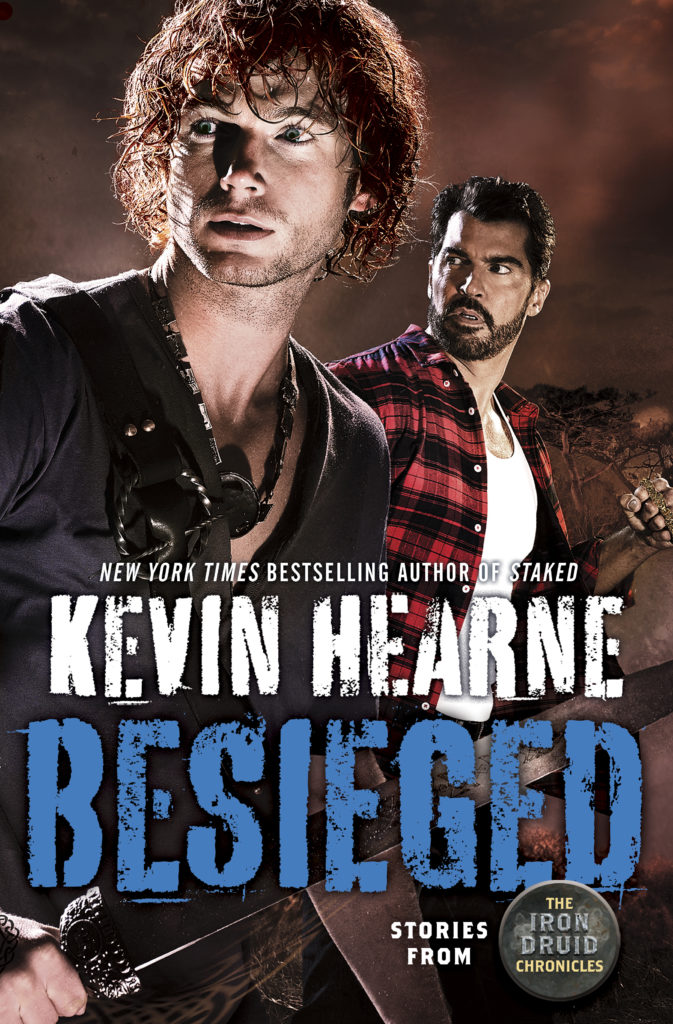 Woohoo! It's a scared, shaven Atticus with his archdruid, Owen Kennedy! Lookit Owen's fist! The brass knuckles. The brass knuckles! I love it so much. That's the cover of Besieged, out July 11!
This particular tableau comes to you courtesy of the story "Haunted Devils," narrated by Owen.
I should mention here (in case you missed it on the cover) that this is not the next Iron Druid novel. It's a novel-length collection of short stories you can think of as book 8.5, since five of the nine stories take place after Staked and lead directly into book 9. Of those five stories, two are narrated by Owen and one each by Atticus, Granuaile, and Perun. The other four stories are all narrated by Atticus and take place earlier in series chronology. They're presented to you in chronological order, though. Want a brief rundown?
"The Eye of Horus" details how Atticus originally ran afoul of the Egyptian pantheon.
"The Demon Barker of Wheat Street" is a reprint, though this version has been revised & expanded somewhat.
"Goddess at the Crossroads" shares how Atticus met William Shakespeare back in the day. Also reprinted from a small press run, also revised.
"Gold Dust Druid" has Atticus in San Francisco in 1850. Oberon's commentary made me laugh quite a bit in this one.
"Cuddle Dungeon" is narrated by Perun, set in Edinburgh.
"The Bogeyman of Boora Bog" has Owen sharing how he came to be Siodhachan's archdruid waaay back in the day.
"Blood Pudding" follows Granuaile's encounter with a nest of vampires in Poland, guest starring Leif Helgarson and the Sisters of the Three Auroras.
"Haunted Devils" is an Owen story in which we learn much more about his grove of apprentices.
"The End of Idylls" takes place directly before the events of book 9, wherein Atticus shares the long-promised story of Faolan with Oberon.
Super excited about this! Y'all are going to dig these. Should you wish to preorder (which would make my mama smile), here are handy linky-poos:
Besieged on Amazon
Besieged at B&N
Besieged on iTunes
Audio preorders will be available later. Luke Daniels will record for North America and Christopher Ragland for the UK/Aus/NZ peeps.
The brass knuckles, y'all! 
Peace & tacos—
Kevin
goodies ahead
January 3, 2017
It's a new year! Yay!
I have lots of words coming out this year for y'all and a buttload of projects in the works. Stayin' busy over here!
On July 11, you'll get BESIEGED, stories of the Iron Druid Chronicles. It's essentially book 8.5. It has four stories set in the past—adventures in Egypt, Jacobean England, and California during the Gold Rush—and five that are all set after the events of STAKED.  Most of the stories are Atticus & Oberon, but you'll also get two from Owen, one from Granuaile, and one from Perun! Hope to have cover art for you soon. Since y'all can preorder in ebook & hardcover now (audio preorders will be available later) I'm gonna put up links and thank you in advance—preorders mean a lot! Amazon B&N iTunes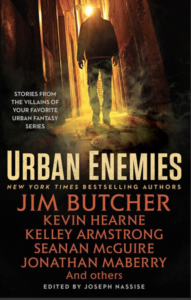 Less than a month later, on Aug. 1, I have another short story appearing in URBAN ENEMIES, an anthology of urban fantasy stories told from the point of view of villains. Mine's told from Loki's point of view. Besides me, the full anthology features stories by Jim Butcher (the Dresden Files), Kelley Armstrong (the Cainsville and Otherworld series), Seanan McGuire (October Daye), Jonathan Maberry (Joe Ledger), Lilith Saintcrow (Jill Kismet), Carrie Vaughn (Kitty Norville), Joseph Nassise (Templar Chronicles), C.E. Murphy (Walker Papers), Steven Savile (Glasstown), Caitlin Kittredge (the Hellhound Chronicles and the Black London series), Jeffrey Somers (The Ustari Cycle), Sam Witt (Pitchfork County), Craig Schaefer (Daniel Faust), Jon F. Merz (Lawson Vampire), and Diana Pharaoh Francis (Horngate Witches). Preorder links: Amazon B&N iTunes
On Oct. 3, I shall release A PLAGUE OF GIANTS unto the world, the first volume of my epic fantasy trilogy. Obviously I hope y'all will follow me to another world—one I've been working on for many years! Cover art and more info coming soonish.
In terms of what's in the hopper, I'm working on four or five different projects this year:
1) Another of Oberon's Meaty Mysteries! This one is called The Squirrel on the Train
2) Scourged, book 9 of the Iron Druid Chronicles
3) A novella from Owen's point of view
4) The second book of my epic fantasy trilogy, A Blight of Blackwings
5) Another project that's super sekrit right now
Thanks so much for reading! Peace & tacos, y'all.
Boora Bog and cake
December 9, 2016
It's my birthday! I'll probably have cake later! SO YAY!
Broadly speaking, I think many of us would agree it was a miserable trip around the sun, but for me, anyway, there was this bright spot: I got to write something with a bit of novelty to it. After first asking my editor, Tricia, if she'd be cool doing this old-school, I wrote one of the short stories to be published in BESIEGED entirely on a 1956 Olympia SM3 typewriter, and she agreed to edit it by hand too. We were going to do just this one story up to the "Acceptance" stage as if computers didn't exist. Once I got her notes back—a handwritten editorial letter, plus stuff she wrote in the margins of the manuscript—I retyped the whole thing. First draft was seventeen pages; second draft was twenty-one. She accepted the second draft, but it came back with an editorial letter too and some marks for the next stage—copy editing. And now you (yes, you!) can snag this one-of-a-kind fantasy artifact in an auction on eBay, to benefit Worldbuilders (which benefits Heifer International). You'll get my marked-up first and second drafts, plus Tricia's editorial letters and the letter I wrote to her after the first draft, explaining how I'd addressed her comments and asking a couple of questions. This is a rare look at the writing process, much of which is so often deleted by our word processing software these days. (You may find my process marvelous or more likely may find it kinda funny, but regardless, you will probably agree I'm not an A+ typist.) And should you wind up winning this, every penny you spend helps hungry people eat through sustainable agriculture. The kind of thing a Druid would appreciate, in fact. So, if that sounds like your cup o' tea, and you have the means: Please consider it? This is a link to the auction.
Backstory: I hauled my typewriter out to the kitchen and began writing "The Bogeyman of Boora Bog" on the afternoon of Saturday, July 30, and celebrated the occasion with a finger of fine Irish whiskey: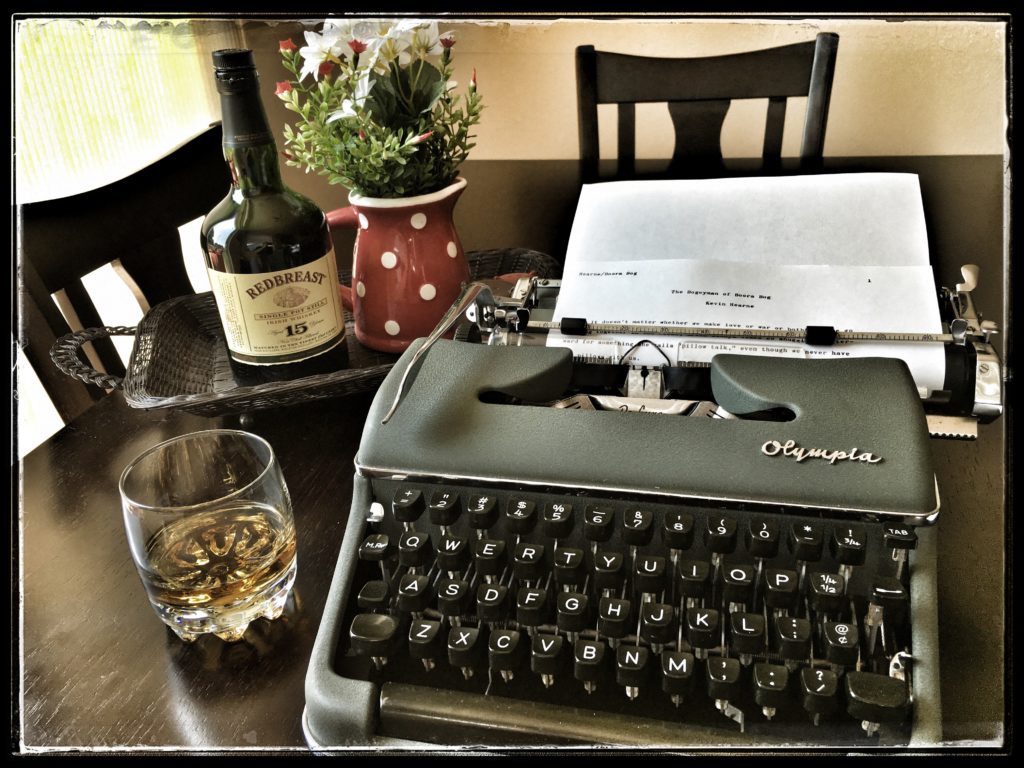 Because writer brains are weird, I got inspired by another story idea in the first week of August and worked on it until the muse let me rest; then I finished "Boora Bog" after DragonCon and sent it off to Tricia in New York. To the poor FedEx employee who had to deal with me giving it to her care, oh my gods, I'm so sorry: "THIS IS VERY IMPORTANT," I said in all caps. "YOU CANNOT LOSE THIS OR I WILL DIE." Because I didn't make a copy. I not only wanted to do this as if computers didn't exist, I wanted to do it as if copiers didn't exist. It's one-of-a-kind, as I said. And I was feeling so smug about living dangerously right until the point I had to hand it over. "We'll be very careful," the nice FedEx lady assured me, and pried the envelope from my clutching, white-knuckled fingers. I did not actually poop myself at that point, but it was a close thing.
This story is narrated from the point of view of Archdruid Owen Kennedy, who taught Atticus everything he knew. It tells the story of how Owen came to meet Atticus for the first time and take him on as an apprentice, so we're talking sixty or seventy years before Jesus got squeezed out into a manger. But the story doesn't just describe the meeting: It reveals why Owen chose to train Atticus the way he did, and how that ultimately allowed his apprentice to make the kinds of choices that would one day turn him into the Iron Druid.
An important story, in other words.
When Tricia's letter came back with the manuscript in October, I cannot even tell you how happy I was. First, the manuscript wasn't lost! But also, Tricia's really good at her job. I got excited about the story all over again after reading her letter and notes, because I knew what I had to do to make the story better.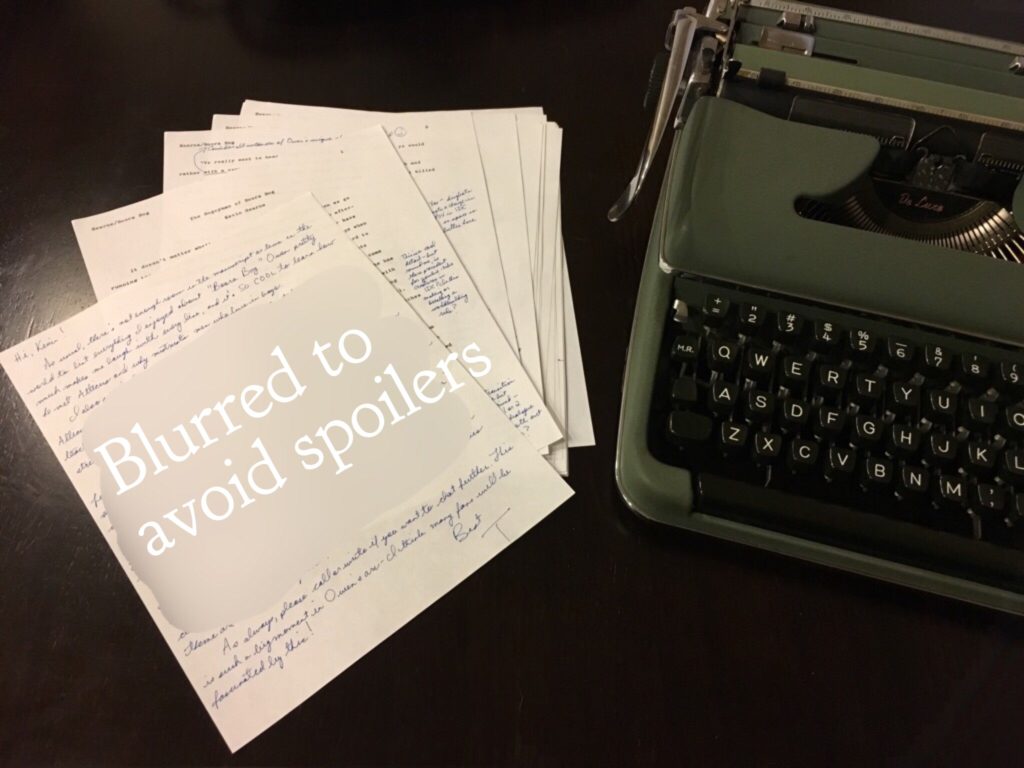 I think it took me five days to revise. Working on an old-school typewriter really is much slower than working on the computer. But I sent it back, worked on finishing the rest of the stories in BESIEGED, and waited to hear back. And just yesterday, I heard.
Tricia accepted Version Deux! But I have learned after working with her for six years that she never says that she "accepts" things. Nope. That's the language of agents and contracts. When Tricia is satisfied with a story, she tells you to have a drink. Do a shot, make a cocktail with an umbrella in it, get yourself a really fancy bottled water, whatever works for you. Just celebrate, because the Metal Editor is pleased! Behold, I have proof: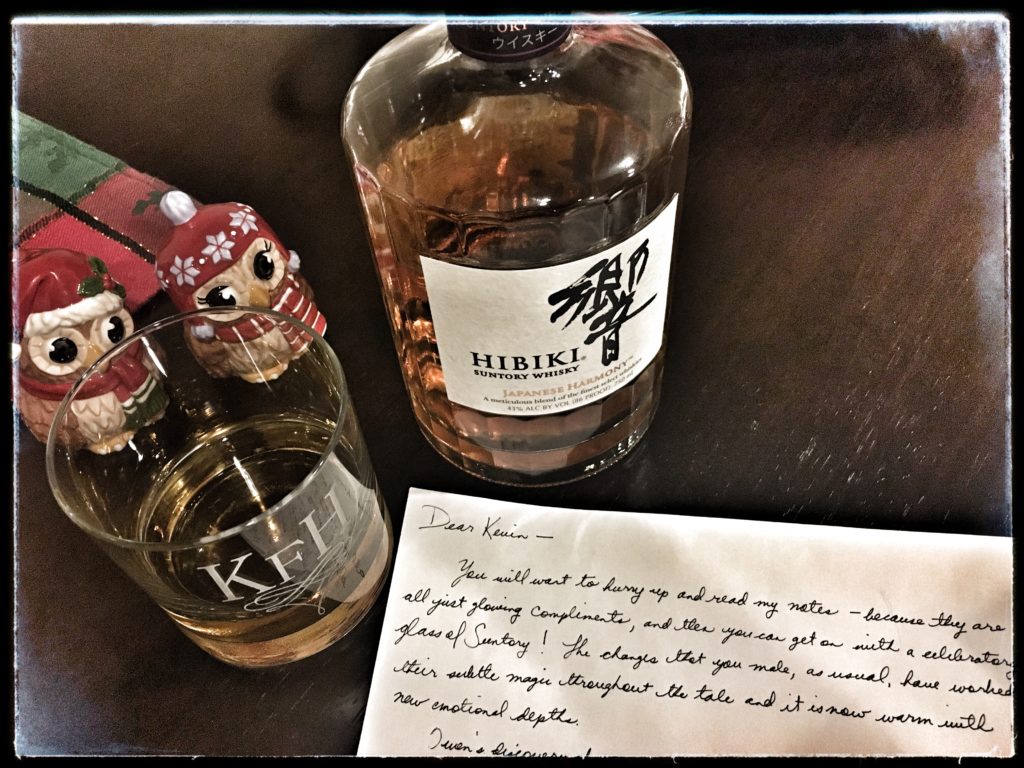 So yeah: This is one of my happy things in an otherwise heinous 2016. I got to have a bit of a time-machine experience, composing and editing in a way very few writers do anymore. I loved it. But, I admit, I wouldn't want to do a whole novel that way. A single story was perfect. And should you wind up owning this manuscript, I hope you'll enjoy reading it months ahead of everyone else: BESIEGED doesn't come out until July 11.
Anyway: Thanks for reading this & for reading my stories. If I could give y'all cake I totally would. I hope you do get to have some cake today. Just because you're spiffy.
Peace and gravy and no Nazis,
Kevin
Official Website