Writer's Grove
The Coffee House is Dead
October 7, 2015
Please welcome turbo spiffy author Kameron Hurley to the Writer's Grove. She has some very important things to say about beer so you can see why we get along. But also? Read her stuff. It's great. —Kevin
The Coffee House for Writers is Dead: Long Live the Beer Lounge
I hesitated to write this article, because then everyone would know my secret, and the hipsters would descend on all the best writing hangouts in my town. Once I wrote this piece, the world would know that for me, the clackety-clack typing of novels at the coffee house is dead.
The tappity-tap at the beer lounge is ascendant.
Oh, to be sure, I spent a good deal of time writing Empire Ascendant, the sequel to my epic fantasy, The Mirror Empire, at a coffee shop. A variety of them, in fact, as I struggled to find a place that was both fun and eclectic without being packed so full of folks talking urban gardening and startups that my headphones couldn't muffle the sound.
I live in Central Ohio, and if you're thinking "How could there possibly be cool places to write there outside of one's house?" I will note that when I moved here in 2007, that was a fair question. But today Dayton, Ohio is undergoing a bit of a secret renaissance. Cheap housing and even cheaper land have made this an affordable place for cash-strapped, job-poor, student-loan laden young people to start businesses and actually own real estate. The average home price here is $94,900. That's not missing a digit, and yes, they are real, livable houses on par with anything you'd get on either coast. Add the low cost of real estate to the ease with which many businesses downtown are receiving and renewing their liquor licenses, and it's resulted in a boom of small businesses, from restaurants to microbreweries.
To be sure, there are a lot of breweries, bars and restaurants around, from Main Street all the way up to Fifth Street and beyond. But bars and restaurants can get loud and crowded for writer-types who are actually there to work and not to be Seen Working. Those sorts of places aren't so much made for lounging as sitting at a bar watching a blaring TV. But a beer lounge… well, that's another thing entirely.
And what is it, you may ask, that makes for a great beer lounge for writers?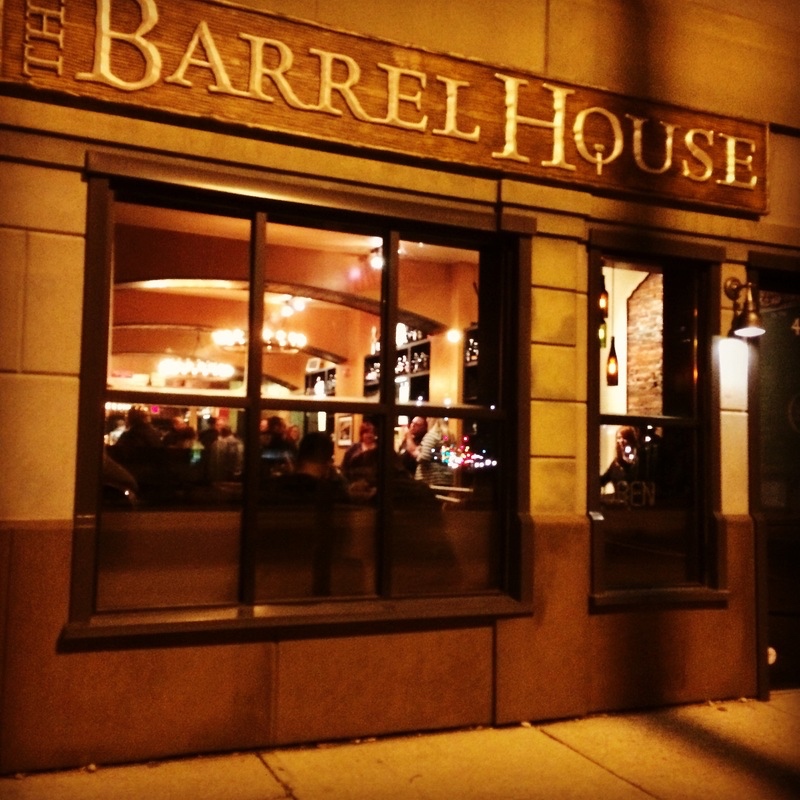 Enter The Barrel House, my lounge of choice in downtown Dayton. The key to building a good lounge is equal parts amazing beer and cozy surroundings. You want this to be a place people want to linger and congregate. I'm a binge writer, which means I'll spend 4, 6, 8 hours a day writing on the weekends. I need a place that's comfortable and soothing. The Barrel House does this right, with little clusters of couches and single chairs for writers like me who come in wanting nothing more than a beer and a seat. Come during the afternoons or weekday evenings instead of the packed weekend evenings and you'll get a seat no problem. Free-standing stools scattered about the main sitting area serve as both additional seating and desk space for a laptop. Instead of seating at the bar, there are two nice long tables where people can write or play board games. And of course, what's the lounge without the mini-library? The Barrel House comes stocked with both books – for the introverts – and games – for the extroverts.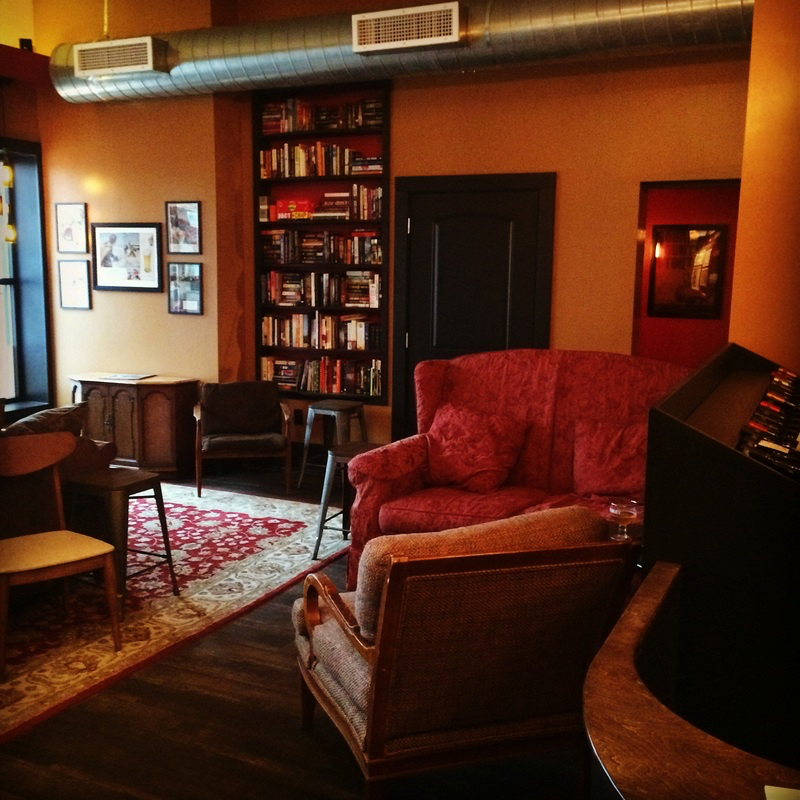 We haven't talked about the beer yet, have we? Even if your beer lounge of choice isn't great for writing on a lazy Saturday or Sunday afternoon, it better rate high as a must-visit for beer connoisseurs. As at The Barrel House, one must be able to choose from a seemingly endless variety of beers and wines on tap (yes, wine too because why not?), twenty at a time, with new ones being introduced every week as kegs are emptied out. If you love trying new beer, you'll never be bored at a proper beer lounge, and the proprietors must be good at suggesting new brews for every palate.
Another issue I have with coffee shops around Dayton, especially the independent ones, is that they don't have late hours. I need to wrap up my writing at about 4-5pm when I'm clacking away at the coffee shop, then head somewhere else as they shut down for the day, usually slogging back home to get distracted by dishes and dogs. A great beer lounge like the one I frequent is open late during the week, and will give you a few extra hours on Sunday to finish up that last chapter.
I'm a firm believer in moderation, of course, especially over a six hour writing session, so be sure to measure your intake carefully if you want to ensure all that writing was good for something besides a whole lot of editing. I never drink more than three drinks in a sitting, and I make sure I savor them and they're all excellent because why drink if what you're drinking isn't amazing?
There may be all sorts of other things folks need in a beer lounge, but this final one is essential: the proprietors must never forget the most essential element for every bar or beer lounge from here to London: they cannot forget the towel. Hanging up at the front door of The Barrel House – perfectly placed for one who needs to grab it while fleeing quickly – is a towel. Yes, a towel, the most massively useful thing any interstellar hitchhiker can have. This clearly signals that the bar owners are, in fact, Our People.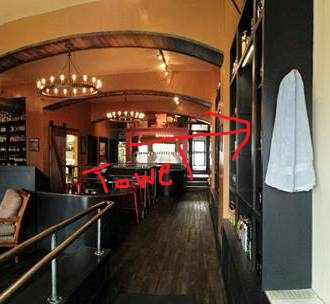 Good mood. Great seating. Late hours. Exceptional beer. Preparedness.
This is how you build a great beer lounge.
I know where I'll be this weekend. How about you?
---
About the Author
Kameron Hurley is the author of The Mirror Empire and Empire Ascendant and the God's War Trilogy. Hurley has won the Hugo Award, Kitschy Award, and Sydney J. Bounds Award for Best Newcomer; she has also been a finalist for the Arthur C. Clarke Award, Nebula Award, the Locus Award, BFS Award, the Gemmell Morningstar Award and the BSFA Award for Best Novel. Her short fiction has appeared in Popular Science Magazine, Lightspeed Magazine, Year's Best SF, The Lowest Heaven, and Meeting Infinity. Her nonfiction has been featured in The Atlantic, Locus Magazine, and the upcoming collection The Geek Feminist Revolution.
Salt Lake Comic Con!
September 22, 2015
Hey folks, finally making it to Salt Lake! Excited to see peeps there, I've heard great things.
Here's my schedule:
Thursday, Sep 24:
5 pm, Room 151 G: Spotlight on that Kevin Hearne guy. I'm gonna read a little bit from STAKED, plus talk about other goodies in the works and so on.
6 pm, Booth 1401: Signing at Shadow Mountain Books. Basically if you want to score books this is the booth to visit. Get there anytime and pick up what you want.
Friday, Sep 25:
12 pm, Room 255E. Character Development for Novels and Film. With Peggy Eddleman, David Farland, Brian McClellan, Sohrab Mirmont, Brandon Mull, Peter Orullian
2 pm-3:30 pm, Booth 1023: Signing at the Badali Jewelry Booth! Bring thou thy books and say hi. Also check out the Iron Druid jewelry there—licensed replicas of Atticus' necklace and more!
Saturday, Sep 26:
1 pm, Room 255F: Live Plotting! Build-a-Story with Larry Correia, Robert J. Defendi, Megan Hutchins, Chad Morris, Jennifer Nielsen, Dan Willis
4 pm, Room 355: Urban Fantasy with Terry Brooks, Jim Butcher, Larry Correia, JR Johansson, Shawn Speakman
5 pm, Booth 1401: Signing at Shadow Mountain Books!
Update on helping peeps!
September 14, 2015
Last Tuesday I began a contest to win spiffy signed books & stuff with the goal of helping Syrian refugees. A lot of you responded, for which you have my heartfelt thanks! Happily, the contest is just getting bigger. If you haven't entered, you still can. A veritable gaggle o' authors came forward to offer what they could to encourage the effort, and those prizes are listed below. But also, the same day I posted my contest, John Green posted an excellent video explaining the refugee crisis.
You and I can't do anything about ending the war. And we can't make certain European leaders suddenly stop being xenophobic tools. But we can help people running for their lives.
You can donate to the UNHCR (the United Nations Refugee Agency), which is already on the ground and helping but in dire need of more funds to keep doing their work; or you can donate to Mercy Corps through Worldbuilders, which is also already helping (High five to Patrick Rothfuss & the Worldbuilders team for doing this; they are all turbo rad). Donate to either, let me know via email, and you're entered to win goodies donated by authors.
Legal Disclaimer Doodad: I was informed last week that I was doing it wrong. Eek! Apparently if you are running a shindig like this you can't require people to "buy" anything or spend any money to enter. Okay, fair enough. Apologies for doing it wrong. All ye peoples of the world, feel free to enter to win! Send me an email (kevin at kevinhearne dot com) with the subject Books for Helping Peeps and you're entered. However, the reason we have these books is because we're trying to help peeps (it's in the title of the contest!) and your donation in any amount to either UNHCR or Mercy Corps via Worldbuilders would be greatly appreciated. Winners will be chosen at random on Sept 20 and notified via email.
Here's where to donate should you be so inclined:
UNHCR (the United Nations Refugee Agency)
Worldbuilders (for Mercy Corps)
And here are the additional books you can win, donated by awesome authors:
Harry Connolly is donating a glorious signed deluxe omnibus of his recent epic fantasy trilogy, The Great Way: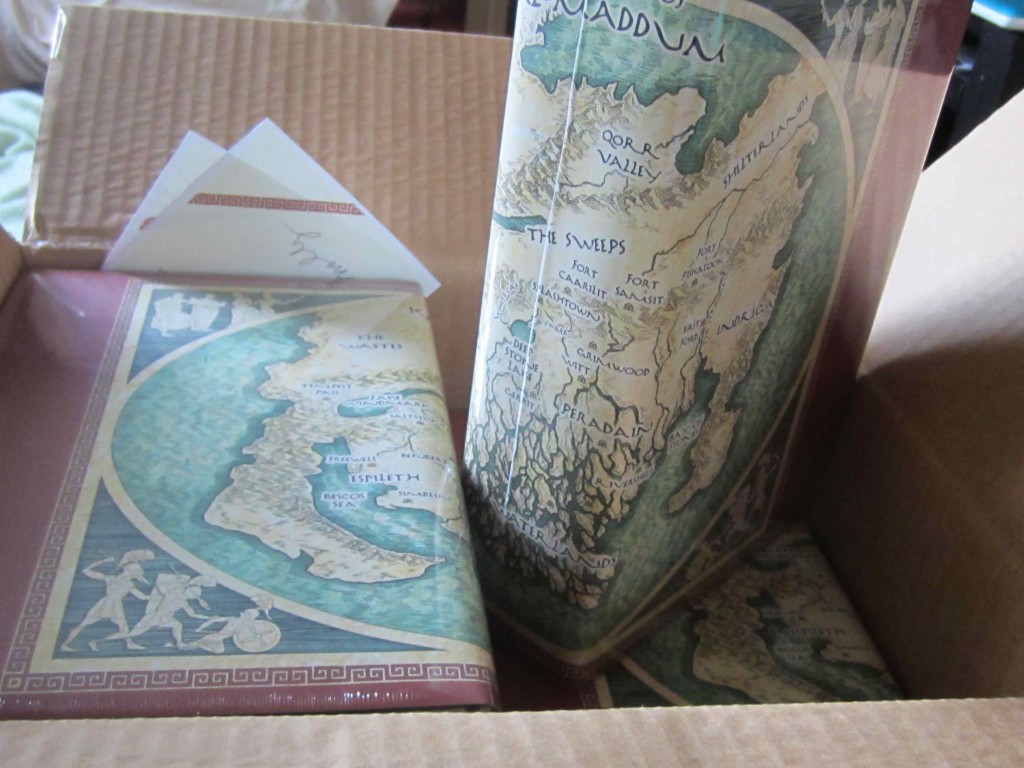 We have signed copies of The Warded Man and Messenger's Legacy donated by Peter V. Brett: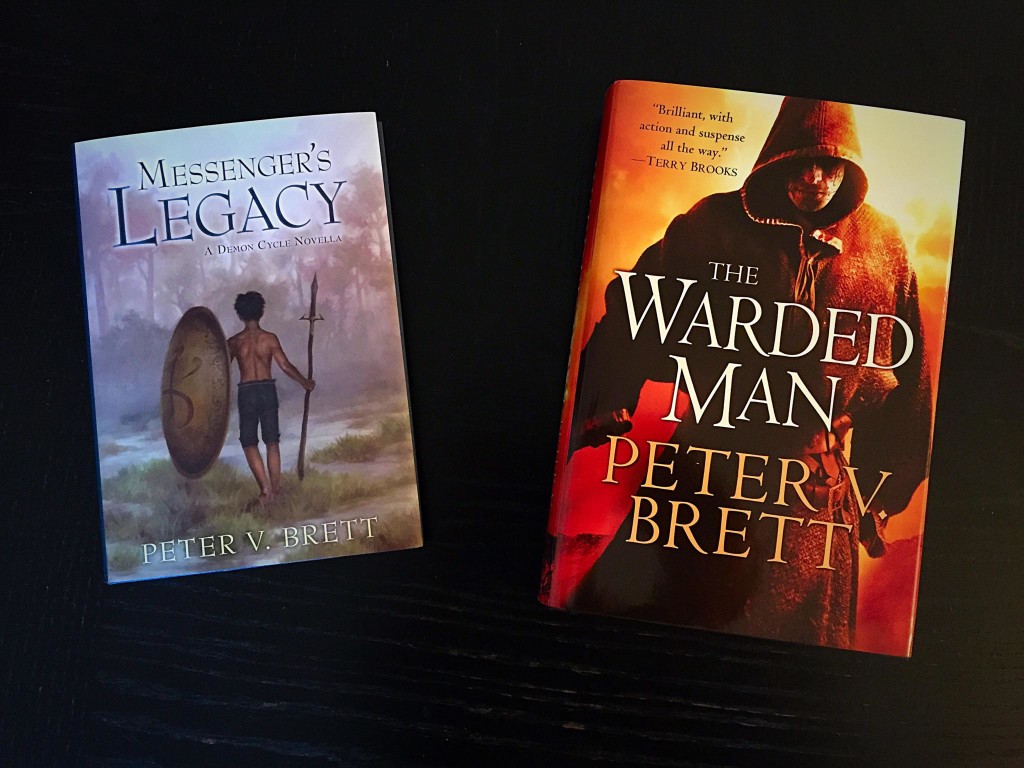 A signed copy of Lightless by C.A. Higgins, an excellent story that I enjoyed very much. I got to read an early copy and it's out this month on the 22nd—highly recommended!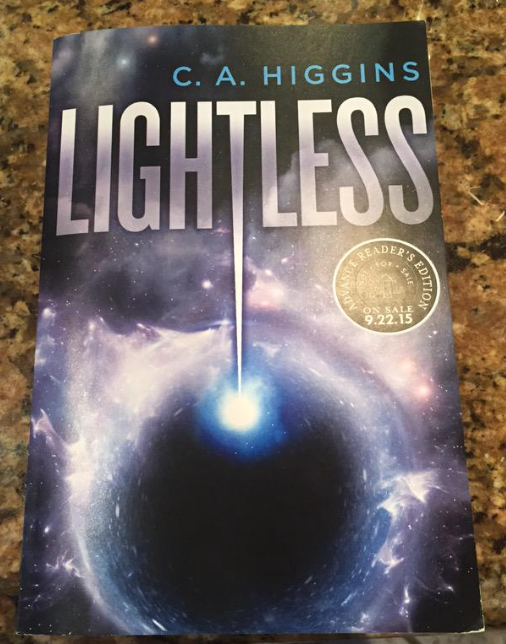 Michael J. Martinez is donating a signed set of the Daedalus Trilogy!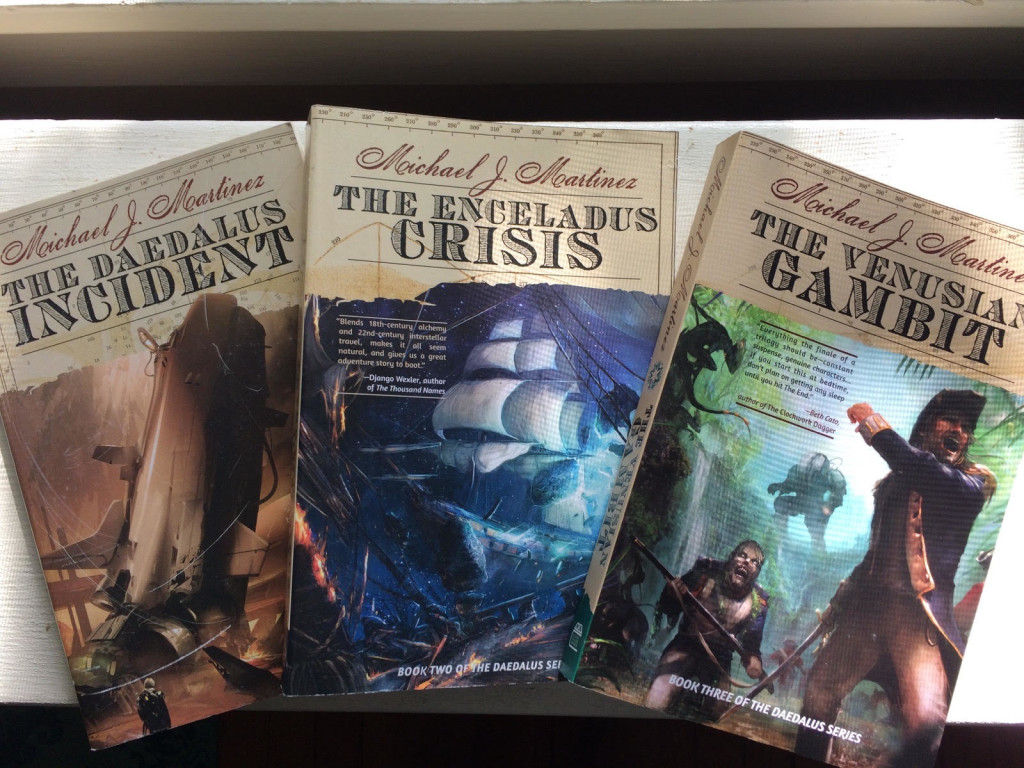 A signed full set of the Prospero's War series by Jaye Wells, one of my favorites: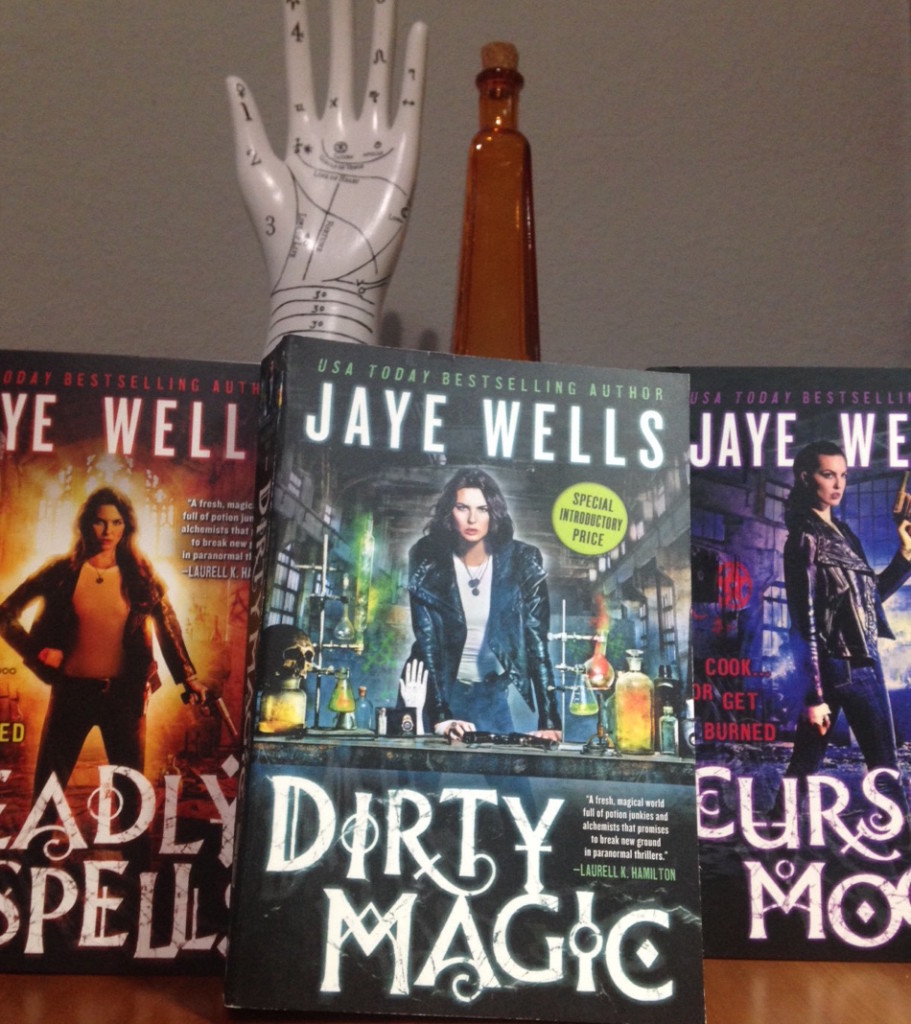 Jay Posey is donating a signed set of the Duskwalker trilogy!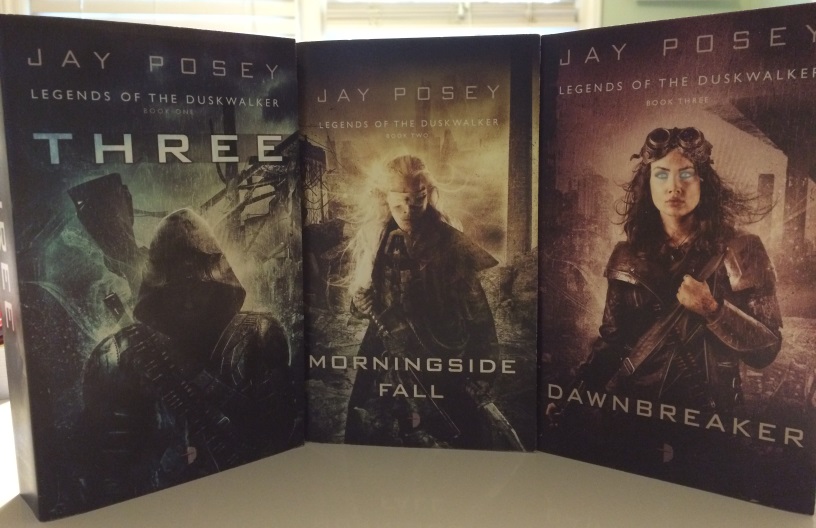 Marko Kloos is sending a signed set of his Frontlines trilogy, both in print and audio!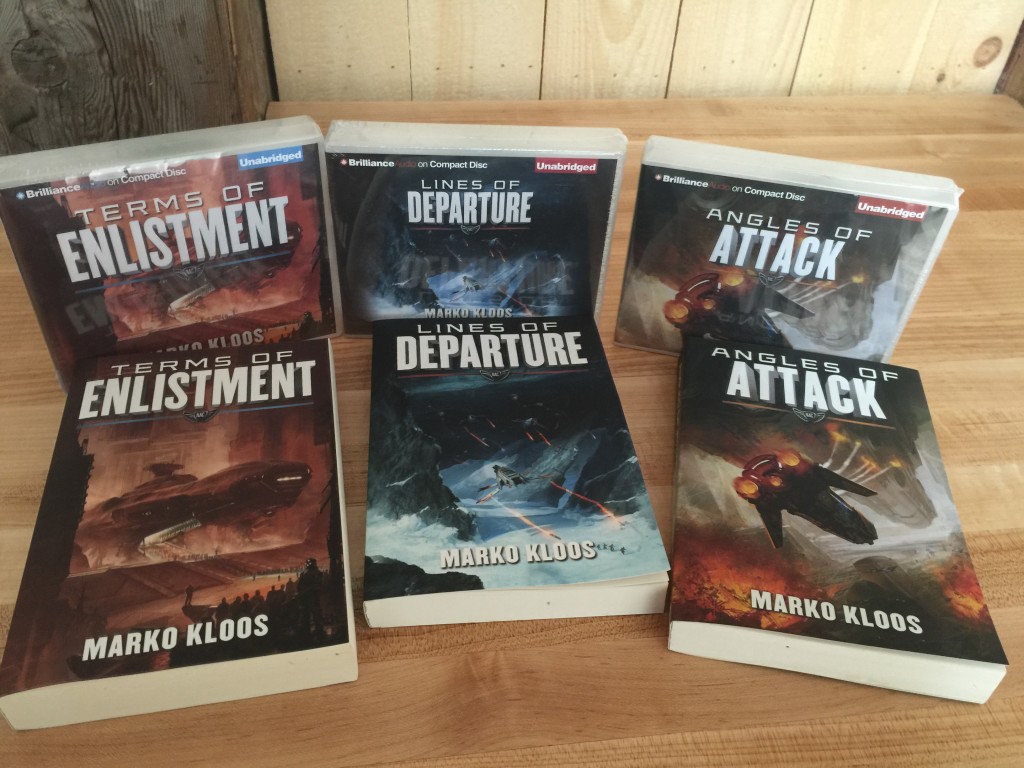 Two signed copies of Clash of Eagles, two more of the ARC, and a UK paperback edition as well, from Alan Smale!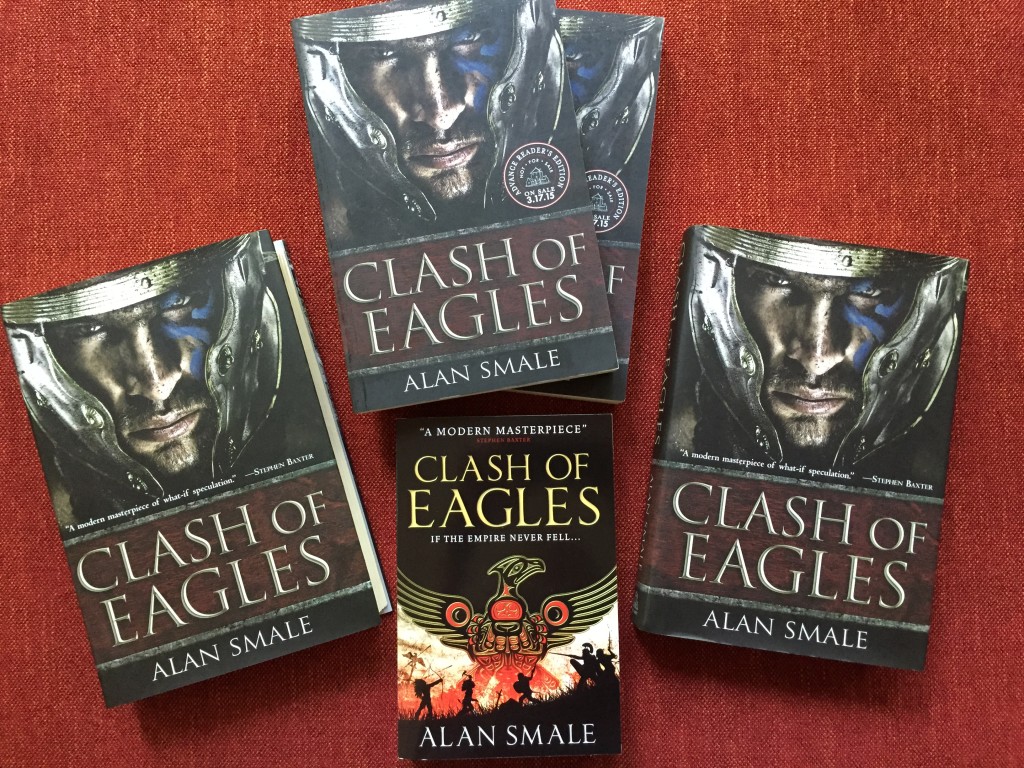 A signed ARC of Made to Kill by Adam Christopher as well as a copy of his Elementary book!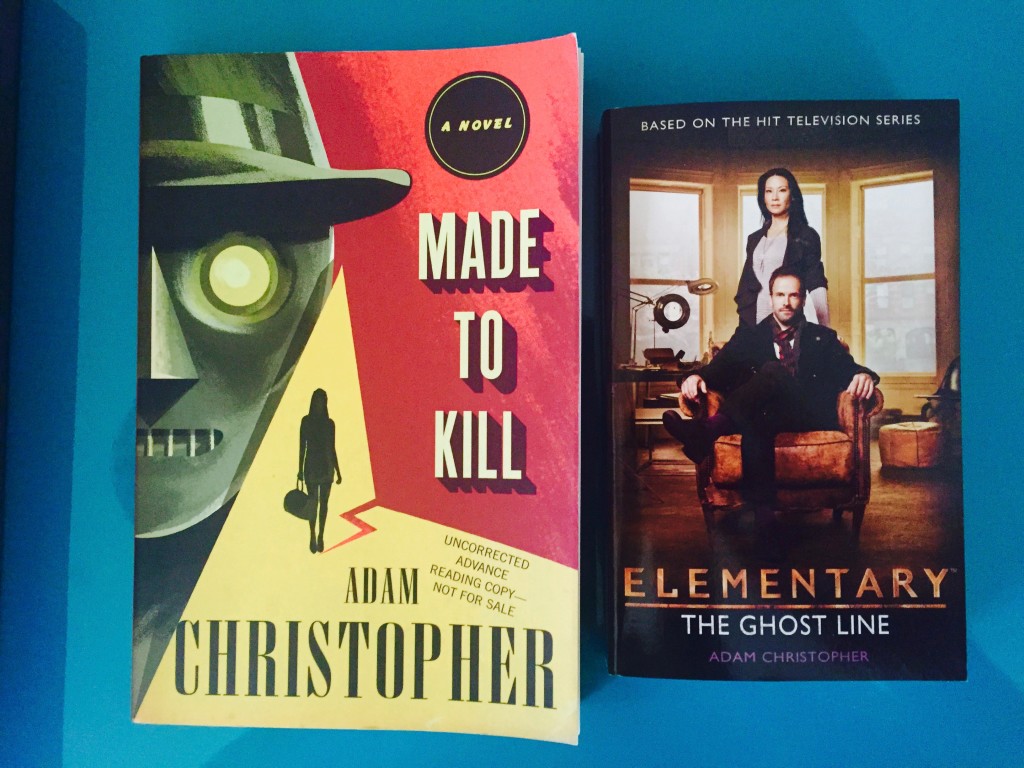 Also! I don't have pictures for these but I swear to you these things are real and part of the booty:
A signed copy of Jinn & Juice by Nicole Peeler!
The Blud series signed by Delilah S. Dawson!
A signed & doodled copy of The Emperor's Blades and Providence of Fire by Brian Staveley!
ML Brennan has generously donated a signed set of her series (Generation V, Iron Night, Tainted Blood, Dark Ascension).
Something from Michael J Sullivan! (I just heard through an intermediary that he's donating a signed book but I don't know exactly which one yet.)
 Thank you to all these authors for donating. And thank you for donating. Together we can help some families survive an absolutely horrific time in their lives.
—Kevin
Books for helping peeps
September 8, 2015
I don't know if y'all have been keeping up with the news but in certain parts of the world there are humans being inhuman to other humans. (That's most everywhere, yeah.) It's especially heinous in the other hemisphere right now. Millions of people are leaving war-torn Syria and other countries because they feel their choices boil down to RUN or DIE, and while some of these refugees are being welcomed and sheltered, many are running into heartless immigration policies and authorities calling them "migrants" rather than refugees. The two words are not the same thing at all, and calling them migrants allows governments to turn them away rather than provide the aid they need and deserve by law. For more on that please see Neil Gaiman's journal on the topic.
There's little I can do about racist immigration policies except vote for kind people in the next election—people who realize that human rights means rights for all humans, not just the ones who look and talk and think and worship like they do. But as far as helping out people who are running for their lives from deplorable conditions, I can donate to the United Nations Refugee Agency, UNHCR.  Here's the link and what they do:
Donate to them at http://rfg.ee/RN3uy​ — and please, share the donation link:
With your support, UNHCR will provide assistance such as:

Deliver rescue kits containing a thermal blanket, towel, water, high nutrient energy bar, dry clothes and shoes, to every survivor;

Set up reception centres where refugees can be registered and receive vital medical care;

Provide temporary emergency shelter to especially vulnerable refugees;

Help children travelling alone by providing specialist support and care.
I can't disagree with any of that. So I donated, and if you're able, I encourage you to do the same, and to encourage your friends as well. When you do, you'll get an email from the UNHCR with a PDF for charitable tax thingies, which looks like this: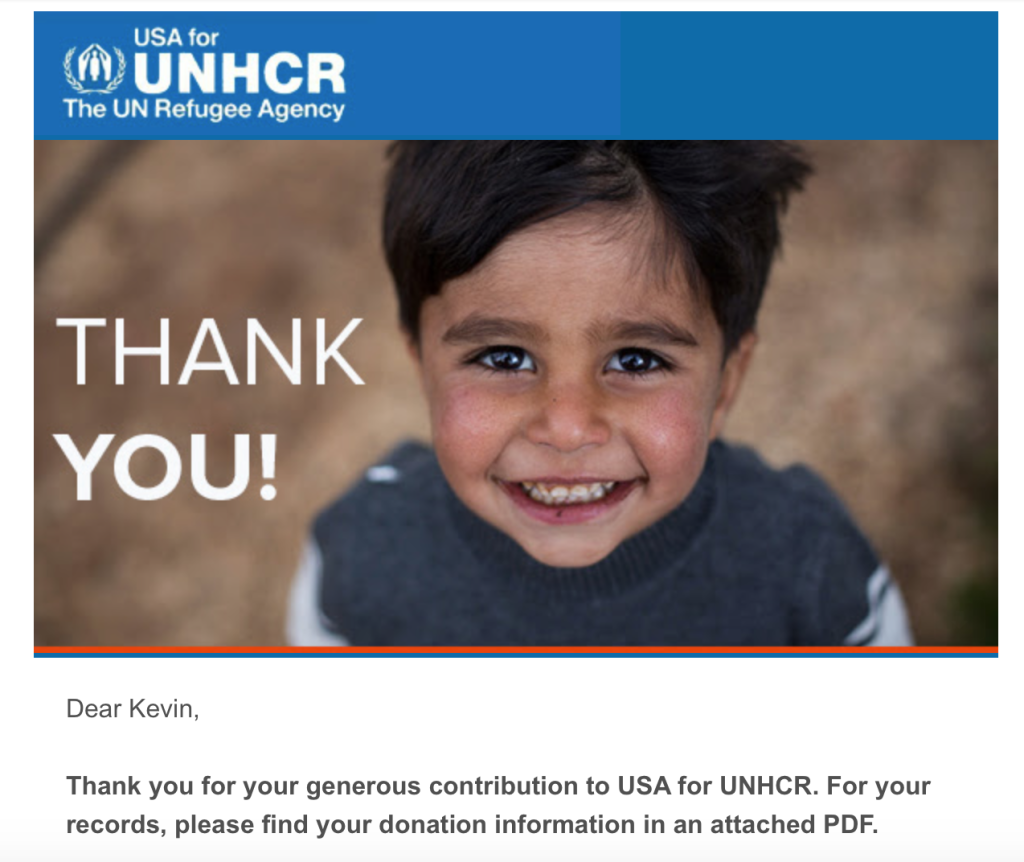 So I'll make y'all a deal. Donate to them. Whatever you can. I don't care how much because it all helps. Send me a screen cap of their email to you like the one above—not the actual PDF with the amount listed, because again, any amount is helpful—and you're automatically entered into a contest to win spiffy books & stuff from a buttload of kind authors who are on board with this. Please send your screen cap to kevin at kevinhearne.com with the subject line BOOKS FOR HELPING PEEPS. I'll run this until Sep. 20 and announce randomly selected winners on the 21st. It's open to international readers too—the UN accepts donations from everyone. Here's what you can win:
One of three copies of Hit or two copies of Servants of the Storm by Delilah S. Dawson, complete with signed bookplates and assorted swag from Delilah!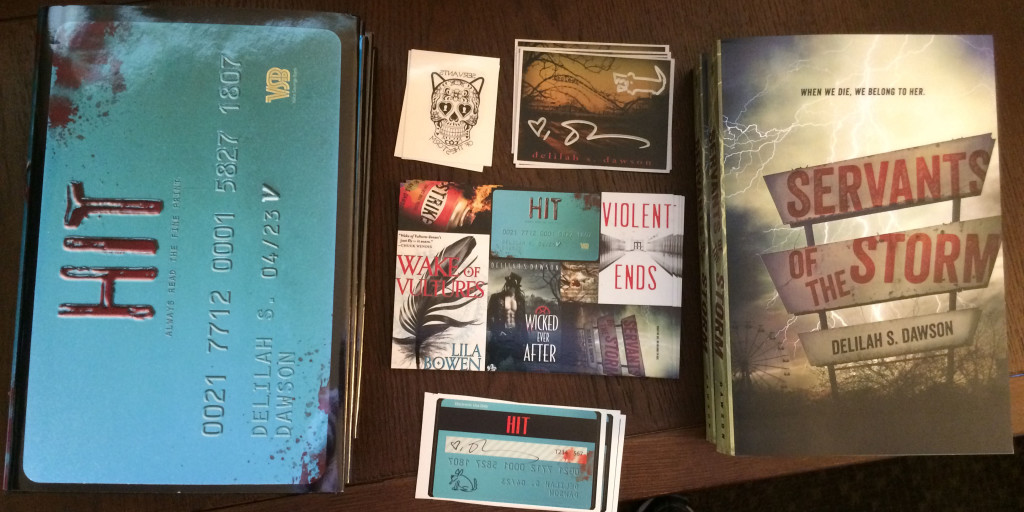 One of three copies of Zer0es by Chuck Wendig. One is signed by both Chuck and me. Another is just signed and doodled by me and if you can find Chuck later and show it to him that would amuse me greatly. The last is a signed copy donated by Chuck and free of my shenanigans.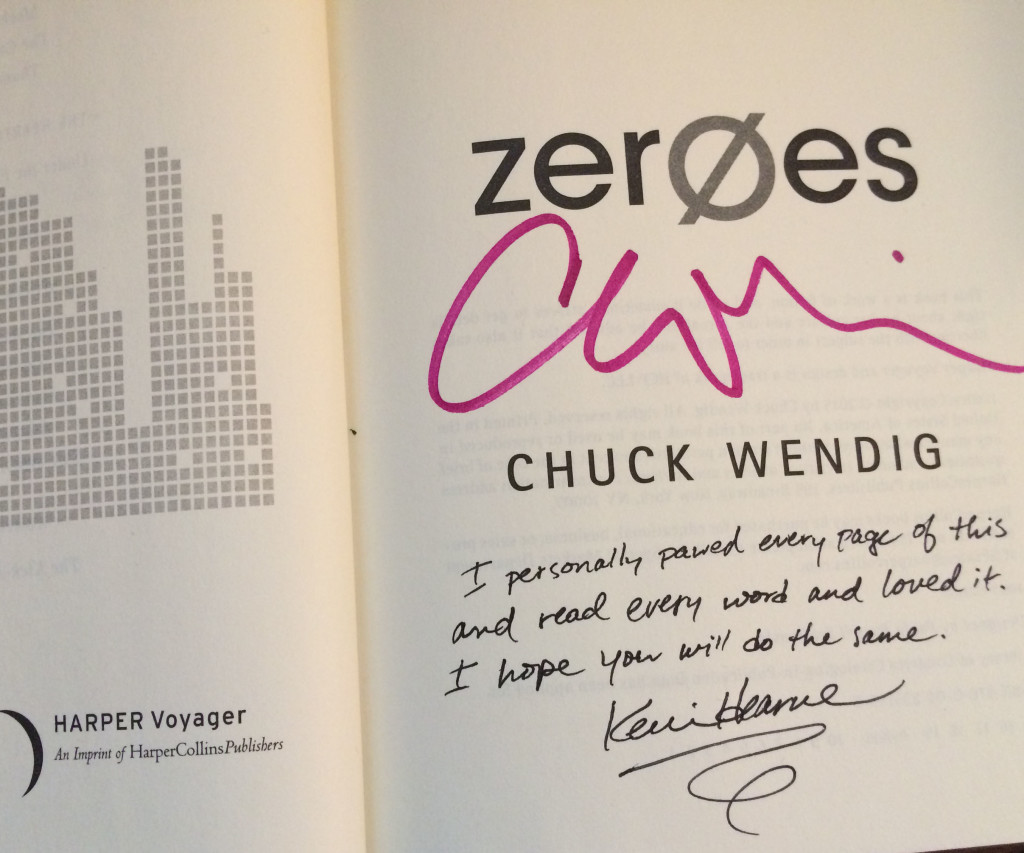 Two copies of Star Wars: Aftermath by Chuck Wendig. One is just straight-up signed & donated by Chuck. The other is the copy that I bought and read and which I have annotated extensively. Here is just a sample of what you'll see as you read: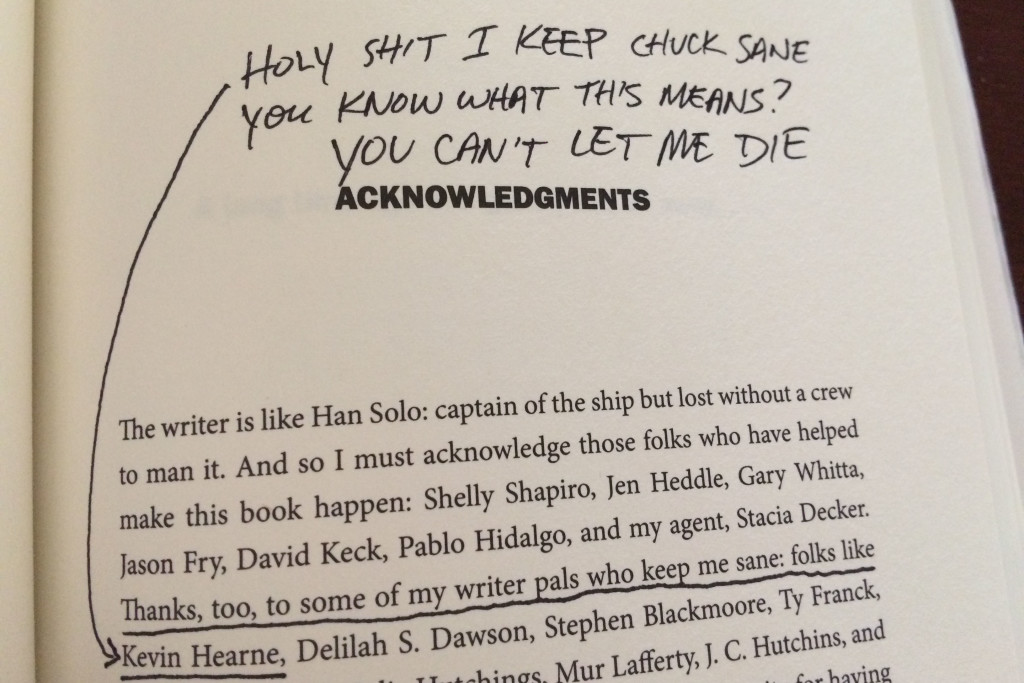 And mature, academic commentary like this:

Excellent human, author, and beekeeper Brian McClellan has donated a rare signed ARC of Promise of Blood and a signed hardcover as well: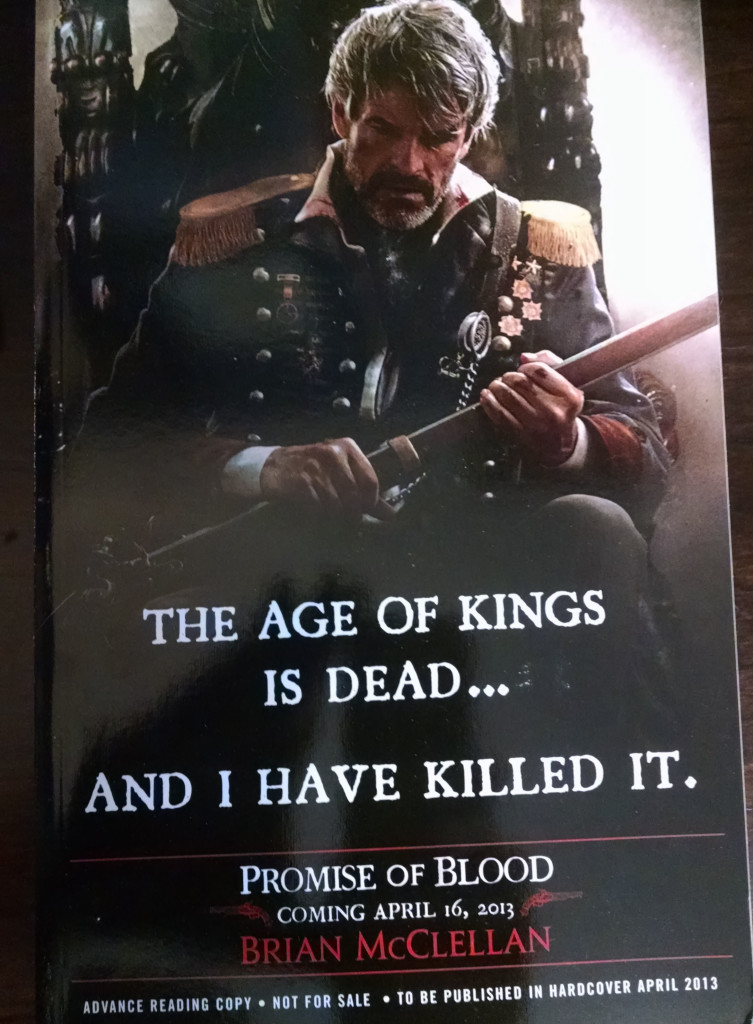 Stellar action god Jason M. Hough has donated a signed hardcover of his latest, Zero World, plus a short story no one has seen yet: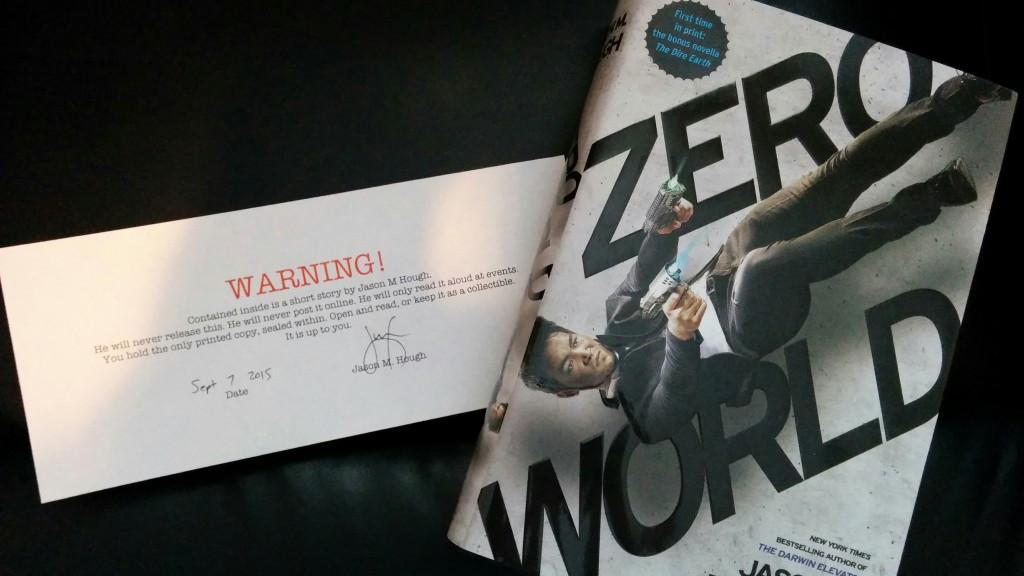 Also on the list o' prizes, these donations from fabulous authors:
A signed copy of Gemini Cell by Myke Cole
A signed copy of The Eterna Files by Leanna Renee Hieber
Two signed copies of The Clockwork Crown by Beth Cato
A signed copy of Dead Things and Broken Souls by Stephen Blackmoore
A signed copy of Revision by Andrea Phillips
The entire St. Croix series by Karina Cooper in either .epub or .mobi format
And then you can also win spiffy Iron Druid art signed by Galen Dara and me. I have five prints like this to give away: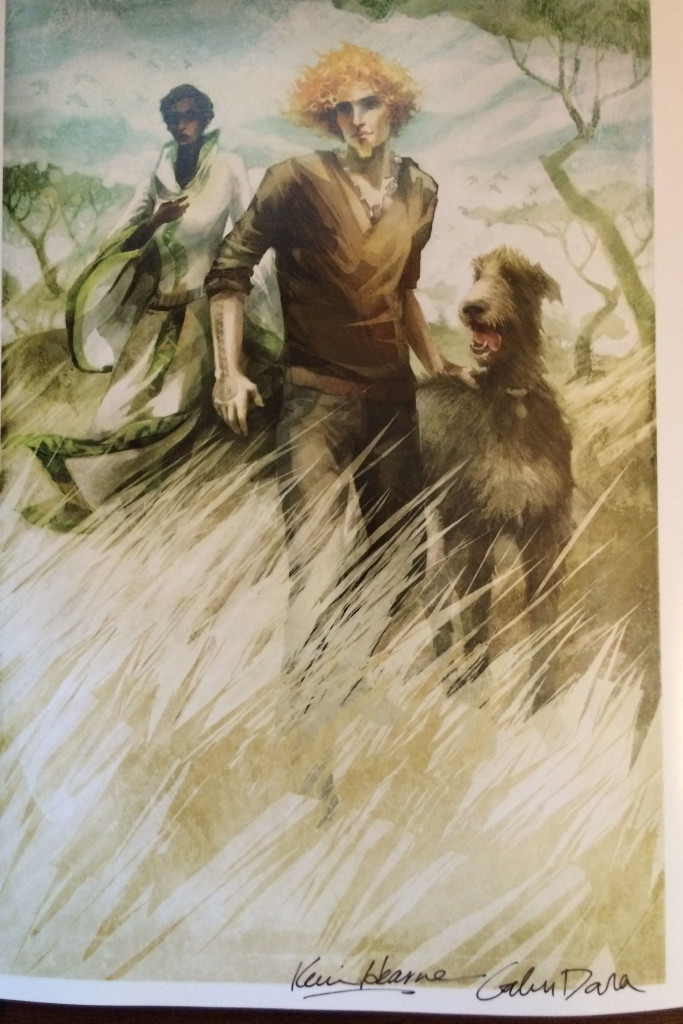 (That's the cover art for THREE SLICES, featuring Mekera, Atticus, and Oberon.) Also, you can win a full signed set of the Iron Druid Chronicles to this point, books 1-7, and one of ten signed hardcover copies of Shattered.
Destroying is easy. Rebuilding is tough. My heartfelt thanks to you for helping people rebuild their lives.
Peace, Love, and Tacos,
Kevin
Come say hi
September 2, 2015
This fall I will be poppin' up in Colorado, Arizona, and Utah for various shindigs. Here they are, hope you can make it to one of them and say hello: 
September 4: Denver, CO! Fiction Beer Company, 5:30 pm, tapping the first keg of Third Eye Library & Herbs, a caraway pear cream ale based on the Iron Druid Chronicles! LET'S HAVE AN IRON DRUID BEER TOGETHER! This project was set up by the Denver Public Library, and if you bring a library card or sign up for one at the event your first pint is $1 off! Plus I'll be delighted to sign anything. There will be books for sale if you want but you're welcome to bring what you have too!
September 12: Greeley, CO: Books and Brews. 6-8 pm, Zoe's Café, downtown Greeley, Bel Air Room. 715 10th St, Greeley, CO 80631. This is run in conjunction with the High Plains Library District. We're going to have 40 or so authors there! AND BEER. B&N will be there if you want to snag a book or of course I don't care if you bring your own. Please come say hi if you can!
September 24-26: Salt Lake Comic Con! I don't have my schedule yet but I'll update my Events & Appearances when I do!
October 15: Prescott, AZ! Signing & hootenanny at Peregrine Book Company, 5 pm. I have never ever done a thing in Prescott. It's turbo rare for me to do something in northern AZ so please come say hi if you can or let anyone you know up there I'll be around!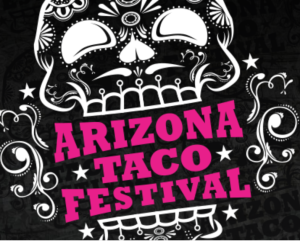 October 18: Arizona Taco Festival!! I'll be the guy with the tacos and margaritas. They will have Lucha Libre wrestling, a Chihuahua beauty pageant, 50 vendors selling $2 tacos of all kinds and competing for $10K in cash for the best taco, a TEQUILA TASTING TENT, and all kinds of shenanigans. You wanna go. So you should. As the Tacopope of the Holy Taco Church, attendance is mandatory for me. Here's the link: Arizona Taco Festival
October 19: Hangout at Rúla Búla Irish Pub in Tempe! Yep, the place where Atticus bought a shot for Jesus. I'll sign whatever you want to bring or the Poisoned Pen will have some copies for sale. Come have a beer and some fish and chips! Starts at 5 pm, but I'll be there for quite a while. We have goodies for people who show up. Hope to see you there!
October 23-25: Milehicon in Denver! I'm the Guest of Honor so I expect I'll have something to say. This is a spiffy wee con and author Carrie Vaughn usually attends too.
November 12: Talkin' and takin' questions at the Erie Public Library, 6:30 pm. Delighted to discuss writing or whatever you'd like!
After that I'll be huddled up at home until it's time to go on tour for STAKED in late January. If you can't see me this fall I hope I'll see you then on one of my stops!
Books and Brews!
August 10, 2015
It is no secret—or at least nothing I've tried to keep secret—that I like both beer and books. Coincidentally, the Denver Public Library likes both as well. And so does Fiction Beer Company in Denver. So we're working together to make Third Eye Library & Herbs, a caraway pear cream ale inspired by the our collective love of stories and art and the Iron Druid Chronicles. We'll be tapping the keg at a big ol' hootenanny on Friday, September 4, at 5:30 at Fiction Beer Company. Hope you can join us for a pint! I'll be there and delighted to sign anything you bring, and Broadway Books will also be there selling new copies if you'd like to pick up one for yourself or a friend. And Denver Public Library will be there too—if you bring your library card or sign up for one on the spot, you can get $1 off your first pour of Third Eye Library & Herbs! This collaboration is truly the brainchild of Denver Public Library and their BrewHa!Ha! for September. Turbo thanks to them for being the coolest library ever.
I went down to Fiction Beer on August 3 to help get the ale started. It was a geekout to be sure! They let me grain out the mash tun, which is a jargon-filled sentence meaning I raked the spent grains into tubs. I loved every second of it. See?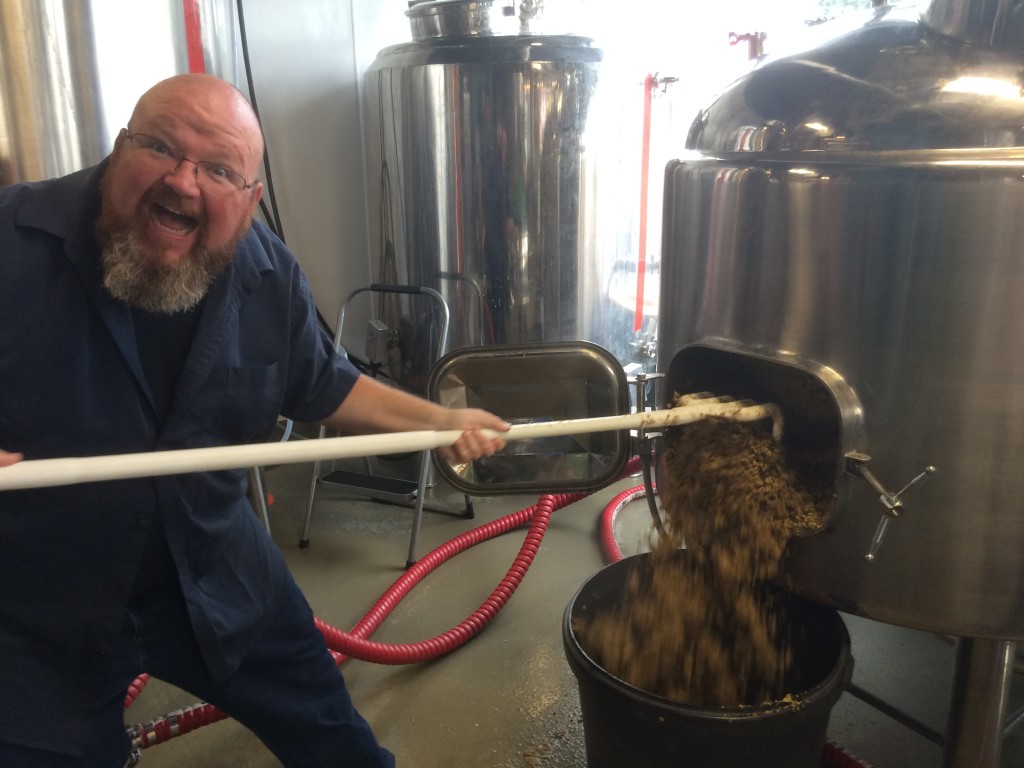 The grain is a barley and corn mixture that's still edible & nutritious. In fact, Fiction Beer gives their spent grain to local pig farmers, thereby contributing to future bacon—which means brewing is even more holy & important work than I thought. I also got to add hops and caraway seeds to the boil kettle and that was fun too. "DO YOU TASTE THOSE HOPS? I PUT THOSE IN THERE. MWAH HA HA HA!"
If you're wondering why an Iron Druid-inspired ale doesn't taste like sausage or something like that, it's because we felt it best to let sausage taste like sausage. Caraway seeds are a popular seasoning in Ireland and will give the ale a little spice, a little bite, and then the pear will smooth it out and give you a refreshing complement to whatever you're eating. It's a potion worthy of a brewmaster like Atticus. And the owner & brewmaster of Fiction Beer is a fine Irish lad named Ryan Kilpatrick. He does excellent work. I sampled his beers and dang they're good. And they're delightfully named through literary allusion, inspired by all kinds of works. "A Beer of Very Little Brain" is a Honey Wheat Common Ale inspired by Winnie the Pooh, for example. Ryan's wife and co-owner, Christa, is the creative mind behind the beer names. She's an English major who reads a lot and names beers, which may be the finest use of an English degree I've ever heard of.  Here's me n' Ryan happy about brewing: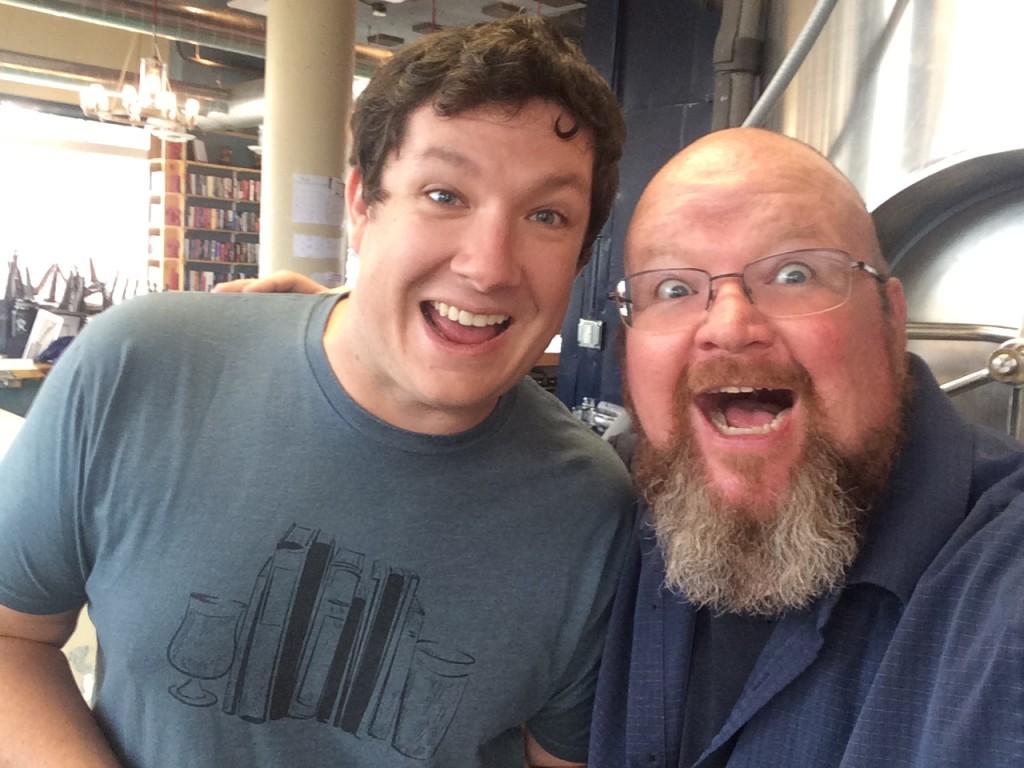 Also in on the BrewHa!Ha! collaboration with Denver Public Library is Denver Beer Company, which is brewing a black currant sour ale and releasing it the night before, September 3, at their place on Platte. I'm going to help them get that started as well—tomorrow (Tuesday) morning, in fact! And the same rule applies—if you bring your Denver library card you get $1 off your first pint!
BUT WAIT! THERE'S MORE BOOKS & BREWS! On Sept 12 I'll be at an event actually called Books and Brews in Greeley, CO, sponsored by the High Plains Library District! (I'm getting the idea that Colorado libraries are incredibly awesome.) I'll be at Zoe's Cafe from 6-8 pm with about 40 other authors, signing and sipping! Please come see us! 715 10th St in Greeley. You can bring your own books or Barnes & Noble will be there selling new copies.
One more thing: If you follow me on Facebook, there's supposed to be this new thing where you can go to your settings and choose my Page to See First in your feed. That way their lame algorithms won't filter me out if you want to see what I'm up to. I post nearly every day but only a fraction of my followers see everything due to their algorithms, so it's nice now that you have a choice to ensure you see certain stuff. As always, thanks for reading! Hope to see you!
Upcoming Doodads
July 22, 2015
I'll be in a few places in the west in September and October! Come say hi!
September 12: Greeley, CO: Books and Brews. 6-8 pm, Zoe's Café, downtown Greeley, Bel Air Room. 715 10th St, Greeley, CO 80631. This is run in conjunction with the High Plains Library District. We're going to have 40 or so authors there! AND BEER. B&N will be there if you want to snag a book or of course I don't care if you bring your own. Please come say hi if you can!
September 24-26: Salt Lake Comic Con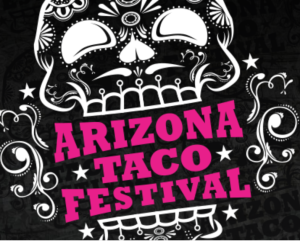 October 18: Arizona Taco Festival!! I'll be the guy with the tacos and margaritas. They will have Lucha Libre wrestling, a Chihuahua beauty pageant, 50 vendors selling $2 tacos of all kinds and competing for $10K in cash for the best taco, a TEQUILA TASTING TENT, and all kinds of shenanigans. You wanna go. So you should. As the Tacopope of the Holy Taco Church, attendance is mandatory for me. Here's the link: Arizona Taco Festival
October 19: Hangout at Rúla Búla Irish Pub in Tempe! Yep, the place where Atticus bought a shot for Jesus. I won't be selling anything but I'll sign whatever you want to bring. Come have a beer and some fish and chips! Starts at 5 pm, but I'll be there a while. Hope to see you there!
October 23-25: MileHiCon, Denver, Guest of Honor
Some great SF/F writers
July 14, 2015
Some reading suggestions for those who might want them—I've received some requests. Some of these are standalones, but fair warning: Some of these are the beginnings of series and you might get hooked like I did.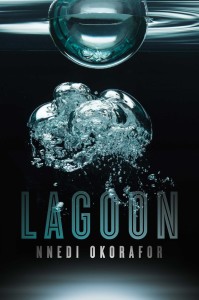 Lagoon by Nnedi Okorafor (bought this today, it just released in the US! Very excited.)
Uprooted by Naomi Novik
A Thousand Words for Stranger by Julie Czerneda
Dirty Magic by Jaye Wells
The Hundred Thousand Kingdoms by N.K. Jemisin
Maplecroft by Cherie Priest, I Am Princess X by the same author if you're looking for YA
My Life As A White Trash Zombie by Diana Rowland
The Mirror Empire by Kameron Hurley
In the Garden of Iden by Kage Baker
Doomsday Book by Connie Willis
The Clockwork Dagger by Beth Cato
Kitty and the Midnight Hour by Carrie Vaughn
Tempest Rising by Nicole Peeler
Revision by Andrea Phillips
The Best of All Possible Worlds by Karen Lord
Hit by Delilah S. Dawson
The Eterna Files by Leanna Renee Hieber
Karen Memory by Elizabeth Bear
Cold Magic by Kate Elliott
There. Lots of different stories to choose from. That should keep you busy until Staked comes out January 26! Happy reading!
Zero World
July 13, 2015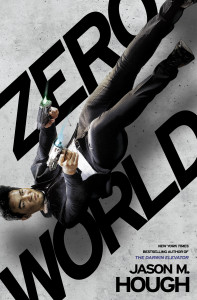 DO YOU LIKE ACTION I MEAN YEAH WHO DOESN'T THEN BOY HOWDY YOU GOTTA READ THIS.
I'm a bit of a Jason Hough fanboy. He just entertains the heck out of me. I loved his Dire Earth Cycle, and ZERO WORLD does it again.
There are science bits! Aliens! An interesting accounting system involving beer! But mostly reading a Jason Hough book is like SKPOW BAM KABLOOIE then whoa wait holy shit dude no augggh BOOM SPLORTCH EEK I can't find my legs what happened to my legs SPAK THUNK CRUNCH hey wait are they gonna kiss now all riiiiight oh but pardon me is that a Death Zeppelin or KRAKA-CHOOM WHUMP SHLIK oh gods it's that thing I told you about! RUN! RUN!
And then it gets really exciting.
I did blurb this a little more professionally than SKPOW BAM KABLOOIE in case you're interested: "One hell of an entertaining read. Hough continues to deliver white-knuckle books anchored by unusual and fascinating characters. Zero World is a giant cup of pure badassery that secures his place among the finest sci-fi action writers today."
But seriously: SKPOW BAM KABLOOIE.
Best thing? You get a Dire Earth novella for free at the end, which will introduce you to his Dire Earth Cycle if you've never checked that out before. Pre-order, my friends—it's out August 18! Hunt the man down and get his signature! Behold: Handy linky-poos!
Amazon Barnes & Noble iTunes Kobo
You can also enter my contest! I have two signed ARCs of ZERO WORLD to give away to US addresses only. Send an email with the subject line ZERO WORLD CONTEST to kevin at kevinhearne dot com, maybe write something awesome in there like SKPOW BAM KABLOOIE, and you're entered. Contest ends Friday. I'll pick two random winners and mail the book!
BUT ALSO I have other books to give away. A hardcover copy of Nemesis Games by James S.A. Corey. (I ordered an extra one.) A bunch of slightly damaged copies of my books—nothing wrong with the insides, just slightly bent covers. I'll sign those. Heck, I'll sign Nemesis Games too. Anyway, if you don't win Zero World you might win one of those.
Other great books to look out for/preorder: Lightless by C.A. Higgins and Wake of Vultures by Lila Bowen. I read early copies of those too and loved them!
NY surprise visit
July 5, 2015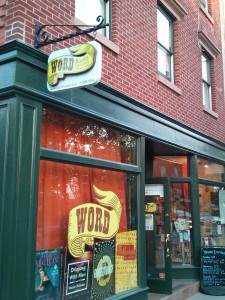 Hi NYC! I'm gonna be there this week! Me n' the kid are going to check out some museums and take in a show. I don't really have a new book release out so it's kinda silly for me to try to arrange something formal, but on the other hand I rarely get to New York. Last time was three years ago, I think?
So let's do a Ninja-Meet-n-Greet-and-dump-some-money-on-an-unsuspecting-indie-store. THIS IS A TOTALLY NORMAL THING TO DO.
Here's where: Word Bookstore, Greenpoint, Brooklyn, Monday, July 6, at 7 pm. Lots of the stores in the big city have super-duper important events going on already and I don't want to stomp on them. Besides, there are MANY reasons to like Word!
1.) They carry my books.
2.) They have stationery. I'm kind of a stationery geek so I'm going to score some while I'm there. I have pen pals to keep happy.
3.) They ship fabulously. I ordered a signed copy of The Eterna Files by Leanna Renee Hieber from them and it arrived in perfect condition. They obviously love books. I was super impressed.
4.) They like doggies. They have a Word Doggie Tumblr where they feature pictures of customers' dogs. I like doggies too!
5.) They are in Brooklyn and I hear that's where I can observe wild hipsters in their natural habitat.
It would be awesome of you to spread the word about Word on your personal network(s). We might get two whole people there (me and my daughter) or we might have enough to start our very own hootenanny. You never know. We'll see what social media can do. Mostly, I wanna 1) try to see you if you wanna see me and 2) support a spiffy indie store. They might not have a ton of my books in stock because, again, this is a ninja deal—so bring what you want but also see if you can snag something from Word to make their Monday awesome & because they are turbo supportive of authors.
And if y'all can't make it, no worries! I know this is super-short notice. That's how these ninja things go. Just wanted to make myself available since I'll be in town. LOVE AND TACOS, NY!
Official Website