Writer's Grove
Books and Brews!
August 10, 2015
It is no secret—or at least nothing I've tried to keep secret—that I like both beer and books. Coincidentally, the Denver Public Library likes both as well. And so does Fiction Beer Company in Denver. So we're working together to make Third Eye Library & Herbs, a caraway pear cream ale inspired by the our collective love of stories and art and the Iron Druid Chronicles. We'll be tapping the keg at a big ol' hootenanny on Friday, September 4, at 5:30 at Fiction Beer Company. Hope you can join us for a pint! I'll be there and delighted to sign anything you bring, and Broadway Books will also be there selling new copies if you'd like to pick up one for yourself or a friend. And Denver Public Library will be there too—if you bring your library card or sign up for one on the spot, you can get $1 off your first pour of Third Eye Library & Herbs! This collaboration is truly the brainchild of Denver Public Library and their BrewHa!Ha! for September. Turbo thanks to them for being the coolest library ever.
I went down to Fiction Beer on August 3 to help get the ale started. It was a geekout to be sure! They let me grain out the mash tun, which is a jargon-filled sentence meaning I raked the spent grains into tubs. I loved every second of it. See?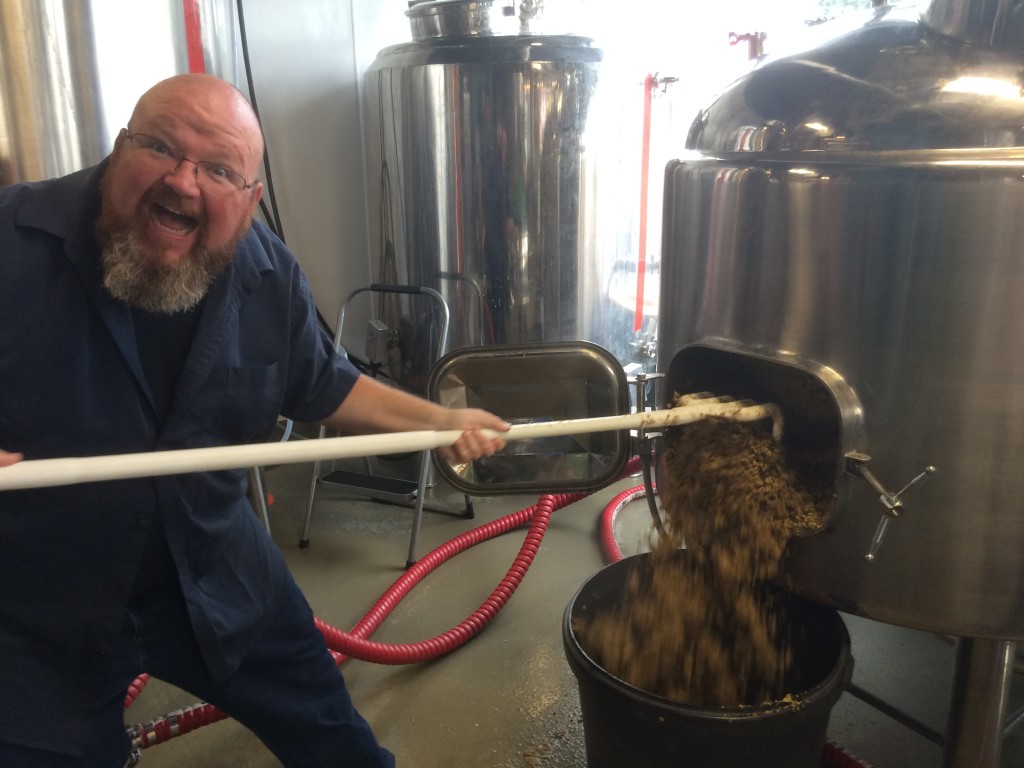 The grain is a barley and corn mixture that's still edible & nutritious. In fact, Fiction Beer gives their spent grain to local pig farmers, thereby contributing to future bacon—which means brewing is even more holy & important work than I thought. I also got to add hops and caraway seeds to the boil kettle and that was fun too. "DO YOU TASTE THOSE HOPS? I PUT THOSE IN THERE. MWAH HA HA HA!"
If you're wondering why an Iron Druid-inspired ale doesn't taste like sausage or something like that, it's because we felt it best to let sausage taste like sausage. Caraway seeds are a popular seasoning in Ireland and will give the ale a little spice, a little bite, and then the pear will smooth it out and give you a refreshing complement to whatever you're eating. It's a potion worthy of a brewmaster like Atticus. And the owner & brewmaster of Fiction Beer is a fine Irish lad named Ryan Kilpatrick. He does excellent work. I sampled his beers and dang they're good. And they're delightfully named through literary allusion, inspired by all kinds of works. "A Beer of Very Little Brain" is a Honey Wheat Common Ale inspired by Winnie the Pooh, for example. Ryan's wife and co-owner, Christa, is the creative mind behind the beer names. She's an English major who reads a lot and names beers, which may be the finest use of an English degree I've ever heard of.  Here's me n' Ryan happy about brewing: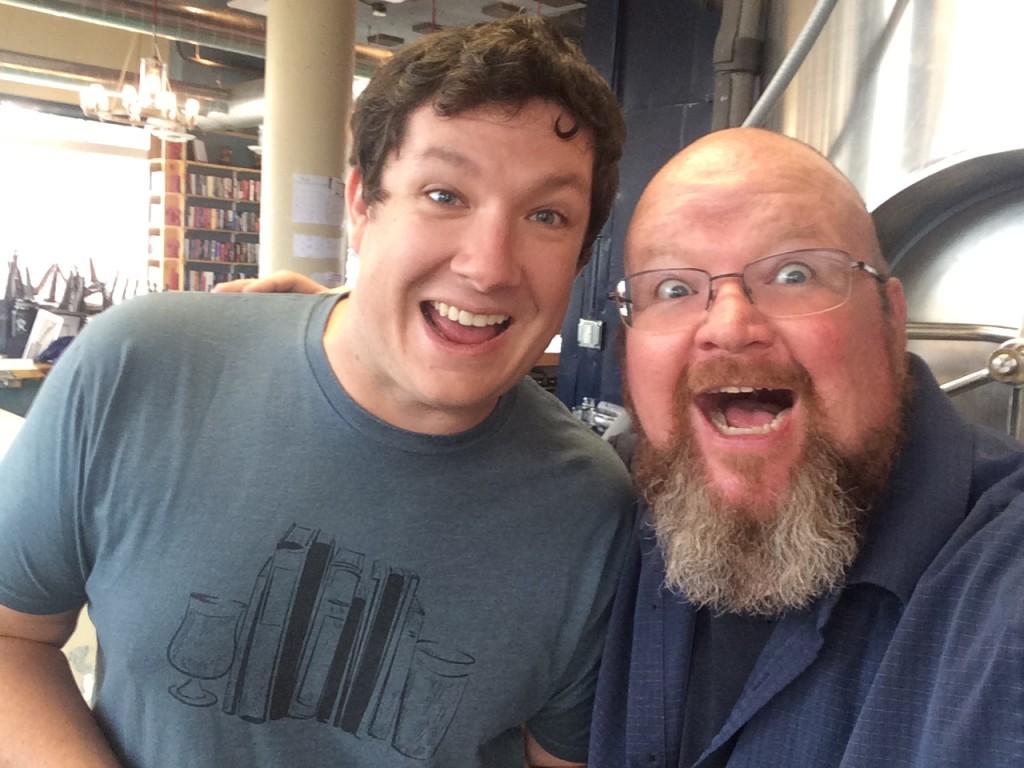 Also in on the BrewHa!Ha! collaboration with Denver Public Library is Denver Beer Company, which is brewing a black currant sour ale and releasing it the night before, September 3, at their place on Platte. I'm going to help them get that started as well—tomorrow (Tuesday) morning, in fact! And the same rule applies—if you bring your Denver library card you get $1 off your first pint!
BUT WAIT! THERE'S MORE BOOKS & BREWS! On Sept 12 I'll be at an event actually called Books and Brews in Greeley, CO, sponsored by the High Plains Library District! (I'm getting the idea that Colorado libraries are incredibly awesome.) I'll be at Zoe's Cafe from 6-8 pm with about 40 other authors, signing and sipping! Please come see us! 715 10th St in Greeley. You can bring your own books or Barnes & Noble will be there selling new copies.
One more thing: If you follow me on Facebook, there's supposed to be this new thing where you can go to your settings and choose my Page to See First in your feed. That way their lame algorithms won't filter me out if you want to see what I'm up to. I post nearly every day but only a fraction of my followers see everything due to their algorithms, so it's nice now that you have a choice to ensure you see certain stuff. As always, thanks for reading! Hope to see you!
Upcoming Doodads
July 22, 2015
I'll be in a few places in the west in September and October! Come say hi!
September 12: Greeley, CO: Books and Brews. 6-8 pm, Zoe's Café, downtown Greeley, Bel Air Room. 715 10th St, Greeley, CO 80631. This is run in conjunction with the High Plains Library District. We're going to have 40 or so authors there! AND BEER. B&N will be there if you want to snag a book or of course I don't care if you bring your own. Please come say hi if you can!
September 24-26: Salt Lake Comic Con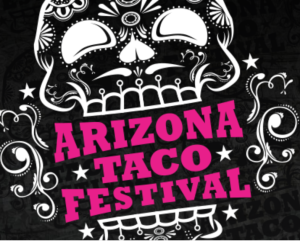 October 18: Arizona Taco Festival!! I'll be the guy with the tacos and margaritas. They will have Lucha Libre wrestling, a Chihuahua beauty pageant, 50 vendors selling $2 tacos of all kinds and competing for $10K in cash for the best taco, a TEQUILA TASTING TENT, and all kinds of shenanigans. You wanna go. So you should. As the Tacopope of the Holy Taco Church, attendance is mandatory for me. Here's the link: Arizona Taco Festival
October 19: Hangout at Rúla Búla Irish Pub in Tempe! Yep, the place where Atticus bought a shot for Jesus. I won't be selling anything but I'll sign whatever you want to bring. Come have a beer and some fish and chips! Starts at 5 pm, but I'll be there a while. Hope to see you there!
October 23-25: MileHiCon, Denver, Guest of Honor
Some great SF/F writers
July 14, 2015
Some reading suggestions for those who might want them—I've received some requests. Some of these are standalones, but fair warning: Some of these are the beginnings of series and you might get hooked like I did.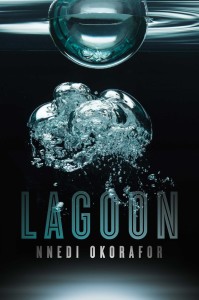 Lagoon by Nnedi Okorafor (bought this today, it just released in the US! Very excited.)
Uprooted by Naomi Novik
A Thousand Words for Stranger by Julie Czerneda
Dirty Magic by Jaye Wells
The Hundred Thousand Kingdoms by N.K. Jemisin
Maplecroft by Cherie Priest, I Am Princess X by the same author if you're looking for YA
My Life As A White Trash Zombie by Diana Rowland
The Mirror Empire by Kameron Hurley
In the Garden of Iden by Kage Baker
Doomsday Book by Connie Willis
The Clockwork Dagger by Beth Cato
Kitty and the Midnight Hour by Carrie Vaughn
Tempest Rising by Nicole Peeler
Revision by Andrea Phillips
The Best of All Possible Worlds by Karen Lord
Hit by Delilah S. Dawson
The Eterna Files by Leanna Renee Hieber
Karen Memory by Elizabeth Bear
Cold Magic by Kate Elliott
There. Lots of different stories to choose from. That should keep you busy until Staked comes out January 26! Happy reading!
Zero World
July 13, 2015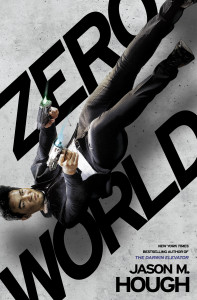 DO YOU LIKE ACTION I MEAN YEAH WHO DOESN'T THEN BOY HOWDY YOU GOTTA READ THIS.
I'm a bit of a Jason Hough fanboy. He just entertains the heck out of me. I loved his Dire Earth Cycle, and ZERO WORLD does it again.
There are science bits! Aliens! An interesting accounting system involving beer! But mostly reading a Jason Hough book is like SKPOW BAM KABLOOIE then whoa wait holy shit dude no augggh BOOM SPLORTCH EEK I can't find my legs what happened to my legs SPAK THUNK CRUNCH hey wait are they gonna kiss now all riiiiight oh but pardon me is that a Death Zeppelin or KRAKA-CHOOM WHUMP SHLIK oh gods it's that thing I told you about! RUN! RUN!
And then it gets really exciting.
I did blurb this a little more professionally than SKPOW BAM KABLOOIE in case you're interested: "One hell of an entertaining read. Hough continues to deliver white-knuckle books anchored by unusual and fascinating characters. Zero World is a giant cup of pure badassery that secures his place among the finest sci-fi action writers today."
But seriously: SKPOW BAM KABLOOIE.
Best thing? You get a Dire Earth novella for free at the end, which will introduce you to his Dire Earth Cycle if you've never checked that out before. Pre-order, my friends—it's out August 18! Hunt the man down and get his signature! Behold: Handy linky-poos!
Amazon Barnes & Noble iTunes Kobo
You can also enter my contest! I have two signed ARCs of ZERO WORLD to give away to US addresses only. Send an email with the subject line ZERO WORLD CONTEST to kevin at kevinhearne dot com, maybe write something awesome in there like SKPOW BAM KABLOOIE, and you're entered. Contest ends Friday. I'll pick two random winners and mail the book!
BUT ALSO I have other books to give away. A hardcover copy of Nemesis Games by James S.A. Corey. (I ordered an extra one.) A bunch of slightly damaged copies of my books—nothing wrong with the insides, just slightly bent covers. I'll sign those. Heck, I'll sign Nemesis Games too. Anyway, if you don't win Zero World you might win one of those.
Other great books to look out for/preorder: Lightless by C.A. Higgins and Wake of Vultures by Lila Bowen. I read early copies of those too and loved them!
NY surprise visit
July 5, 2015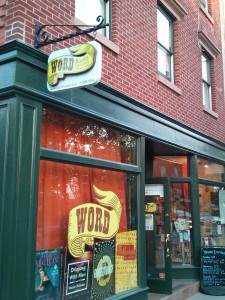 Hi NYC! I'm gonna be there this week! Me n' the kid are going to check out some museums and take in a show. I don't really have a new book release out so it's kinda silly for me to try to arrange something formal, but on the other hand I rarely get to New York. Last time was three years ago, I think?
So let's do a Ninja-Meet-n-Greet-and-dump-some-money-on-an-unsuspecting-indie-store. THIS IS A TOTALLY NORMAL THING TO DO.
Here's where: Word Bookstore, Greenpoint, Brooklyn, Monday, July 6, at 7 pm. Lots of the stores in the big city have super-duper important events going on already and I don't want to stomp on them. Besides, there are MANY reasons to like Word!
1.) They carry my books.
2.) They have stationery. I'm kind of a stationery geek so I'm going to score some while I'm there. I have pen pals to keep happy.
3.) They ship fabulously. I ordered a signed copy of The Eterna Files by Leanna Renee Hieber from them and it arrived in perfect condition. They obviously love books. I was super impressed.
4.) They like doggies. They have a Word Doggie Tumblr where they feature pictures of customers' dogs. I like doggies too!
5.) They are in Brooklyn and I hear that's where I can observe wild hipsters in their natural habitat.
It would be awesome of you to spread the word about Word on your personal network(s). We might get two whole people there (me and my daughter) or we might have enough to start our very own hootenanny. You never know. We'll see what social media can do. Mostly, I wanna 1) try to see you if you wanna see me and 2) support a spiffy indie store. They might not have a ton of my books in stock because, again, this is a ninja deal—so bring what you want but also see if you can snag something from Word to make their Monday awesome & because they are turbo supportive of authors.
And if y'all can't make it, no worries! I know this is super-short notice. That's how these ninja things go. Just wanted to make myself available since I'll be in town. LOVE AND TACOS, NY!
Covers and deals!
July 1, 2015
If you somehow missed it, the cover for STAKED, book 8 of the Iron Druid Chronicles, is out there and it's turbo spiffy! As luck would have it, it's also here so you don't have to go far to check it out.
PURTY, right? It's out January 26 and you can pre-order now from wherever you dig buying your books. (Please do. Besides just spreading the word about a book to your friends, pre-ordering is honestly the best thing you can do for an author you'd like to see write more stuff. Doesn't matter what format, it's all good. If you don't have an indie bookstore near you, here are some handy-dandy linky-poos to the big ones: Amazon B&N iBooks)
I'll have tour info later on. Phoenix and Denver are for-sure stops! Everything else is still under discussion.
Ready for a smokin' hot deal? I BET YOU ARE. Since Shattered is out now in paperback you can get a hardcover for dirt cheap. A sexy signed one! Fifty percent off when you order from Oberon's Treat Shop and use the coupon code FIFTY at checkout. And the first forty people to buy a hardcover from Oberon will also get a promo code for a free audiobook download of Two Tales of the Iron Druid Chronicles. BUT WAIT! THERE'S MORE! I still have a few of these Oberon posters left. Lookit: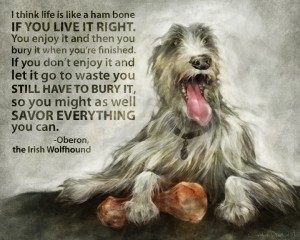 I'd like to get rid of them. So for people who order hardcovers of Shattered I'll throw in a signed poster too until I run out! Let me stress that I only have twenty or so—it's a first-come first-served thing.
Let's see, what else? OH YEAH. I will be places later this year! Salt Lake Comic Con in September and MileHiCon in Denver in October! If you're going to be at either one (or might decide to go soon) I hope to see you there!
A few peeps have asked about the Iron Druid ringtones recorded by Luke Daniels. Those are still coming—I just haven't had time to get to them. Stay tuned for that!
What I'm writing now: A Plague of Giants, the first volume of my epic fantasy trilogy. I'm already more than half finished and I'm excited about getting to the end!
Thank you all for reading. Love & tacos for everyone!
I'm in Australia!
June 16, 2015

I'm going to Supanova Expo in Sydney June 19-21 and in Perth June 26-28! So excited to meet all you Aussies & Kiwis!
I'll be spending the majority of my time at the Booktopia area, which I'm given to understand is easily located on the venue map thingie. I will have some panels too, of course—see the event programme and then see me there! (Can I just say I love the bonus letters in UK/Aus English? Programme is so much fancier than program and favourite is my favorite.)
Apologies that I won't be visiting other cities. I'll be all business those two weekends of Supanova, but in between I'll be hanging out with my family, fraternizing with koalas and quokkas, running from giant spiders, that sort of thing. My mom's wanted to go to Australia since she was wee and now she's finally going. And it's also downtime for me; I just finished writing Staked this morning—I've been writing one thing or another nonstop since New Year's—and I need a break. Not even taking my laptop with me. Bringing lots of books to read, though!
I'm reading two ARCs right now: Lightless by CA Higgins and Trailer Park Fae by Lilith Saintcrow. I also have Of Blood and Honey by Stina Leicht and Corsair by James L. Cambias, and I'm sure I'll pick up additional goodies while at Supanova!
(By the way: Staked will be out Jan. 26. If you haven't read Three Slices yet, that contains an important novella set in between Shattered and Staked—snag it for your Atticus & Oberon fix!)
Elevengeddon and PHXCC
May 14, 2015
OMG FIRE UP THE SQUEE SIRENS
Home fries, I'm going to be amongst some of the biggest storytellin' brains around pretty soon and it makes me ridiculously happy. But I want YOU to be happy too. You should join me. COME TO ELEVENGEDDON.
Elevengeddon started out as a joke name for an event with eleven SF/F authors, but then it kept growing—up to seventeen authors!—and we just kept the name since it got funnier as we went.
The Where and When: The Poisoned Pen in Scottsdale, AZ, at 7 pm, on Wednesday, May 27.
The Who: omg omg omg this LIST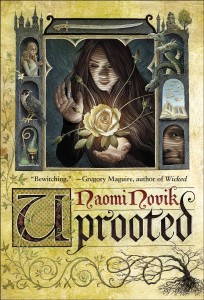 Naomi Novik! I've never met her before, so. The SQUEE. Her new book, Uprooted, is so damn good and I cannot wait to thank her for the story in person. Y'all should read it. You will love!
Richard Kadrey, author of the NYT bestselling Sandman Slim series! Also a turbo nice guy.
Jason M. Hough, author of The Darwin Elevator and the upcoming Zero World. His books are action-packed thrill rides with SCIENCE and ALIENS
Cherie Priest, who wrote a genius book called Maplecroft and will be debuting I Am Princess X at this event!
Chuck Wendig, Legendary Beard Brother and Coffee Guru and author of the Miriam Black series, among many others! Will he bring the #Facebees? WE SHALL SEE.
Delilah S. Dawson, author of Hit (and much more), utterly hilarious and super smart and I look forward to all her books forever.
Wes Chu, author of the very entertaining Tao series and the upcoming Time Salvager!
Stephen Blackmoore writes one of my absolute favorite series about a necromancer named Eric Carter. You owe it to yourself to start with Dead Things. So good!
Beth Cato, author of The Clockwork Dagger, which just got nominated for a Locus Award for Best First Novel! Her sequel, The Clockwork Crown, will be on sale for the first time at this event!
Brian McClellan, another Beard Brother, a lover of cake (well, not carnally), and the author of the epic Powder Mage trilogy!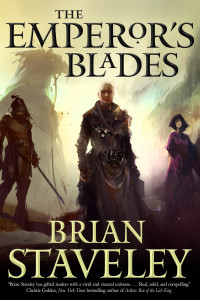 Brian Staveley! I haven't met Brian or read his work (yet!) but judging by how excited some people are that he's coming I should probably shave and wear pants and everything to give the best first impression I possibly can. I'm kind of nervous.
Andrea Phillips! She'll have her shiny debut novel, Revision, on hand! It got a starred review in Publisher's Weekly! Great stuff you should check out!
Sam Sykes, author of The City Stained Red, a tale rife with monsters and balls-out naked fight scenes, and owner of an adorable pug named Otis who sometimes shits on his floor—adorably, though. That's really the only way to shit on Sam's floor and get away with it.
Myke Cole, author of Gemini Cell and owner of the most famous shower in New York. Seriously: His shower has its own Twitter account. He could be the Most Interesting Man At This Gig and you should buy his books.
Django Wexler! He wrote The Thousand Names! His name is really fun to say! And he plays Warmachine and someday we will face off on the battlefield, his Cygnar troops against my fire priests, and he will most likely destroy me but it'll be fun!
Michael J Martinez, author of The Daedalus Incident, beer aficionado, enchilada enthusiast, and spiffy dude!
And…me. I will be there. Incandescently happy to be in the company of such awesome writers and readers.
Please come see us if you can! Bring or buy books, have us sign 'em, take a selfie, have a great time!
If you can't make it but would like a signed copy of any of the above authors' books, give the Poisoned Pen a call ahead of time! They will get us to sign 'em for you and ship  wherever you are—they ship internationally! Their phone number is 480-947-2974.
PHOENIX COMICON
Here's where and when to find me at Phoenix Comicon, May 28-31:
Del Rey Spotlight : Friday 10:30am – 11:30am
Del Rey Signing Jason Hough, Kevin Hearne, Naomi Novik, Peter V. Brett, Pierce Brown, Scott Sigler : Friday 12:00pm – 1:00pm
Life After True Blood : Friday 1:30pm – 2:30pm
Signing at Badali Jewelry booth, where they have officially licensed Iron Druid jewelry: Friday 3:00-4:00 pm
The Food of Fantasy : Friday 4:30pm – 5:30pm
Spotlight on Kevin Hearne : Friday 6:00pm – 7:00pm
Mother Trucking Monsters : Saturday 10:30am – 11:30am
Signing: Leanna Renee Hieber, Kevin Hearne, Jonathan Maberry, Mur Lafferty, Ann Leckie, Renee Witte : Saturday 1:30pm – 2:30pm
Stepping up to Social Media : Sunday 1:30pm – 2:30pm
Mythology : Sunday 3:00pm – 4:00pm
I hope to see you there! Love & tacos & beer—
Kevin
MACHURROS!
May 13, 2015
Churros are completely fabulous and that is why so many of them are mowed down in their youth, eaten by ravenous predators at taquerias and churro stands worldwide. But a few churros do make it to adulthood, thank goodness, and mature churros—MACHURROS—are every bit as delicious. Maybe even more so. You be the judge.
I first encountered machurros at a party. People took a bite and their eyes rolled up in their heads and their toes curled. There may have been some bucking hips but I won't confirm or deny that was me.  They were brought by Keelie, and she says she got the recipe from Amy Pinson, and where Amy got it is A Mystery. But there: I have given credit where it is due, and now I'm gonna break this down for you because I love you and want you to be happy.
Stuff you need:
2 cans Pillsbury Crescent Rolls
2 8-oz packages of cream cheese
1 cup sugar
1/2 cup butter (I used unsalted)
1/4 cup sugar combined with 1 tbsp cinnamon
Obviously, looking at the ingredients, there is a small chance that eating a machurro will detonate your pancreas. But it will be such a delicious explosion.
Preheat thy oven to 350 degrees. Grab a 9×13 pan and grease that sucker with your cooking spray. Coconut oil spray worked great for me. Roll out 1 can of Crescent Rolls in the bottom of a greased 9×13 pan.  (They unroll like a poster of dough but with some stitched perforations in there like Frankenstein's monster. Pinch those wee seams together.) Should look a bit like this: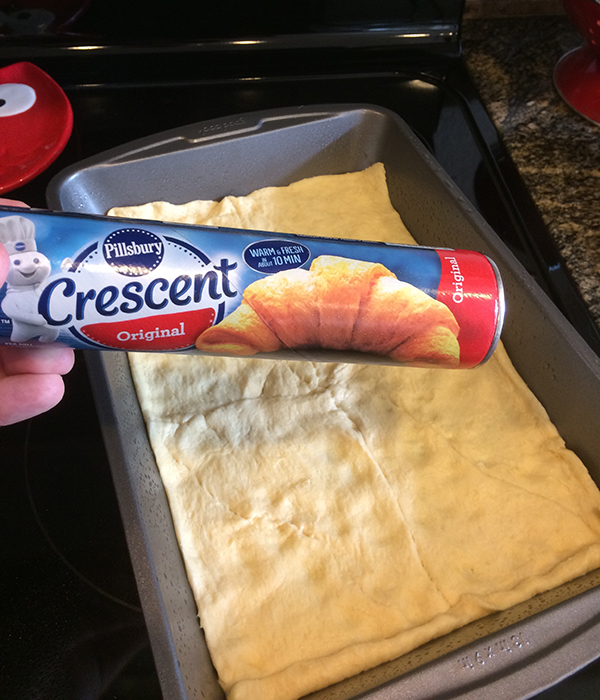 GROOVY. Now, in a mixer or with your own caffeine-fueled, tool-bearing hand, beat together the cream cheese and 1 cup of sugar until smooth. Spread this mixture over the doughy crescent rolls in pan. You can aspire to making it all even but let's face it there will be some uneven bits. That's okay. On top of that, roll out the other can of crescent rolls, pinching the seams together once more.  Make sure it is stretched as close to the edges as possible, so no cream cheese is showing. A progress photo: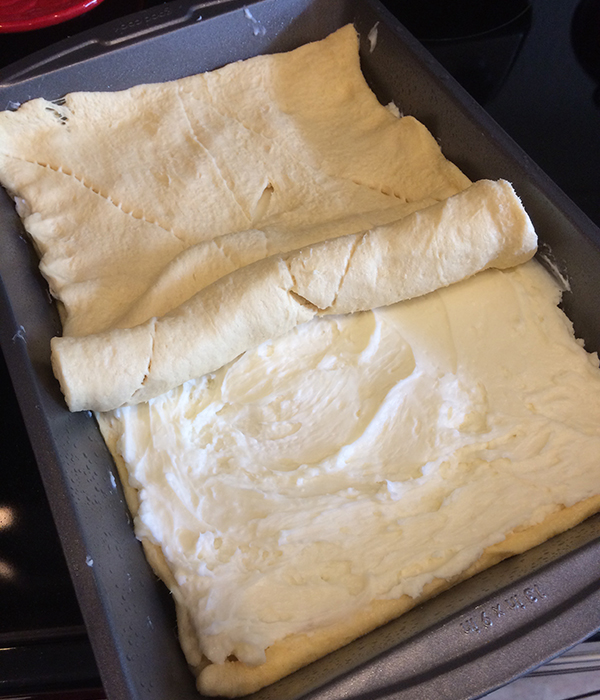 All right, now you melt that 1/2 cup (one stick) of butter and pour it over the crescent rolls. If you did it right nothing leaks into the cream cheese below.
You now have a pond of melted butter. Sprinkle your cinnamon sugar mixture evenly over the butter and crescent rolls. It's gonna start looking really good.
Bake thou thy machurros at 350 degrees for 30 minutes.  Let cool for 20 minutes.  You can cut 'em up and serve while they're still hot, OR you can refrigerate and take to your next party, where you will be immensely popular. Because they're every bit as nom when they're cold. They look like this coming out of the oven: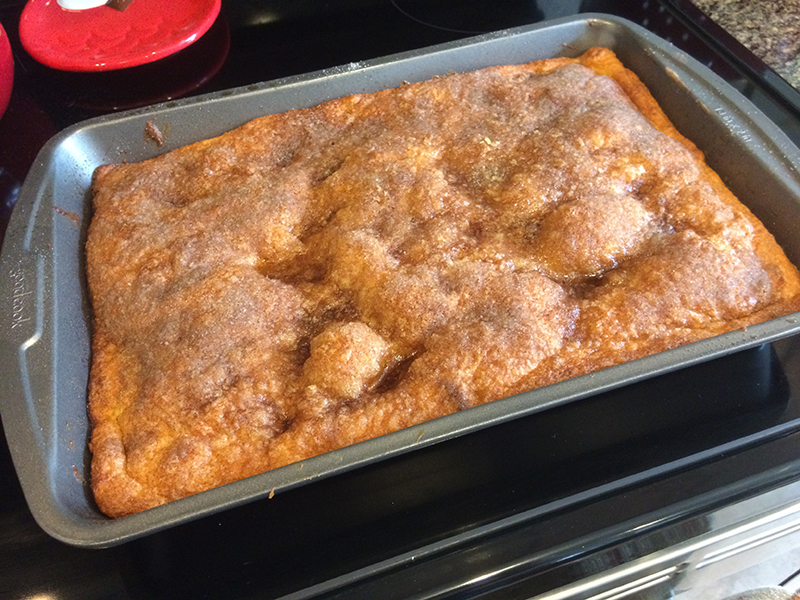 And once you cut 'em into squares and make a machurro ziggurat, they become irresistible: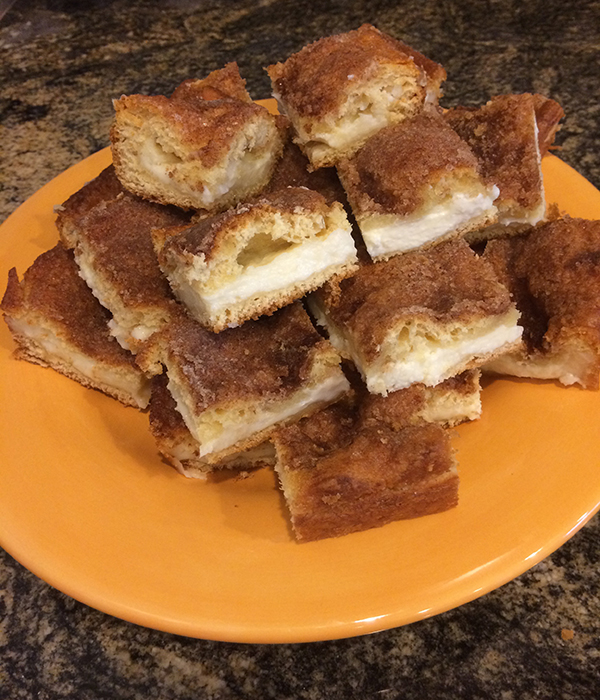 Enjoy, my spiffy peeps!
Love Letter to Poland
April 27, 2015
Hi, Poland.
I'm not as well traveled as some. This is my first trip to Europe, after all. But I must say that meeting you was love at first sight. Thank you for being so delightful.
I have a Polish sister-in-law and I also have some friends back in Arizona, Kasia and Leszek, who emigrated from Warsaw about 15 years ago. They introduced me to Żubrowka (a Polish vodka that makes a stunning drink when mixed with apple juice) and gave me my first clue that I would really, really like Poland and its people. And it turned out to be true.
I'm writing this on the train to Berlin and I'm already missing you. Every person I met in Warsaw and Poznań was universally adorable. I'm very grateful to my publisher, Rebis, for bringing me out to visit, and to my readers for coming to see me at Pyrkon!
The first person I must thank is Adrian Tomczyk. Adrian was my translator and guide and language teacher. He's brilliant and classy and seemed to be amused by the crazy American guy who got super excited about fresh pear cider on draught.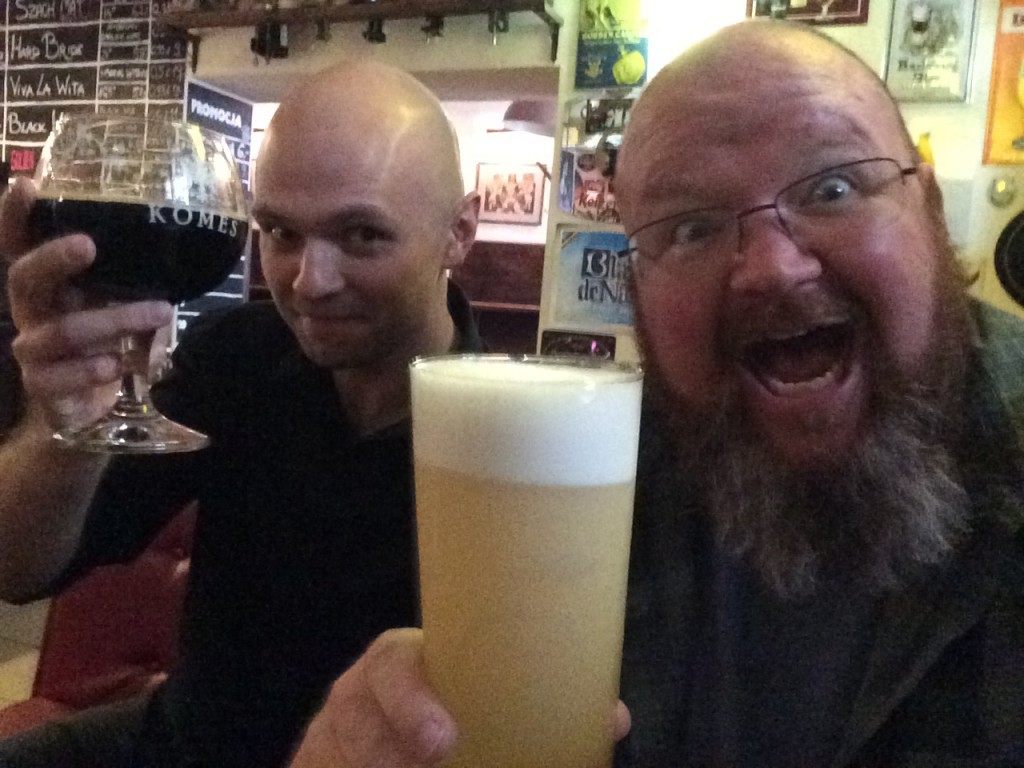 Near the end of my stay I was able to start reading some basic Polish—just the really important stuff, like BEER PUDDING. I saw this sign, pointed it out to Adrian, and said, "BEER PUDDING! WE MUST HAVE SOME! IT WILL GIVE US +5 VITALITY!"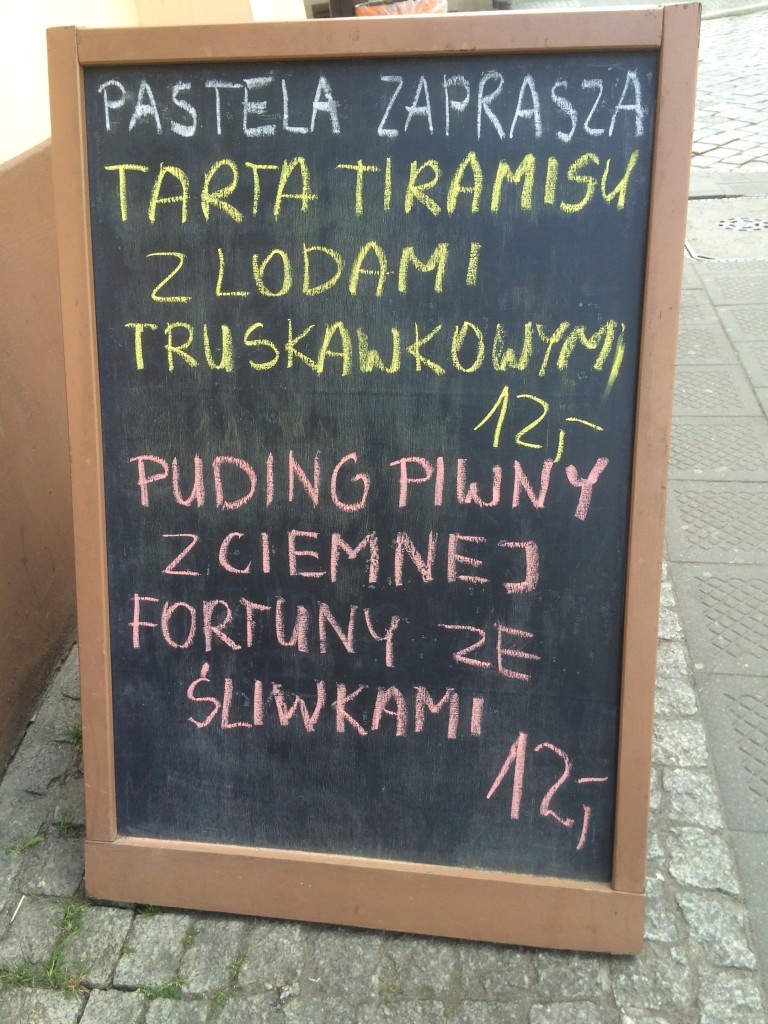 It was glorious and worthy of a quest. Plum-flavored pudding cooked in dark beer and garnished with pomegranate seeds. I think I wound up getting +6 vitality from it. And let me go ahead and say that all the food was spectacular, from the pierogies to the sausage-n-tater soup in a bread bowl to the very, very tasty pilsners.
Greg Zielinski was my translator in Warsaw and was also super helpful; he took me to Pole Mokotowskie so that I could take some pictures. Part of Granuaile's story in STAKED will involve the Polish coven and some additional members of the Slavic pantheon that we have not seen thus far, so I took the opportunity to do some location scouting, and when I return to Warsaw on May 7 it will be my mission to scout out where the Polish coven lives (somewhere in the Wawer district, across the Wisła River).
When I got to Pyrkon in Poznań I was surprised by a group of readers who had some astonishingly thoughtful gifts for me. It was very touching. Eternal thanks to Kasia, Anna, Dominika, Magdalena, Bartosz, Martyna, Marysia, Ewelina, Ala, Agnieszka (both of you), Pawel, Krzcyz and Marta! (I hope I didn't forget anyone!) All of you were wonderful and made me feel welcome. I took pictures with everybody but here is one with Ewelina who is, despite her protests, quite skilled at taking goofy selfies. I think she could go pro.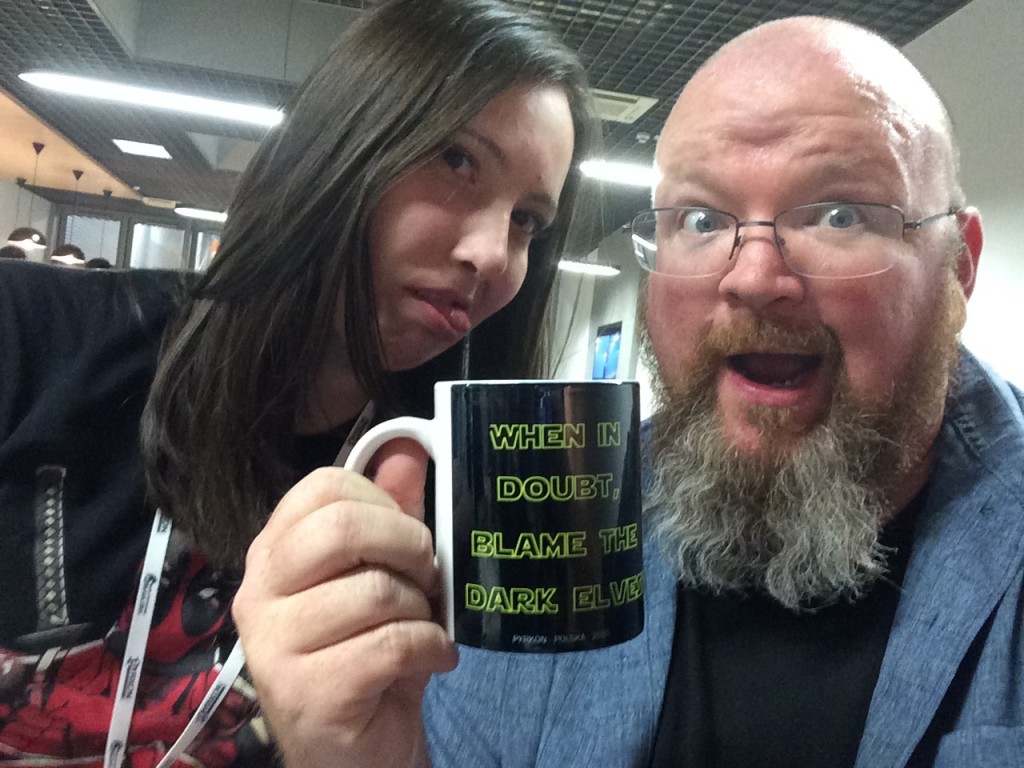 Thanks also to everyone who could not attend Pyrkon but sent cards or gifts along through Kasia! You are awesome!
Also awesome: The people who came to see me for my autograph session at Pyrkon! Thank you all so much for reading and for taking the trouble to come say hello to me! I'm so glad you're enjoying Kroniki Żelaznego Druida!
Oh—and Tomasz in Warsaw was a super spiffy guy. He came by to visit me, gave me some Polish mead, and took me to Paradox Café, where they play board games or RPGs and drink beer. So, you know: Almost all the good things in life. Pretty cool to walk into a place and see a Game of Thrones banner hanging over the bar.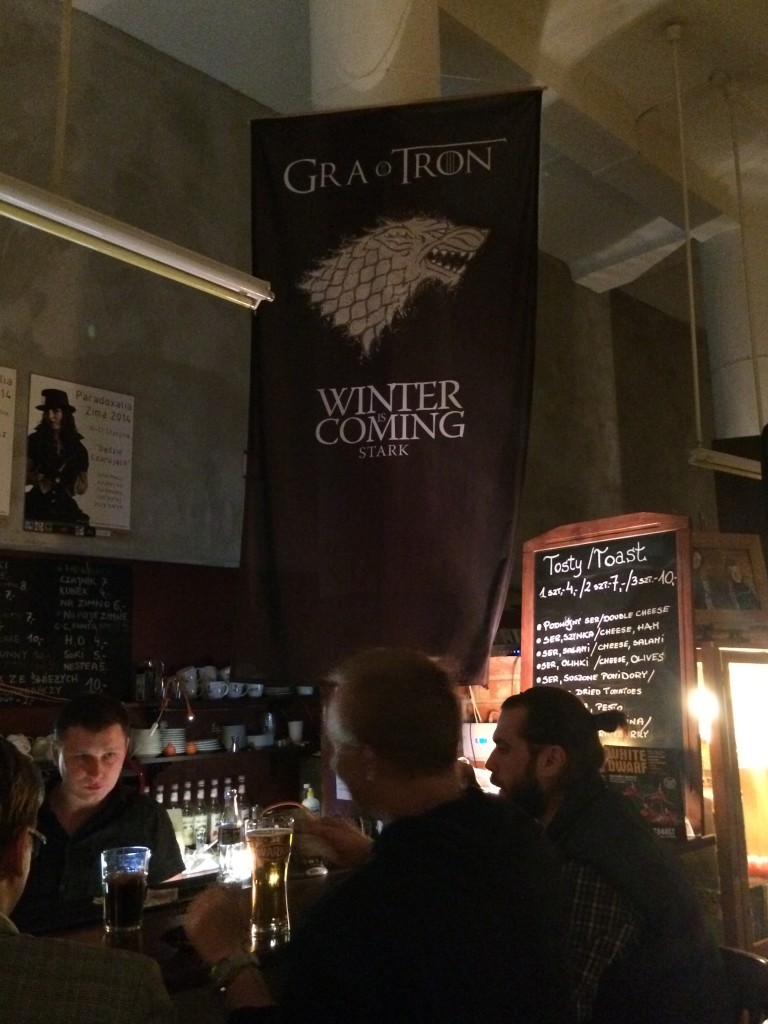 The short version: I love Poland. Thank you again. For lots more pictures, see the albums I posted on my Facebook author page.
If you're in Berlin or near enough to make no difference: I'll be at Otherland Buchhandlung on Tuesday at 8 pm and hope to see you there! I'll be in Prague on May 5 and Brno on May 6! Cheers!
Official Website