Writer's Grove
Gnomes and halflings
April 15, 2019
It's out now! No Country for Old Gnomes is the second book in the Tales of Pell but you don't have to read the first one to enjoy it. Folks, this tale has some goodies I think you'll enjoy:
A goth gnome with purple bats on his cardigan
Halflings involved in organized crime—the seedy truth no one would tell you before!
A gryphon obsessed with omelets and umlauts
Dryads and drynads (you've always wondered what male dryads were called, and now you know)
An ovitaur (half human, half sheep) with a touch of kleptomania and also a really clunky automaton
A dwarf who seeks inner peace but runs into a cabbage cult and that really ruins his day
Trouble at the Toot Towers
Hotly contested muesli
Boning tea
A kobold bard
A troll gets it
So many puns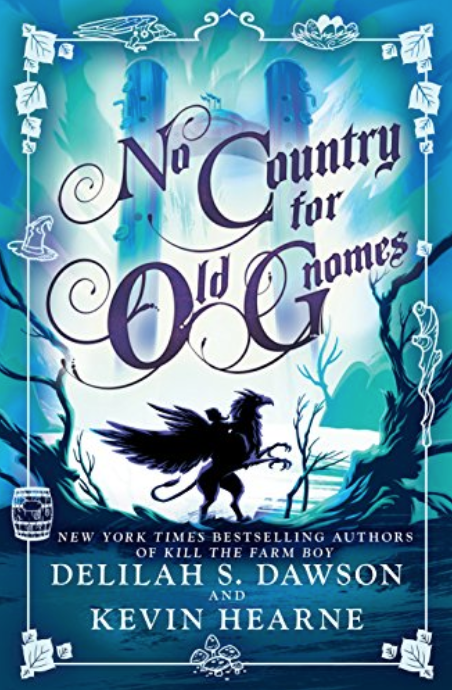 So give it a read, why dontcha? Guaranteed to be more fun than watching the news! Booklist said, "Fans and new readers will giggle and guffaw and be pleased to discover a third book is forthcoming for this thoroughly entertaining series."
That's true—The Princess Beard will be out in October! So if we don't visit a place near you for this tour, hopefully we'll see you then. But below is a list of where Delilah and I will be this week. If you can make it we would love to see you, and of course we will also sign anything else we've written in the past—Iron Druid stuff, A Plague of Giants, whatever!
April 15, 7 pm: Anderson's Bookshop in Naperville, IL, with special guest Luke Daniels!
April 16, 7 pm: Barnes & Noble at HarMar Mall, Roseville, MN
April 17, 7 pm: Powell's Books in Beaverton, OR
April 18, 7:30 pm: Mysterious Galaxy in San Diego, CA, with special guest Stephen Blackmoore!
April 19, 7 pm: The Poisoned Pen in Scottsdale, AZ
April 20, 6:30 pm: Murder by the Book in Houston, TX, with special guest Rachel Caine!
Any of the above stores will ship or hold a signed copy for you, by the way, if you can't make it to a signing. Just give them a call! And also you can get signed copies through Worldbuilders, all proceeds to charity. (Worldbuilders actually has all my stuff if you're looking for signed copies and other goodies.)
Hope you enjoy, my gnomies!
Gnomes Giveaway
March 6, 2019
To be clear before you get too excited: We are not giving away actual gnomes. But if you preorder No Country for Old Gnomes in print, ebook, or audio from any retailer in the US before April 16, Delilah and I will send you a signed poster (below) by way of thanks. The poster is illustrated by Kiji Art and features three of the many new characters you're going to meet in the book: Offi, Kirsi, and Gerd the gryphon. To get the poster, preorder No Country for Old Gnomes wherever you wish, then submit a picture of your receipt or a screencap of your confirmation on the page at this link, and it will be sent to you after April 16. It's that easy! Here's what the (unsigned) poster looks like: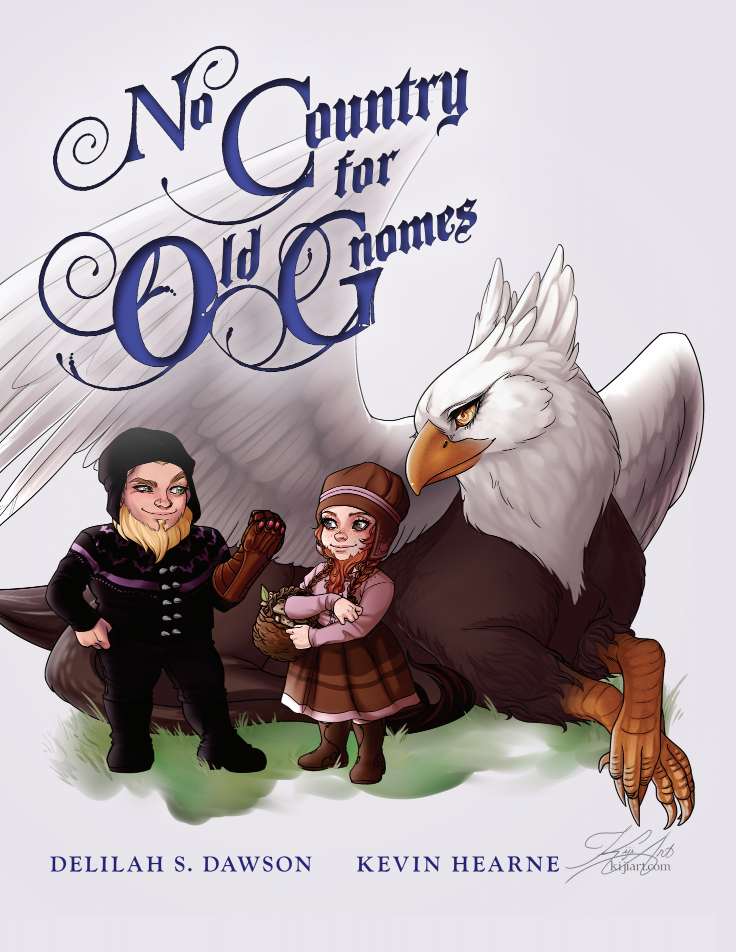 We will also be signing and giving away this poster on our tour, so if you attend any of these events and buy a copy of No Country for Old Gnomes, you'll score one:
April 15: Naperville, IL. Anderson's Bookshop, 7 pm. With special guest: audiobook narrator Luke Daniels!
April 16: Roseville, MN. Barnes & Noble, 7 pm.
April 17: Beaverton, OR. Powell's Books, 7 pm.
April 18: San Diego, CA. Mysterious Galaxy, 7:30 pm. With special guest: author Stephen Blackmoore!
April 19: Scottsdale, AZ. The Poisoned Pen, 7 pm.
April 20: Houston, TX. Murder By The Book, 6:30 pm. With special guest: author Rachel Caine!
Delilah and I will of course sign any of our other books too, so please come see us!
Want to learn more about No Country for Old Gnomes? OK, I gotcha. Here's a summary:
Go big or go gnome. War is coming, and it's gonna be Pell.
On one side stand the gnomes: smol, cheerful, possessing tidy cardigans and no taste for cruelty.


On the other side sit the halflings, proudly astride their war alpacas, carrying bags of grenades and hungry for a fight. And pretty much anything else.


It only takes one halfling bomb, and Offi Numminen's world is turned upside down—or downside up, really, since he lives in a hole in the ground. His goth cardigans and aggressive melancholy set him apart from the other gnomes, as does his decision to fight back against their halfling oppressors. Suddenly Offi is the leader of a band of lovable misfits and outcasts—from a gryphon who would literally kill for omelettes to a young dwarf herbalist who is better with bees than his cudgel to an assertive and cheerful teen witch with a beard as long as her book of curses—all on a journey to the Toot Towers to confront the dastardly villain intent on tearing Pell asunder.

These adventurers never fit in anywhere else, but as they become friends, fight mermaids, and get really angry at this one raccoon, they learn that there's nothing more heroic than being yourself.
Besides Offi and Kirsi and Gerd, you'll get to meet Båggi Biins, the dwarvelish herbalist and friend to bees; Faucon Pooternoob, the halfling hunter and occasional attorney; Agape Fallopia the ovitaur*, and more!
Please feel free to tell all your friends and relatives and alien overlords about this. Delilah and I would love to sign posters until we get carpal tunnel.** The thing is, this isn't a contest—it's a thank-you gift. If you're in the US, you preorder by April 15 and you fill out the form, then you will get a signed poster, by dinkum!***
Thank you in advance. We are so excited for you to read and we hope to see you on our tour! Right now we are finishing up edits on book 3, The Princess Beard, which will be out later this year, so if we don't see you in April, maybe we'll be near you in October! And hey, wanna see some more Pellish art? We have more right here and would love to see yours too if you're feeling inspired —send it our way! Happy reading!
*Ovitaurs are half human, half sheep
**Maybe we would not enjoy actual carpal tunnel but a delightful soreness after working hard would be pleasant, methinks
***This is a thing that gnomes tend to say, having never heard of golly
More Oberon and Starbuck
February 28, 2019
A new Oberon's Meaty Mystery is available today—a novella told entirely from Oberon's point of view—featuring Oberon, Starbuck, and Atticus in Tasmania a few months after the events of Scourged. (Events from that book are discussed and might be spoilers if you haven't read it yet.) It's in Death & Honey, available in ebook and audio now with a skull and bees on the cover that looks like this: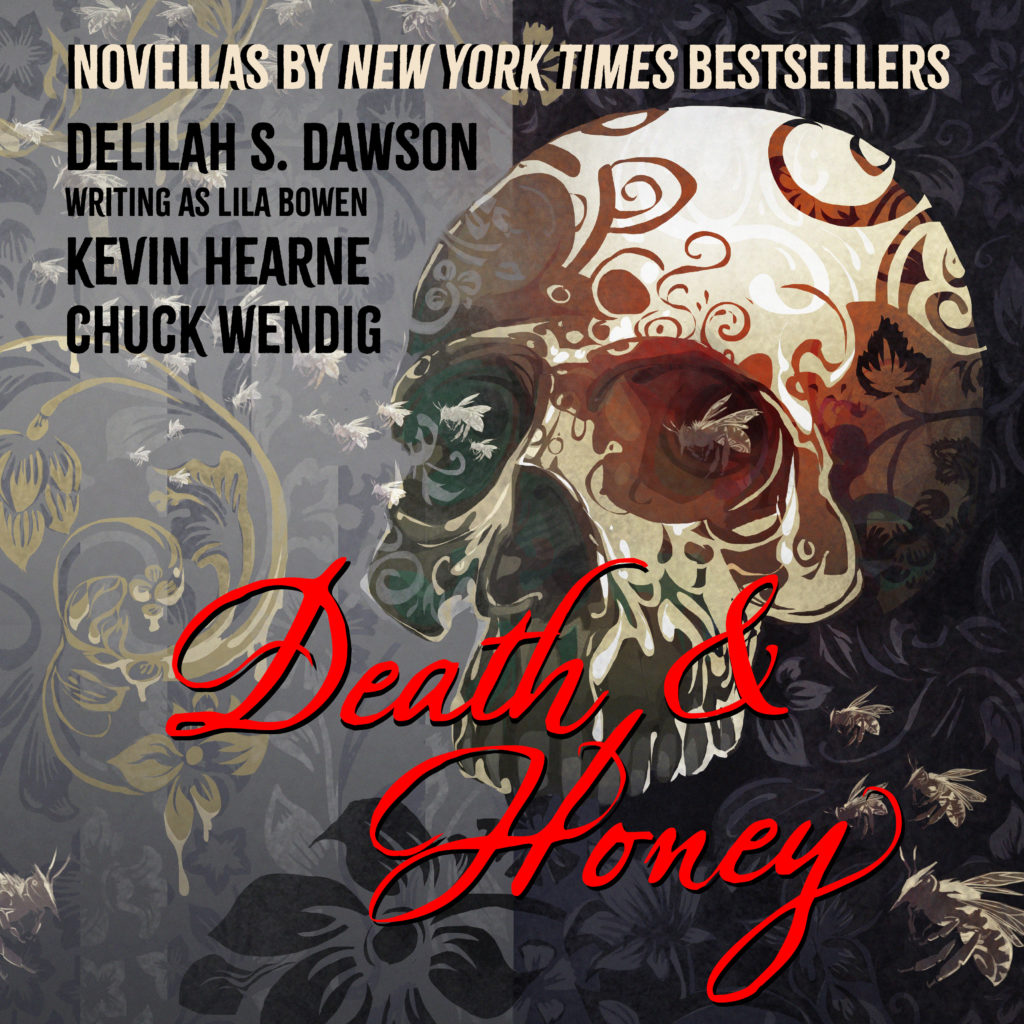 If you want the super sweet limited print edition which is signed by all three of us and has exclusive cover art plus more color illustrations inside by Galen Dara, you can order from Subterranean Press and it looks like this: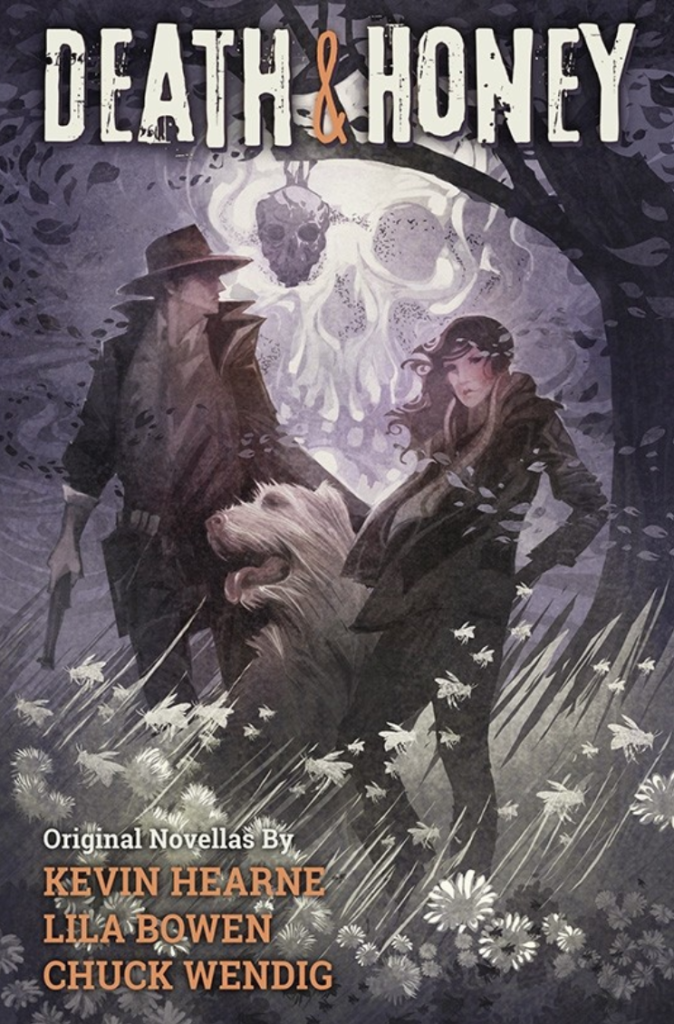 All three of us? Heck yeah. As you've no doubt noticed, Death & Honey also contains novellas from NYT bestsellers Chuck Wendig and Delilah S. Dawson writing as Lila Bowen. They each wrote a novella connected to their larger series, as I did. If you're already familiar with them, then woohoo! If not, this is a great introduction to their work. Chuck wrote a story featuring Wren from his Miriam Black series, and Delilah wrote a Rhett Walker story from her Shadow series. You know what? Here's a peek:
In The Buzz Kill by Kevin Hearne, Oberon the Irish wolfhound and Starbuck the Boston Terrier sink their teeth into a new Meaty Mystery when they discover a body underneath a beehive in Tasmania. It's been badly stung, but the bees aren't at fault: This is homicide. The hounds recruit the help of their Druid, Atticus O'Sullivan, and the Tasmanian police to track down the killer in the interest of a reward—but this time, they want more than food and justice. 

Grist of Bees, by Delilah S. Dawson writing as Lila Bowen, follows Rhett Walker, who has given up his destiny as the monster-hunting Shadow to settle down with his beloved Sam. But when the call to action grows too strong, Rhett saddles up to follow a peculiar bee into the unforgiving desert. The bee leads him to a weeping mother in a strangely prosperous valley, and Rhett has no choice but to hunt the creature that's stolen her child—even if it destroys a land of milk and honey.

Interlude: Tanager by Chuck Wendig returns us to the world of Miriam Black. Lauren "Wren" Martin is a young psychic woman who can see the stained souls of killers; it is her gift, or as she sees it, her curse. And up until now, it has been her mission to kill those killers, to remove them from the pattern so that they may not murder again. But now, after a death that may not have been deserved, she's left rudderless, without plan or purpose, until a woman with a strange power of her own takes her in and gives her a new mission—and a new target.
We wrote this collection around bees and dead bodies because we did a collection a few years back called Three Slices that centered around cheese wizards. One just naturally had to follow the other, right? It's only logical.
Super excited about the audio team on this: Luke Daniels narrates my story, Robin Miles narrates Delilah's, and Xe Sands narrates Chuck's. It's available through Audible and iTunes.
If you'd like to pick up the ebook, it's available via Kindle, Nook, or iBooks.
And again, to get that super fine limited edition print copy, order from Subterranean Press while you can; once they're gone, they're gone. Limited editions are definitely limited, as in there won't be any reprints.
in other news, whoa dang:
I'll be on tour in April with Delilah S. Dawson for No Country for Old Gnomes! We'll be joined in places by Luke Daniels, Stephen Blackmoore, and Rachel Caine! Dates, times, and details on my Appearances page.
Kill the Farm Boy is now out in paperback if you haven't visited the world of Pell yet!
A Blight of Blackwings, the second book in the Seven Kennings trilogy, is in edits and should be out next year—I'll have a publication date for you in a few months.
The Princess Beard will be out in October! (That sleeping princess at the beginning of Kill the Farm Boy is going to wake up, y'all.)
I'm working on Ink & Sigil, a new series set in the Iron Druid universe that will be primarily set in Glasgow but will also visit Philadelphia and Chattanooga and other places! It's so much fun. I just got back from a location scout in Glasgow and loved it there; what a great city and country!
Aaaaaaand, as if that were not enough: I have a special treat for y'all this summer. I've written an Owen and Slomo story—a novelette, really, at 15K words—called "First Dangle" that will be out in a collection of other Iron Druid shorts that have never been recorded before in audio. It will contain: "The Chapel Perilous," "First Dangle," "The Naughtiest Cherub," "The Waters," and a flash fiction sci-fi short I wrote called "Friendly Emily." That's to be narrated by Luke Daniels and I'll also be recording some author notes—liner notes?—to go with them because I have a microphone and I wanna use it. I'll give you a heads-up when I have a pub date.
That's all! Hope you enjoy Death & Honey and the other goodies coming up. I've been working lots! Peace & tacos unto thee. Thanks so much for reading.
Death & Honey Doodads
January 31, 2019
For all y'all wishing for some more Atticus, Oberon, and Starbuck, you'll find it in Death & Honey, out Feb. 28! It contains an Oberon's Meaty Mystery set a few months after the events of Scourged, providing a happy coda to the series. You'll also find a Wren story from Chuck Wendig's Miriam Black series, and a Rhett Walker novella from Delilah S. Dawson writing as Lila Bowen from her Shadow series.
Preorder Death & Honey before Feb. 28 in any format—print, ebook, or audio—and send proof (like a screenshot of your confirmation) to info at kevinhearne dot com, and you'll be entered to win stuff! What stuff? THIS STUFF.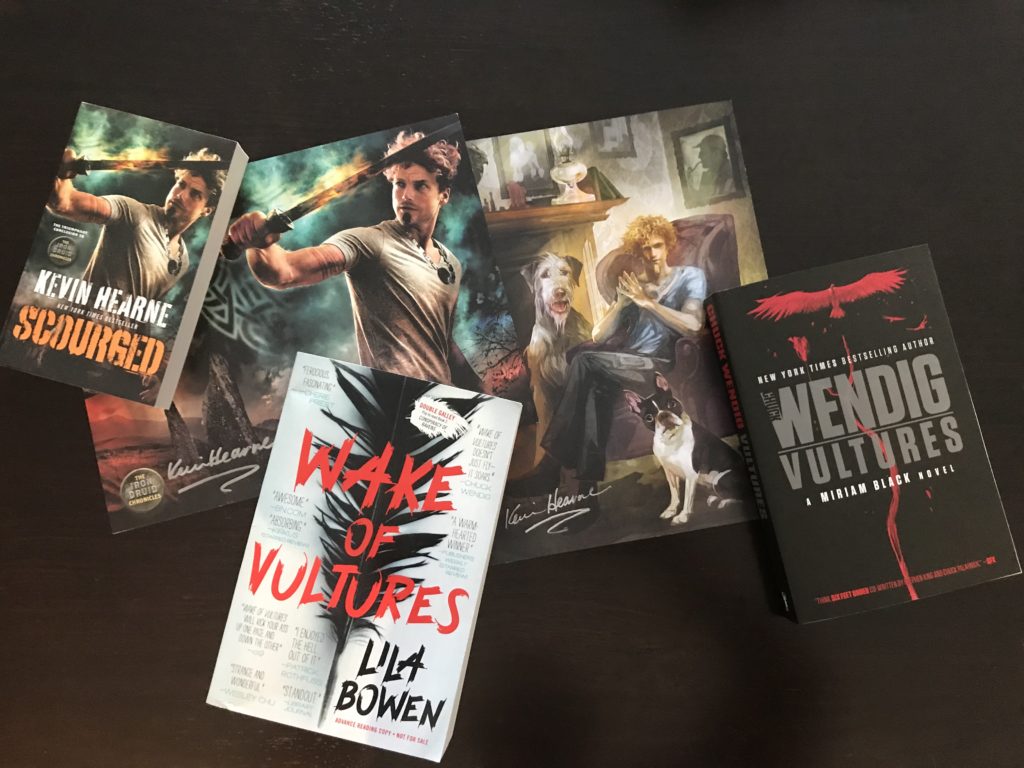 The grand prize winner (chosen randomly and announced March 1) will get signed copies of Scourged, Wake of Vultures, and a signed hardcover copy of Vultures with a handy-dandy customized death prediction! Plus signed posters of cover art from Scourged and The Purloined Poodle.
Five more winners will get the signed Scourged poster. This is open to readers in the US and Canada. So yay! Look for this, y'all: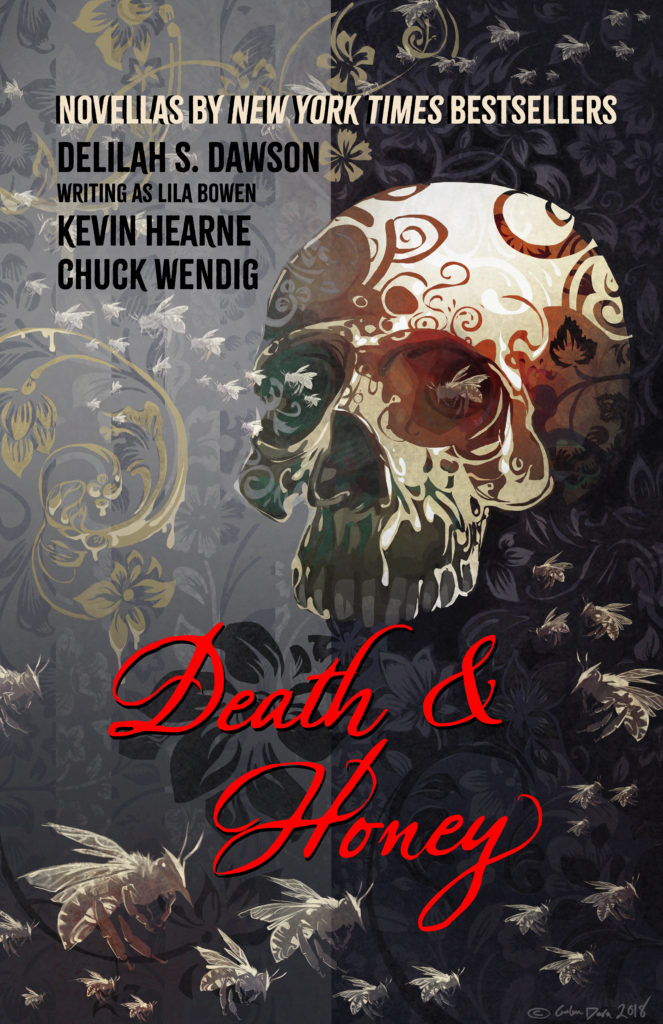 You can preorder a signed, limited print edition from Subterranean Press, and dang it's nice. It includes exclusive cover art and three color illustrations too (including one of Oberon and Starbuck!), and there's an option for a lettered edition bound in leather in a gorgeous tray case.
You can preorder the ebook from Amazon, Barnes & Noble, and iTunes. (Sorry, no Kobo or Google Play.)
You can preorder the audio from Audible. It's narrated by an all-star lineup of Luke Daniels for my story, Robin Miles for Delilah's, and Xe Sands for Chuck's.
Again: Preorder before Feb. 28. Take a screencap of your confirmation. Send to info at kevinhearne dot com. If you already preordered, yep, you can enter! Thank you, please send your proof!
So that's it! We wanted to do a thing to thank you for preordering. It's just the bestest thing and we appreciate it so much. Hope you enjoy these stories!
NaNoWriMo Post-Mortem
December 1, 2018
Every month for me is novel writing month, but I participated this year via the NaNoWriMo website to try to reach that 50K-word goal on my current project and just document my progress. You'll never believe what happened next!
Well, you probably will believe it. Especially since I have pictures. Here's a screenshot of my stats after the last day's work, from the NaNoWriMo site: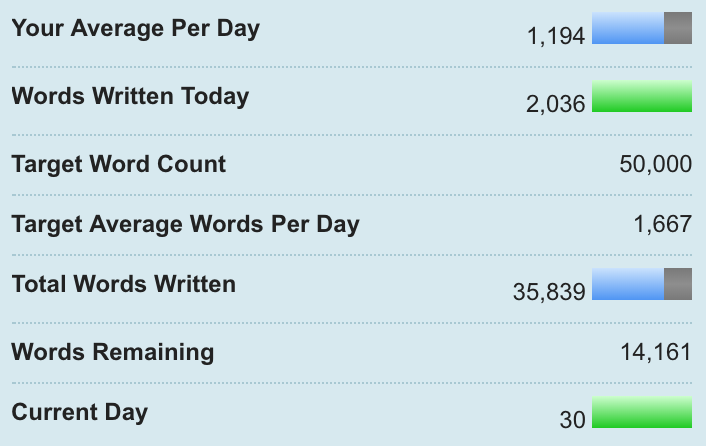 That average per day is the key takeaway for me, because going into this I told folks, including myself, that I average a thousand words a day without any proof. Nice to see that confirmed. But lookit, I can break it down!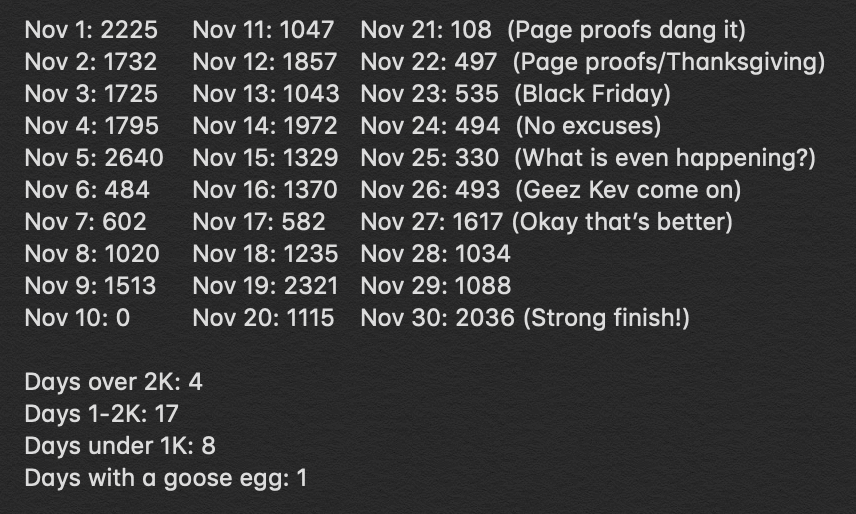 So yeah, I started out strong! First five days were all over the 1,667 average you need per day to hit the 50K mark. And then…the election happened on the 6th and even though I voted by mail a month earlier I just worried about it all day and the next as results came in. On Nov. 10, that goose egg was for the best reason. My kid was home from college and I spent the day with family.
Then the tough part of November arrived with a double whammy. I got page proofs for No Country for Old Gnomes right before Thanksgiving and I needed to turn those around quickly and send them to my co-author, Delilah S. Dawson. That basically began a week of lackluster word counts, but I recovered in the last few days and wound up with an average word count of about 1200 words a day. 
That's how I roll: Try to write 30K a month. I didn't even get within spitting distance of 50K, but writing close to 36K for November was nice, especially since I've been trying to get 30K minimum each month on A Blight of Blackwings. I began drafting in earnest in August, wanted to be at 120K at the end of November, and I'm at 122K. I've decided that's earned me A WHOLE DAY OFF. Today. Though I'm still blogging and thinking about what I'm writing tomorrow. But I'm going to take Kimberly to see her first live hockey game so that's gonna be fun.
I hope your writing is going well if you're a writer. And if you're a reader I hope you have a good story at your elbow.
In other news: I have TWO! whole appearances coming in the winter, one of which is this week!
Atlanta Area Peeps
I'll be at FoxTale Book Shoppe in Woodstock, GA at 6:30 pm on Tuesday, Dec. 4! Great time to get some books signed for gifts, eh? Also: If you come to this you'll be the first peeps in the world to hear a reading from my new series in the Iron Druid universe! If you can't make it, maybe someone you know can—please spread the word! Or you can call FoxTale and ask them to have me sign whatever you want and they will ship to you!
Pittsburgh Area Peeps
I'll be in Greensburg, PA at Seton Hill University on Tuesday, Jan. 8 at 7 pm. I'm actually gonna be at the Carol Reichgut Concert Hall so please bring all of your horde. There will be only three titles for sale there: Hounded, A Plague of Giants, and Kill the Farm Boy. You're welcome to bring anything else you'd like signed. You need a ticket for the event BUT it's free! Click here to snag one or five or whatever you need. 
Moar Oberon!
A new Oberon's Meaty Mystery, a coda to the Iron Druid Chronicles featuring Atticus, Oberon, and Starbuck in Tasmania, is coming Feb. 28 in Death & Honey. Right now you can preorder the signed limited edition by Subterranean Press, which includes interior illustrations as well as novellas by NYT bestsellers Chuck Wendig and Delilah S. Dawson writing as Lila Bowen. It's gorgeous and the art is exclusive to that print edition. You can also preorder the ebook on Kindle and Nook, which has a different cover but the stories inside are all the same. The audio is coming too—Luke Daniels narrating Oberon!—but it's not up for preorder quite yet. 
Since my blogging is sporadic at best, let me wish you warm fuzzies and hot sauce to you and yours over the holidays.
so many dang goodies
October 26, 2018
Friends, I have stuff to shout about. Lots of fun things happening. Ready? First up, the novella anthology Death & Honey, featuring cover art by Galen Dara: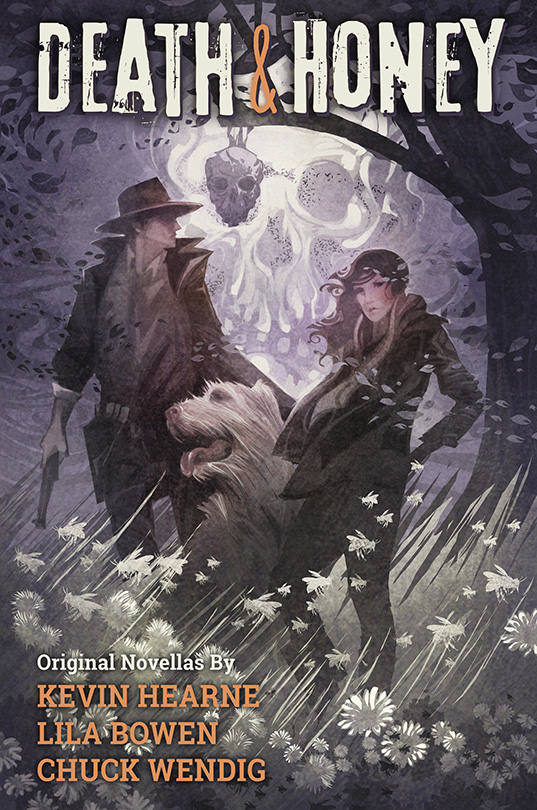 Isn't that gorgeous? Rhett Walker from Lila's story is on the left, the hero of her Shadow series, and then there's a Very Good Boy Who Deserves a Snack, Oberon, because my novella is an Oberon's Meaty Mystery called The Buzz Kill, and on the right you see Wren from Chuck Wendig's Miriam Black series. 
As you might guess from the cover, each novella will involve bees somehow. Ebook and audio preorders aren't available yet but I'll holler when they are. Right now you can preorder a limited print edition that's signed by all three of us and numbered (or even lettered) and it will include additional illustrations inside by Galen Dara, the cover artist. They're going to have Galen illustrate each story, so you'll see more Oberon and maybe Starbuck too and who knows what else? This cover and interior illustrations are exclusive to the print edition. The ebook & audio edition will have a different cover and no interior illustrations but the stories inside will be the same!
If you go check out that link above, you can read the first 1K words of each novella. The Buzz Kill is set in Tasmania a few months after the end of Scourged and it's my favorite. Starbuck is a bit more verbal and he starts to give Oberon some gas. Hope you'll enjoy!
But that's not all!
I wrote a new Granuaile and Orlaith story called "The Waters" and it's included in this new anthology called RESIST, the proceeds of which go to benefit the ACLU. So you get twenty-seven stories from sci-fi and fantasy's best, and the ACLU gets some funding to protect civil liberties. Good deal all around. You can get RESIST in ebook or print; I am pretty sure that this is through Amazon only, however, or Humble Bundle. A quest: Get the print edition and then collect the signatures from all twenty-seven authors! This is pretty much available now-ish; I believe it releases Nov. 1, so your preorder will arrive very soon (or right away if you read this after Nov. 1)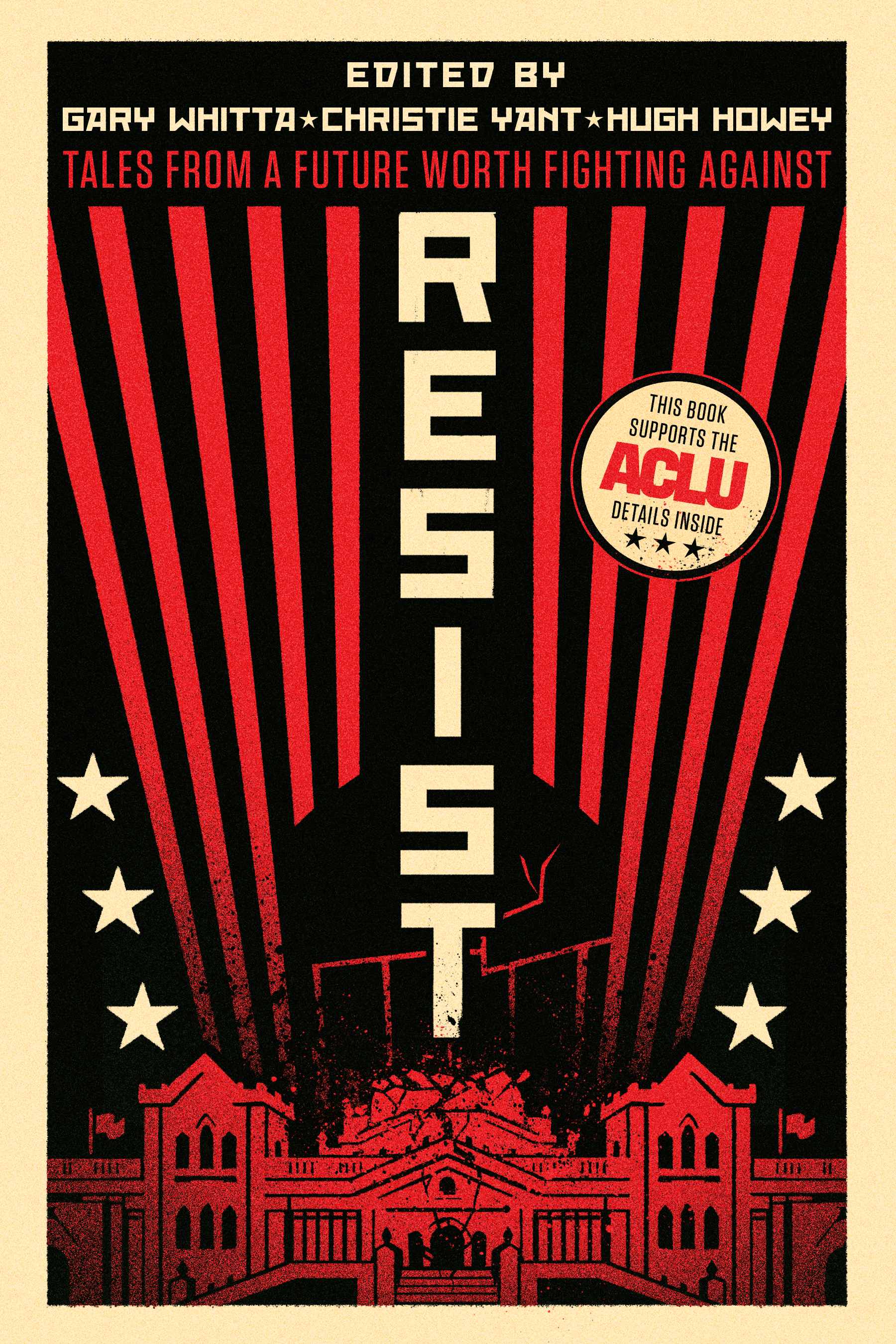 Cheap Farm Bois
Coming Feb 5: the trade paperback edition of Kill the Farm Boy! If preorder links are available for it now at your favorite retailer then yay! They might still have only the hardcover edition available at the moment, and of course we'd love it if you snagged it now, but wanted to give you a heads-up. You can get caught up on that before the second book comes out in April. Here's the trade paperback cover:
No Country for Old Gnomes
This is just about wrapped up on our end; Delilah is working on copy edits now, and it'll be in your hands on April 16. If you preorder now you'll earn five billion karma points and our undying gratitude. This book has everything: Goth gnomes! Dirty halflings! Clean halflings! Gryphons! Kobolds! A religion based on cabbage! Hot Nut Pudding! And a heck of a lot more. You can read the preview goodies here and preorder.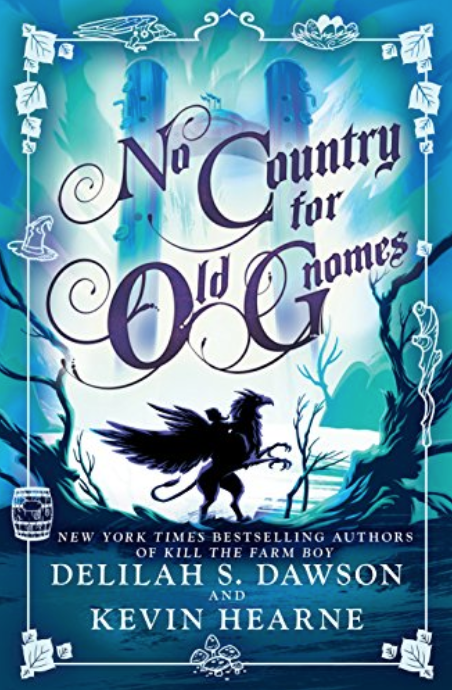 So—besides all that stuff coming, I'm of course working on more stuff for later! Right now I'm 80K words into my first draft of A Blight of Blackwings, the sequel to A Plague of Giants. This is my epic fantasy trilogy called The Seven Kennings, and if you haven't tried it out yet, I'd be honored if you did. 
I also need to finish an Owen and Slomo story called "First Dangle" for audio; I'm writing that to add on to "The Chapel Perilous," since that's the only Iron Druid story Luke Daniels hasn't recorded yet.
And speaking of Iron Druid, I'll be starting a new series in that universe after I'm finished writing A Blight of Blackwings! More details on that coming in February; I'll be sharing pics and such from my location scout.  
And right now, sharing pics on my Instagram is all I'm doing on the social media front, so hop over there if you feel like it. I'll return to Twitter and Facebook in February after A Blight of Blackwings is finished. Hope you're well and spiffy, that you'll vote and enjoy some peace & tacos.
---
Working on Blackwings
August 2, 2018
Many thanks to everyone who came to see me and Delilah on our tour for Kill the Farm Boy. We had such a lovely time meeting y'all and hope you're enjoying the book. Please spread the word to friends and family if you are—word of mouth is still five billion times more powerful than the Internet!
But speaking of the Internet, we've updated the Tales of Pell site with some goodies like a fan art page—we'd love to see yours if you're inspired to draw/paint pics of our heroes. Please don't hesitate to share with either of us! We also have the cover and preorder links for the next book, No Country for Old Gnomes, which will be out April 16! Check it out!
So what's next? Well, in February, I'll be publishing Death & Honey with Delilah S. Dawson and Chuck Wendig. That will include a novella from each of us, and mine will be an Oberon's Meaty Mystery called The Buzz Kill. More on that once we have cover art and a solid publishing date, but The Buzz Kill is set in Tasmania a few months after the events of Scourged. Delilah's story is called Grist of Bees from her Shadow series, and Chuck's is Interlude: Tanager from his Miriam Black series.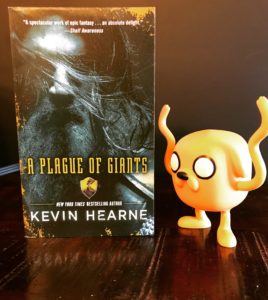 But from now until then I'm writing A Blight of Blackwings, the second book in The Seven Kennings trilogy, following A Plague of Giants. I have about 200K words to write in six months, so I've gone on hiatus from Twitter and Facebook until it's done. I'll still be posting on Instagram so you can see me there, and I'll be sending out my newsletter once a month too. And of course you can always reach me via email if you need something (using the address on the Say Hi to Kevin page). So I won't be inaccessible, but I also won't be massively distracted by shouty stuff while I have twelve POVs to weave together (that's one more than A Plague of Giants, for those of you keeping score at home).
Once I get A Blight of Blackwings finished, I can formally announce and begin working on a new series for y'all set in the Iron Druid universe. Excited to get started on that I after I catch us all up with Abhinava Khose and Gondel Vedd and the rest of gang in Teldwen.
Oh yeah: In case you're looking for a spiffy gift for yourself or your friends, Worldbuilders Market has signed Iron Druid comics and so much more!
Hope your summer's been treating you well and I hope you're registered to vote in November. Peace & love & tacos, friends.
Old Gnomes and More!
June 26, 2018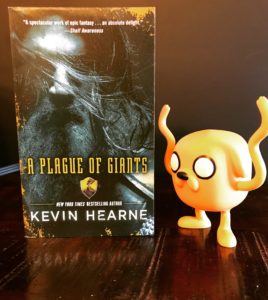 Today, friends, you can snag A Plague of Giants in paperback, if case you were waiting for that. And the ebook price has come down as well from its previous premium, so if you haven't tried out my epic fantasy yet, I hope you'll take this opportunity to dive into The Seven Kennings trilogy. I'm turbo grateful to those of you who have already given it a shot and sent me kind words about it, and I'm spending the back half of this year working on book two.
In less than a month, I'll be doing a wee tour with co-author Delilah S. Dawson for Kill the Farm Boy, our humorous fantasy that pokes fun at Chosen One narratives and more. We hope to see you on that tour, of course, but understand if you can't make it. You can still order double-signed copies from any of the stores listed below or Barnes & Noble or Worldbuilders Market. Here's where to find us:
July 17: The Poisoned Pen in Scottsdale, AZ, 7 pm
July 21: Upstart Crow Trading in San Diego, CA, at 10 am, with NYT bestseller Victoria Schwab
July 23: Anderson's Bookshop in Naperville, IL, at 7 pm, with audiobook narrator Luke Daniels
July 24: Malaprop's Bookstore in Asheville, NC, at 6 pm
July 25: Fox Tale Book Shoppe in Woodstock, GA at 6:30 pm
We will of course also sign any of our other books on tour!
If you preorder Kill the Farm Boy in the US you can enjoy this spiffy giveaway from the publisher where they send you some goat buttons and yeah, you'll want the buttons once you read it.
And whoa dang, the second book in the Tales of Pell, No Country for Old Gnomes, now has a cover! Are you ready for gryphons? Gnomes that come in both regular and goth? Sinister halflings? Kobold bards and carnivorous mermaids? Beard magic? You're going to love this book. And we are so thrilled with the cover art! Illustration by Craig Phillips, design by Scott Biel, the same brilliant team who worked on Kill the Farm Boy.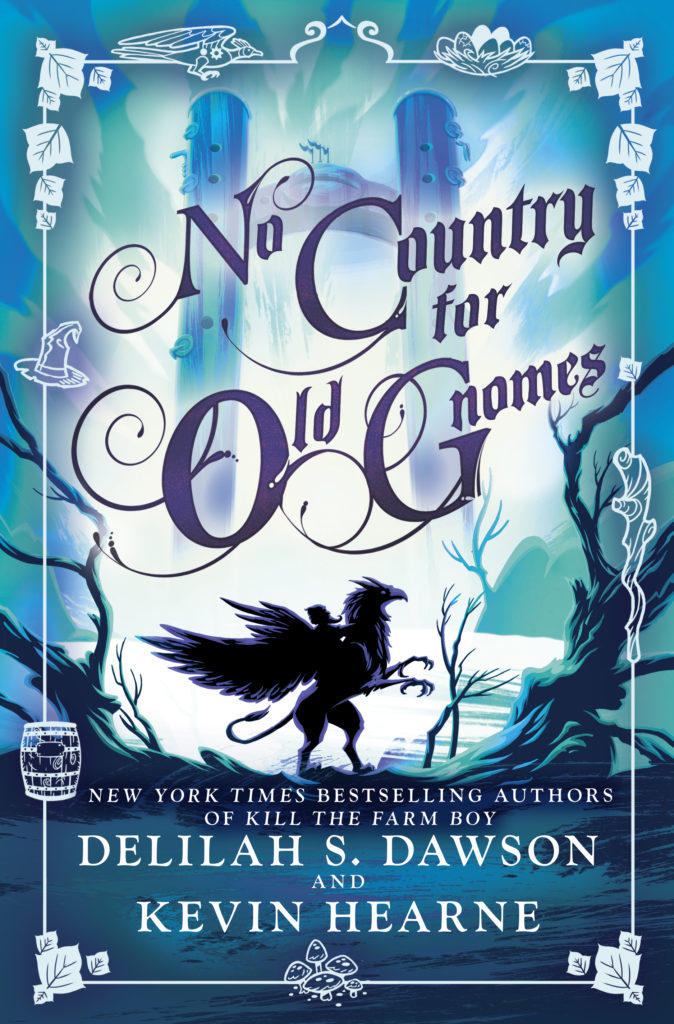 that dang farm boy
April 30, 2018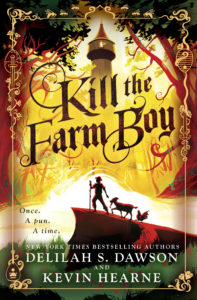 If you like laughing and free stuff, then I HAVE A DEAL FOR YOU. Delilah S. Dawson and I wrote a hilarious sendup of Chosen One narratives called Kill the Farm Boy that is full of puns, flipped tropes, and an entirely justifiable obsession with cheese. There is also a very sassy goat. If you preorder it anywhere (indie store, online, whatever) in any format (hardcover, ebook, or audio) and take a pic of your receipt or screenshot your confirmation, you can snag a fun batch of buttons! (This is US only, sorry.) Head on over to our Tales of Pell site and check it out—it's easy!  And oh, don't miss our Pellish name generator—a great name will go a long way while you're adventuring. This is the first book of three standalone adventures and we hope you'll giggle as much while reading it as we did writing it.
Three other things:
1) Here's an interview I did with Luke Daniels on April 3 at the one and only Rúla Búla Irish Pub in Tempe, AZ. (The fish and chips are really super good.) It's 13 minutes and we talk about how he develops voices (especially for the Morrigan and Oberon) and much more!
2) I'll be at Creative Ink Festival in Burnaby (Vancouver) BC from May 18-20 and there's still time for you to sign up. You totally should! I'll be teaching goodies about developing voice, doing critiques and talking fantasy, and author CC Humphreys is offering a master class on Writing a Novel from First Inspiration to Final Draft! Come see us and learn stuff!
3) FOLKS IN THE UK! I will be at London Comic Con May 25-27! This is my first ever appearance in the UK. Obviously they are rare! I do not know when/if I will be there again, so if you can make it to see me, please do! I will happily sign ALL THE THINGS. Be not afraid! I am not doing anything outside of the con, sorry; the con is paying for my travel arrangements so of course they very reasonably expect me to be there and not elsewhere.
Full Speed Ahead!
March 13, 2018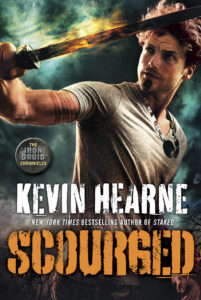 The year's moving fast, isn't it? We are just three weeks (or less depending on when you read this) from the release of Scourged! I'm excited! You might notice the exclamation points! If you have preordered audio, ebook or print from anywhere, reminder that my US publisher is doing a giveaway if you upload your receipt or a screenshot of said preorder! That's open until release day, April 3, so if you haven't preordered, you can do so now and get in on that! If you're behind on the series, it's a great time to catch up and finish the whole thing!
Places you can find me this year—please see full details on my Appearances page:
March 23-25: WonderCon in Anaheim!
April 3: Phoenix, AZ! With audiobook narrator Luke Daniels!
April 4: Boulder, CO!
April 5: Houston, TX!
April 6: Huntsville, AL!
April 7: Doylestown, PA! With Chuck Wendig and Fran Wilde!
April 10: Toronto, ON, for Canadian peeps! Just signing stock at Bakka Phoenix Books and running away with a five-gallon bucket of poutine, but place an order with them and they will either ship or hold for you to pick up!
May 18-20: Creative Ink Book Festival in Vancouver!
May 25-27: London, UK! Holy crap! Details coming soon.
July 17: Phoenix, AZ! This time to sign KILL THE FARM BOY with Delilah S. Dawson!
July 19-22: San Diego Comic Con!
Sept 6-8: FanX in Salt Lake City!
Writing-wise, I'm currently working on A Blight of Blackwings, sequel to A Plague of Giants, and also writing The Princess Beard with Delilah, third book in the Tales of Pell. By the way, we have a website for that now and you should check it out! Especially the About Pell page. There's a fun name generator to help you figure out where you would fit in there.
Other things: I'm mostly on Instagram these days if you'd like to follow me there as @kevinhearne. You will see pics of my dogs, booze, fountain pens, books I'm reading, cities I visit, and a serial fiction piece I've been writing about yeti and rum, which I'm about ready to wrap up before starting a new one. My yeti hunting partner, Avery, is becoming quite popular among readers, it seems.
Looking forward to spring and to seeing y'all if the travel gods are kind to us. Hope you enjoy Scourged! My mom called last night to tell me she loved it (she read an early copy) so you know with that totally unbiased review it's gotta be good, right?
Official Website