Welcome
to the website of
Kevin Hearne
Author of The Iron Druid Chronicles, the Seven Kennings trilogy, and co‑author of the Tales of Pell
You can navigate around the site using the spiffy links on the left. Writer's Grove is the name of my blog if you're looking for that.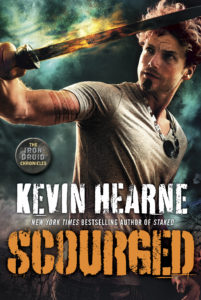 Scourged
Book 9 coming April 3!
The long-awaited ninth book is coming! And so is a whole lot of trouble. Unchained from fate, the Norse gods Loki and Hel are ready to unleash Ragnarok upon the earth. They've made allies on the darker side of many pantheons and there's a globe-spanning battle brewing that ancient Druid Atticus O'Sullivan will be hard pressed to survive, much less win. You can read more about it here.
PREORDER GIVEAWAY: For US folks, if you preorder a copy of SCOURGED and upload your receipt by April 3, you'll get a free paperback copy of HOUNDED, a SCOURGED bookmark, and a signed art print of the full SCOURGED cover art! And yes, audio preorders count! Preorder at your local indie now or at B&N, Amazon, The Poisoned Pen, Powells, iBooks, and Books-a-Million.
The tour is all set and confirmed. Apologies if I'll be nowhere near you—I simply can't be everywhere, and wherever you are, you are loved! But any of the stores listed will take a preorder for a signed copy (personalized or not) and ship it to you if you'd like one. If you can make it to one of these I'd be so delighted to see you; otherwise, please call these stores to get your copy.
April 3: Scottsdale, AZ. The Poisoned Pen, 7 pm
April 4: Boulder, CO. Barnes & Noble on Pearl, 7 pm
April 5: Houston, TX. Murder By The Book, 6:30 pm
April 6: Huntsville, AL. Barnes & Noble at the Bridge St Towne Centre, 7 pm.
April 7: Doylestown, PA. Doylestown Bookshop, 4 pm, with Chuck Wendig and Fran Wilde!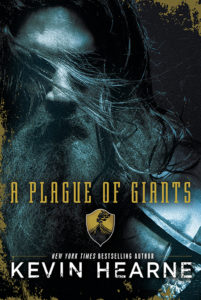 A Plague of Giants
Out now wherever you buy books!
Working on the sequel now! Signed copies available from The Tinker's Packs (which benefits the Worldbuilders charity). You can also order hardcovers or ebooks from  Amazon, B&N, iTunes, Kobo, Books-a-Million, Google Play, Hudson.
Here is a review (informative without spoiling) from Shelf Awareness; here's another review from SFFWorld.com.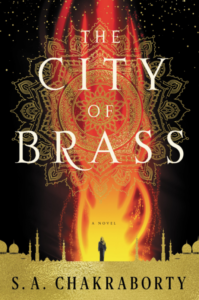 What I'm Reading
I read several books at a time. Here's my current list:
A Curious Beginning by Deanna Raybourn
The Ministry of Utmost Happiness by Arundhati Roy
The Beautiful Mystery by Louise Penny
City of Miracles by Robert Jackson Bennett
The City of Brass by S.A. Chakraborty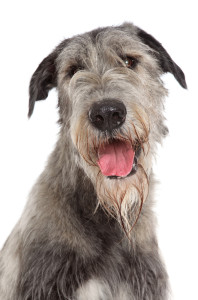 Here be sausage!
It's in Kevin's newsletter!
Or should I say Oberon's newsletter? It's called "Oberon's Shenanigans" after all. He'll write a "Meat of the Month" column that might drift off topic rather often. And since Facebook and Twitter and other social media are unreliable ways to reach readers who actually wanna know stuff like release dates and appearances and so on, the best way to make sure you hear about all the goodies is to subscribe and have it arrive in your inbox monthly. I let you know what I'm reading every month too. C'mon. You know you wanna sign up. And you know what? You deserve a snack.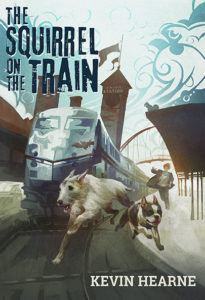 The Squirrel on the Train
Out now! The squirrels are loose!
Now available: Another of Oberon's Meaty Mysteries, told from the point of view of everyone's favorite Irish Wolfhound!
Order directly from Subterranean Press to make sure you get a copy of the limited press run. Or if print's not your preferred format, ebook and audio is available! Looking forward to laughing about this story with you; it was tremendous fun to write!
Free Short Story
I dipped my toesies into science fiction waters for the fun of it, and the resulting wee tale was published in Fireside Fiction. It's called "Friendly Emily," and you can read it right here. Hope you enjoy!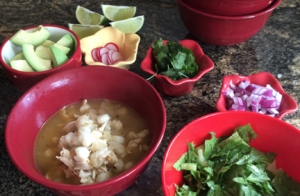 Holy Posole
Many, many peeps have asked me to repost a recipe that disappeared from the Internet for a while: The Holy Posole recipe that I made for the Holy Taco Church. So here's the link for y'all, and I hope you enjoy!
"Hearne, a self-professed comic-book nerd, has turned his love of awesome dudes whacking mightily at evil villains into a superb urban fantasy debut."
"This is the best urban/paranormal fantasy I have read in years. Fast paced, funny, clever, and suitably mythic, this is urban fantasy for those worn-out of werewolves and vampires. . . . Highly recommended."
More Reviews