Writer's Grove
BESIEGED tour all set!
June 16, 2017
For this tour I wanted to try to visit places I've never been before, especially some places out east, and I'm happy to say we've put together a pretty spiffy list. Only Boulder is a repeat visit; every other stop will be my first time there!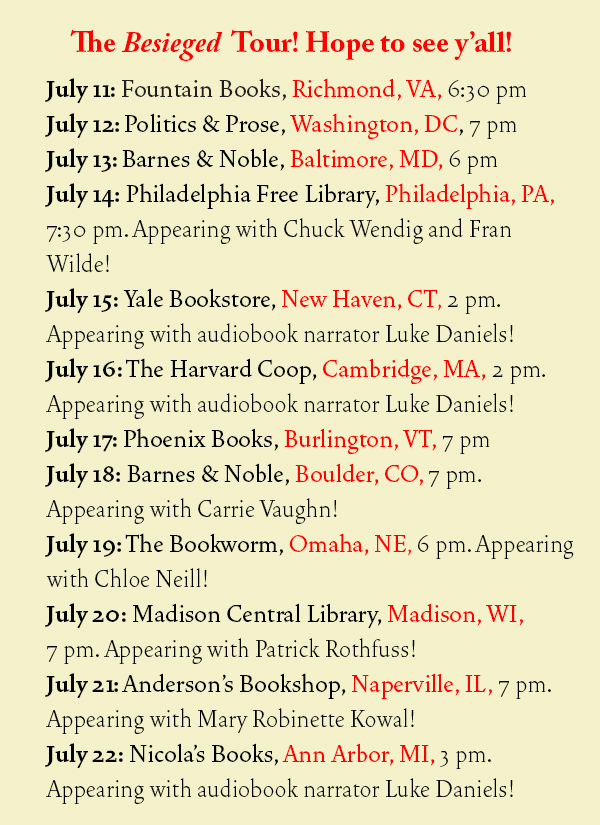 If you're in driving distance of these places I hope you can come for a visit since I obviously don't get there often! And bring your friends, please! Make an event of it. You're welcome to bring books you already own though it's appreciated if you buy at least Besieged from the store hosting me. Two events are in libraries but there will be a local bookstore in each case to sell you whatever goodies you want. If you want me to sign my whole series I'm happy to do so, but we might sign three and then ask you to come back through the line to keep it moving for folks who just want one or two.
If you can't make any of these dates, I have three happy things to share with you:
You can call any of these stores, preorder a signed copy, and once I come through town, they will have me sign it and either ship it to you or hold onto it for pickup.
I will have another tour in October for A Plague of Giants. West coast peeps—I'll see you then! San Diego, San Francisco, Portland, and Seattle for sure. I'll head east from there but we haven't planned that far yet so I can't say where. I won't be returning to any of the places on the Besieged tour, though. I try to get around.
I'll be in New Orleans for StoryCon in September, and they have a public signing on Saturday, Sep. 16. You can see me there plus a buttload of other amazing authors if New Orleans sounds like a good time to you. (Seriously, check out the link and look at the list of authors who will be there.)
In other news—other books! I have three other books besides Besieged coming out in the second half of this year, and you can preorder 'em wherever you snag books (except for The Squirrel on the Train, you need to grab that direct from the publisher) and make my mom smile!
July 11: Besieged
August 1: Urban Enemies (my story in this anthology features Loki)
October 17: A Plague of Giants
November 30: The Squirrel on the Train
Thank y'all for reading. Hope you enjoy what I've been working on for a while.
Peace & tacos,
Kevin