Writer's Grove
Giants tour all set
August 25, 2017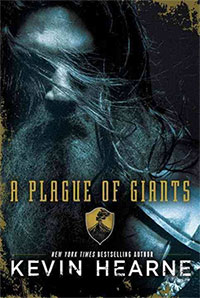 Yay! Dates and times are all confirmed! No cities are a repeat of the BESIEGED tour in July, so between the two tours I've seen a good chunk of the country this year. Of course I still can't make it everywhere—sorry!—but perhaps you can round up some peeps and road trip to see me if the scheduling gods are kind. Even though this tour is for A PLAGUE OF GIANTS (which I really hope you'll give a try), I'd be delighted to sign anything from the Iron Druid Chronicles as well.
Oct. 15 in San Diego for the Giant Book Fiesta! Special pre-release party with Fran Wilde! You get dinner! Books! Other goodies! And I will come to you rather than you standing in line to see me. It's a pretty awesome time. A few tickets are still available, snag yours here!
Oct. 17 in San Francisco at Borderlands, 7 pm*
Oct. 18 in Portland/Beaverton at Powell's Books, 7 pm*
Oct. 19 in Seattle at University Temple UMC, books on-site from University Bookstore, 7 pm*
Oct. 20 in Phoenix/Scottsdale at The Poisoned Pen, 7 pm
Oct. 21 in Houston at Murder By The Book, 4:30 pm
Oct. 22 in Tampa at Inkwood Books, 4 pm**
Oct. 23 in Minneapolis at the B&N HarMar Mall, 7 pm
*with Chuck Wendig and Fran Wilde!
**with Delilah S. Dawson! Please note their current address will not be the one we'll be using. By that time they will have moved to a new location, and that address is: 1809 N. Tampa Street (store entrance is on Franklin Street) Tampa, FL 33602
If ye can't make it to any of these but would like a signed copy, you can contact any of the stores on my tour with a phone call and preorder a signed copy. Just specify you want a signed copy when I come through, any personalized message you want, and then they will ship it to you after I visit and sign it!
Looking forward to seeing y'all. This book means a lot to me & it's somewhat unusual in terms of structure: If you've been looking for something different, well, this might be it! Here's a recent kind review from Shelf Awareness.