Writer's Grove
Besieged cover reveal
January 19, 2017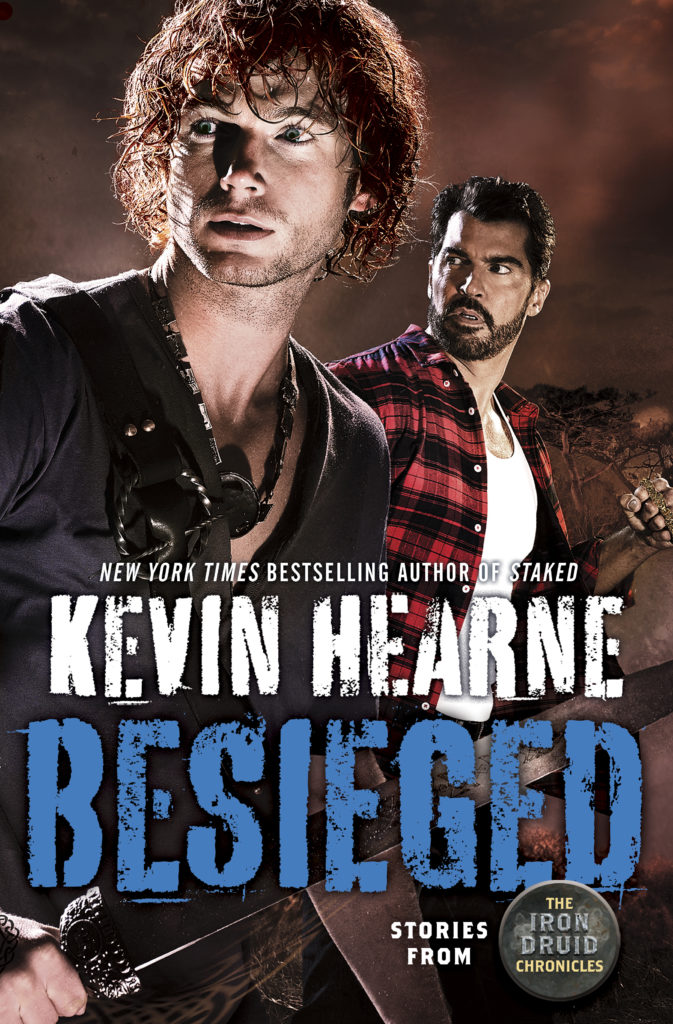 Woohoo! It's a scared, shaven Atticus with his archdruid, Owen Kennedy! Lookit Owen's fist! The brass knuckles. The brass knuckles! I love it so much. That's the cover of Besieged, out July 11!
This particular tableau comes to you courtesy of the story "Haunted Devils," narrated by Owen.
I should mention here (in case you missed it on the cover) that this is not the next Iron Druid novel. It's a novel-length collection of short stories you can think of as book 8.5, since five of the nine stories take place after Staked and lead directly into book 9. Of those five stories, two are narrated by Owen and one each by Atticus, Granuaile, and Perun. The other four stories are all narrated by Atticus and take place earlier in series chronology. They're presented to you in chronological order, though. Want a brief rundown?
"The Eye of Horus" details how Atticus originally ran afoul of the Egyptian pantheon.
"The Demon Barker of Wheat Street" is a reprint, though this version has been revised & expanded somewhat.
"Goddess at the Crossroads" shares how Atticus met William Shakespeare back in the day. Also reprinted from a small press run, also revised.
"Gold Dust Druid" has Atticus in San Francisco in 1850. Oberon's commentary made me laugh quite a bit in this one.
"Cuddle Dungeon" is narrated by Perun, set in Edinburgh.
"The Bogeyman of Boora Bog" has Owen sharing how he came to be Siodhachan's archdruid waaay back in the day.
"Blood Pudding" follows Granuaile's encounter with a nest of vampires in Poland, guest starring Leif Helgarson and the Sisters of the Three Auroras.
"Haunted Devils" is an Owen story in which we learn much more about his grove of apprentices.
"The End of Idylls" takes place directly before the events of book 9, wherein Atticus shares the long-promised story of Faolan with Oberon.
Super excited about this! Y'all are going to dig these. Should you wish to preorder (which would make my mama smile), here are handy linky-poos:
Besieged on Amazon
Besieged at B&N
Besieged on iTunes
Audio preorders will be available later. Luke Daniels will record for North America and Christopher Ragland for the UK/Aus/NZ peeps.
The brass knuckles, y'all! 
Peace & tacos—
Kevin