Writer's Grove
goodies ahead
January 3, 2017
It's a new year! Yay!
I have lots of words coming out this year for y'all and a buttload of projects in the works. Stayin' busy over here!
On July 11, you'll get BESIEGED, stories of the Iron Druid Chronicles. It's essentially book 8.5. It has four stories set in the past—adventures in Egypt, Jacobean England, and California during the Gold Rush—and five that are all set after the events of STAKED.  Most of the stories are Atticus & Oberon, but you'll also get two from Owen, one from Granuaile, and one from Perun! Hope to have cover art for you soon. Since y'all can preorder in ebook & hardcover now (audio preorders will be available later) I'm gonna put up links and thank you in advance—preorders mean a lot! Amazon B&N iTunes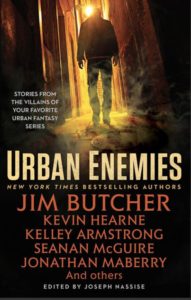 Less than a month later, on Aug. 1, I have another short story appearing in URBAN ENEMIES, an anthology of urban fantasy stories told from the point of view of villains. Mine's told from Loki's point of view. Besides me, the full anthology features stories by Jim Butcher (the Dresden Files), Kelley Armstrong (the Cainsville and Otherworld series), Seanan McGuire (October Daye), Jonathan Maberry (Joe Ledger), Lilith Saintcrow (Jill Kismet), Carrie Vaughn (Kitty Norville), Joseph Nassise (Templar Chronicles), C.E. Murphy (Walker Papers), Steven Savile (Glasstown), Caitlin Kittredge (the Hellhound Chronicles and the Black London series), Jeffrey Somers (The Ustari Cycle), Sam Witt (Pitchfork County), Craig Schaefer (Daniel Faust), Jon F. Merz (Lawson Vampire), and Diana Pharaoh Francis (Horngate Witches). Preorder links: Amazon B&N iTunes
On Oct. 3, I shall release A PLAGUE OF GIANTS unto the world, the first volume of my epic fantasy trilogy. Obviously I hope y'all will follow me to another world—one I've been working on for many years! Cover art and more info coming soonish.
In terms of what's in the hopper, I'm working on four or five different projects this year:
1) Another of Oberon's Meaty Mysteries! This one is called The Squirrel on the Train
2) Scourged, book 9 of the Iron Druid Chronicles
3) A novella from Owen's point of view
4) The second book of my epic fantasy trilogy, A Blight of Blackwings
5) Another project that's super sekrit right now
Thanks so much for reading! Peace & tacos, y'all.