Goodies
THE MAP FOR A PLAGUE OF GIANTS
Click image for larger version.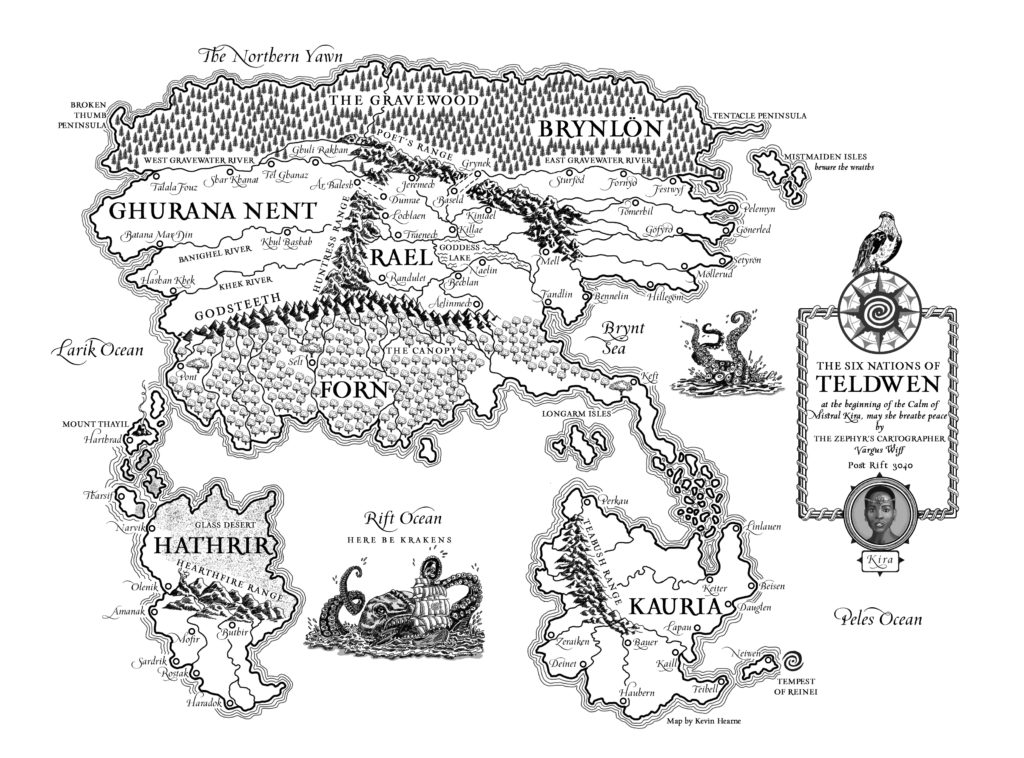 A HANDY, MAYBE EVEN DANDY IRON DRUID SERIES CHRONOLOGY
Short Story: "The Chapel Perilous." A frame story; though the frame is in between books 4 and 5, the meat of the story is set in 6th century Wales. Available singly in most of the world, or in the anthology called Unfettered in the UK, Australia, New Zealand, and associated territories.
Novella: Grimoire of the Lamb, four years before book 1. Available now, eBook and audio.
Short Story: "Kaibab Unbound," two weeks before book 1. Free with the ebook of Hounded or any of the ebook bundles that include Hounded. Revised edition included in Two Tales of the Iron Druid Chronicles.
Book 1: Hounded
Book 2: Hexed
Book 3: Hammered
Short Story: "A Test of Mettle," set during the events of Hammered from Granuaile's point of view. Included in Two Tales of the Iron Druid Chronicles.
Book 4: Tricked
Novella (IDC 4.5): Two Ravens and One Crow, available separately in ebook and audio, or included at the back of Hunted, book 6, if you're a print reader.
Book 5: Trapped
Book 6: Hunted
Book 7: Shattered
Novella (IDC 7.5): A Prelude to War, available in the Three Slices anthology, ebook and audio.
Book 8: Staked
Novella: The Purloined Poodle, the first of Oberon's Meaty Mysteries, available in ebook and audio.
Novella: The Squirrel on the Train, the second of Oberon's Meaty Mysteries, available in ebook and audio, and a limited number of print.
Short Story Collection: Besieged, which you may consider book 8.5. Nine stories, four which are from Atticus's past, and five that take place after the events of book 8. Out now!
Book 9:  Scourged, out April 3. Preorders available now.
HOW DID THE HOUNDED COVER GET TO BE SO FREAKIN' AWESOME?
People don't actually ask me that, except in my more bizarre dream sequences. Nevertheless, my editor and I will walk you through the process if you double click  right here.
HOW MUCH REVISION IS REQUIRED ON A NOVEL BEFORE IT GOES TO PRESS?
I am so glad you asked, bold reddish letters! It just so happens that if you click here you'll see a detailed joint post written by both my editor and myself about the process we went through to get TRICKED ready for the shelves.
HAVE A NICE IRISH EPIC, WHY DON'T YOU
And here, from HUNTED, is the long version of Atticus retelling The Wooing of Étaín. This was the original version I wrote and you have the heavily edited and much shorter version in the book itself.
Atticus Retells The Wooing of Étaín
FREE IRON DRUID TATTOO DESIGNS FOR COSPLAY!
You can print these bad boys out on temporary tattoo paper and have a spiffy time at your favorite con or maybe during Samhain (Halloween)!
Atticus's tattoos and schematic
Granuaile's shapeshifting tattoos
INCREDIBLY SPIFFY POLISH PASSAGES
There are some foreign language passages in my books that I never bothered to put in the respective pronunciation guides; I thought it would be fun to have them recorded instead so that you can hear how they're supposed to sound if you're so inclined. Below are some Polish passages from both Hounded and Hexed. Many thanks to my friend, Kasia Rosinski, for providing the Polish for me.
In Hounded, we're introduced to the Polish coven and some of them have great names. Click below to hear Kasia read them all.
Malina, Emilia, Radomilia, Jadwiga, Ludmila, Miroslawa, Zdzislawa, Bogumila, Berta, Kazimiera, Klaudia, Roksana, Waclawa.
The town from which Malina and Emily hail is called Krzepice. You say it kind of like "Shreh-pizza." Click to hear Kasia pronounce it.
Hexed brings us a few Polish passages. This first one is spoken by Malina Sokolowski as she attempts to elude the power of Fragarach.
"Zorya Vechernyaya, zamknij mi usta!"
This next one is spoken by Klaudia in the final battle:
"Zorya Vechernyaya, chron mnie od zla."
And lastly, here is Malina's spell:
Jej miłość mnie ochrania,
Jej odwaga czyni mnie nieustraszoną,
Jej potęga dodaje mi sił,
Dzięki jej miłosierdziu żyję.
REMARKABLY NEATO GERMAN PASSAGES
The German passages in Hexed were recorded for me by Alex Hirschfeldt. Click on the links below to hear them spoken.
Die Töchter des dritten Hauses
die Töchter des dritten Hauses
Gewebetod
"Sie sind hier drinnen!"
"Vielleicht sollten wir ihn später erledigen."
vielleicht sollten wir ihn später erledigen
"Nein! Er ist allein und unbewaffnet. Wir machen es jetzt."
Nein! Er is allein und unbewaffnet. Wir machen es jetzt.
"Er ist ein Wolf! Das ändert die Sache."
Er is ein Wolf! Das ändert die Sache
"Gab es nicht sechs von ihnen? Ich zähle nur fünf Körper."
Gab es nicht sechs von ihnen? Ich zähle nur fünf Korper
die Einberufung der verzehrenden Flammen
die Einberufung der verzehrenden Flammen