Writer's Grove
Boora Bog and cake
December 9, 2016

It's my birthday! I'll probably have cake later! SO YAY!
Broadly speaking, I think many of us would agree it was a miserable trip around the sun, but for me, anyway, there was this bright spot: I got to write something with a bit of novelty to it. After first asking my editor, Tricia, if she'd be cool doing this old-school, I wrote one of the short stories to be published in BESIEGED entirely on a 1956 Olympia SM3 typewriter, and she agreed to edit it by hand too. We were going to do just this one story up to the "Acceptance" stage as if computers didn't exist. Once I got her notes back—a handwritten editorial letter, plus stuff she wrote in the margins of the manuscript—I retyped the whole thing. First draft was seventeen pages; second draft was twenty-one. She accepted the second draft, but it came back with an editorial letter too and some marks for the next stage—copy editing. And now you (yes, you!) can snag this one-of-a-kind fantasy artifact in an auction on eBay, to benefit Worldbuilders (which benefits Heifer International). You'll get my marked-up first and second drafts, plus Tricia's editorial letters and the letter I wrote to her after the first draft, explaining how I'd addressed her comments and asking a couple of questions. This is a rare look at the writing process, much of which is so often deleted by our word processing software these days. (You may find my process marvelous or more likely may find it kinda funny, but regardless, you will probably agree I'm not an A+ typist.) And should you wind up winning this, every penny you spend helps hungry people eat through sustainable agriculture. The kind of thing a Druid would appreciate, in fact. So, if that sounds like your cup o' tea, and you have the means: Please consider it? This is a link to the auction.
Backstory: I hauled my typewriter out to the kitchen and began writing "The Bogeyman of Boora Bog" on the afternoon of Saturday, July 30, and celebrated the occasion with a finger of fine Irish whiskey: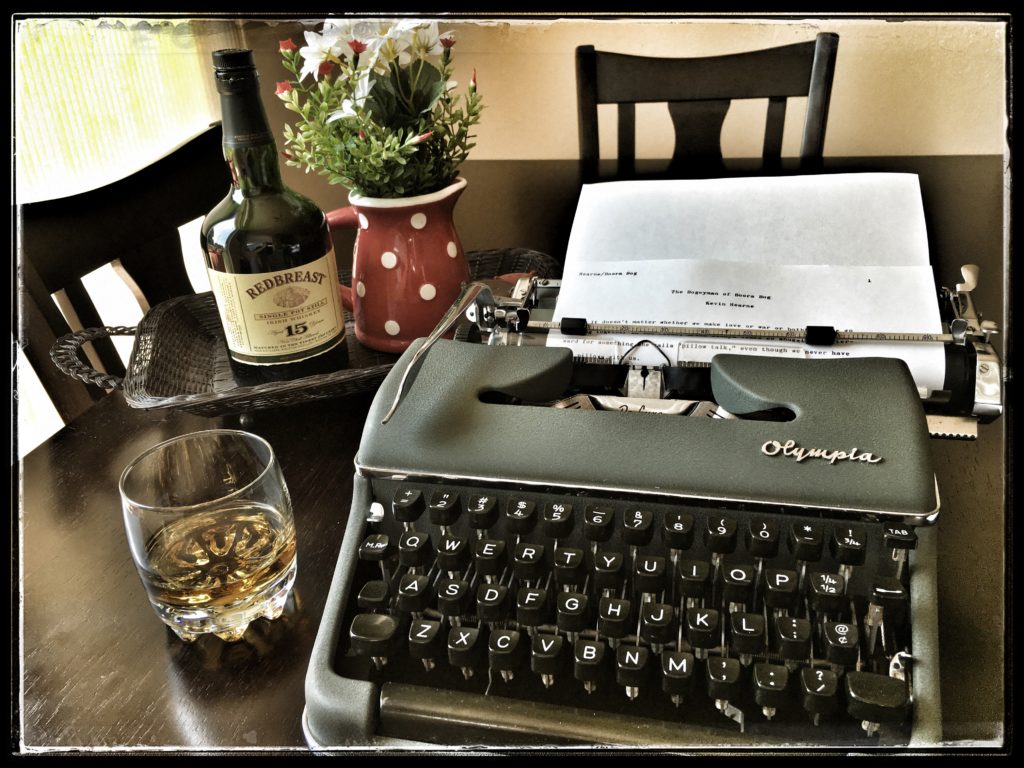 Because writer brains are weird, I got inspired by another story idea in the first week of August and worked on it until the muse let me rest; then I finished "Boora Bog" after DragonCon and sent it off to Tricia in New York. To the poor FedEx employee who had to deal with me giving it to her care, oh my gods, I'm so sorry: "THIS IS VERY IMPORTANT," I said in all caps. "YOU CANNOT LOSE THIS OR I WILL DIE." Because I didn't make a copy. I not only wanted to do this as if computers didn't exist, I wanted to do it as if copiers didn't exist. It's one-of-a-kind, as I said. And I was feeling so smug about living dangerously right until the point I had to hand it over. "We'll be very careful," the nice FedEx lady assured me, and pried the envelope from my clutching, white-knuckled fingers. I did not actually poop myself at that point, but it was a close thing.
This story is narrated from the point of view of Archdruid Owen Kennedy, who taught Atticus everything he knew. It tells the story of how Owen came to meet Atticus for the first time and take him on as an apprentice, so we're talking sixty or seventy years before Jesus got squeezed out into a manger. But the story doesn't just describe the meeting: It reveals why Owen chose to train Atticus the way he did, and how that ultimately allowed his apprentice to make the kinds of choices that would one day turn him into the Iron Druid.
An important story, in other words.
When Tricia's letter came back with the manuscript in October, I cannot even tell you how happy I was. First, the manuscript wasn't lost! But also, Tricia's really good at her job. I got excited about the story all over again after reading her letter and notes, because I knew what I had to do to make the story better.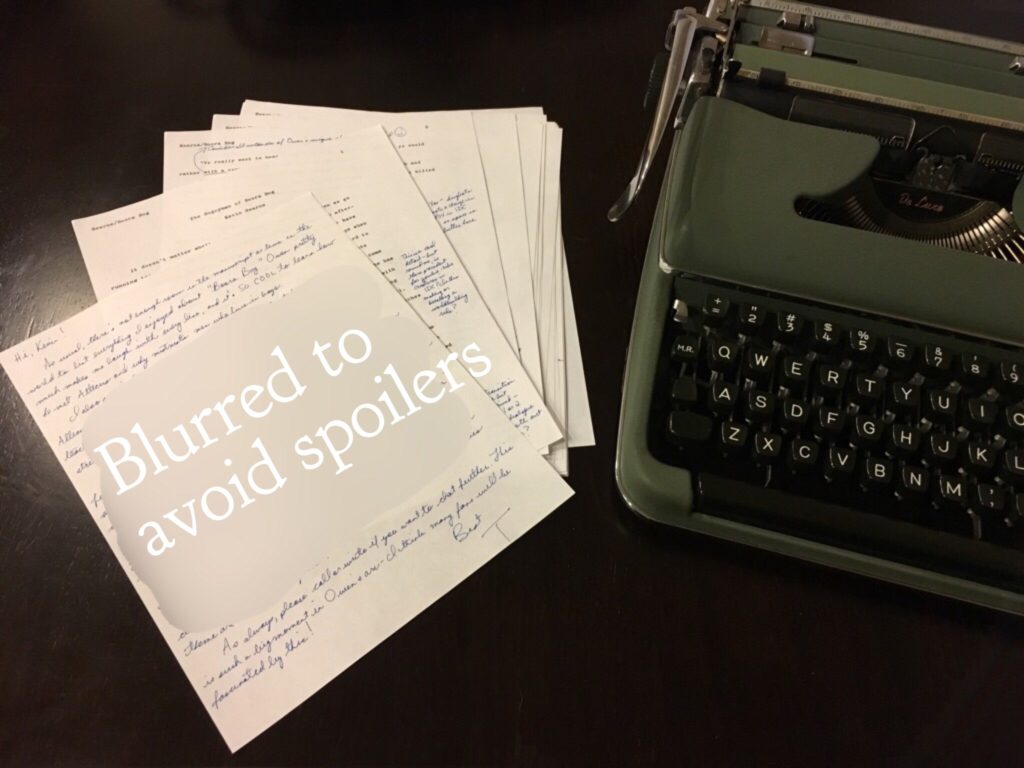 I think it took me five days to revise. Working on an old-school typewriter really is much slower than working on the computer. But I sent it back, worked on finishing the rest of the stories in BESIEGED, and waited to hear back. And just yesterday, I heard.
Tricia accepted Version Deux! But I have learned after working with her for six years that she never says that she "accepts" things. Nope. That's the language of agents and contracts. When Tricia is satisfied with a story, she tells you to have a drink. Do a shot, make a cocktail with an umbrella in it, get yourself a really fancy bottled water, whatever works for you. Just celebrate, because the Metal Editor is pleased! Behold, I have proof: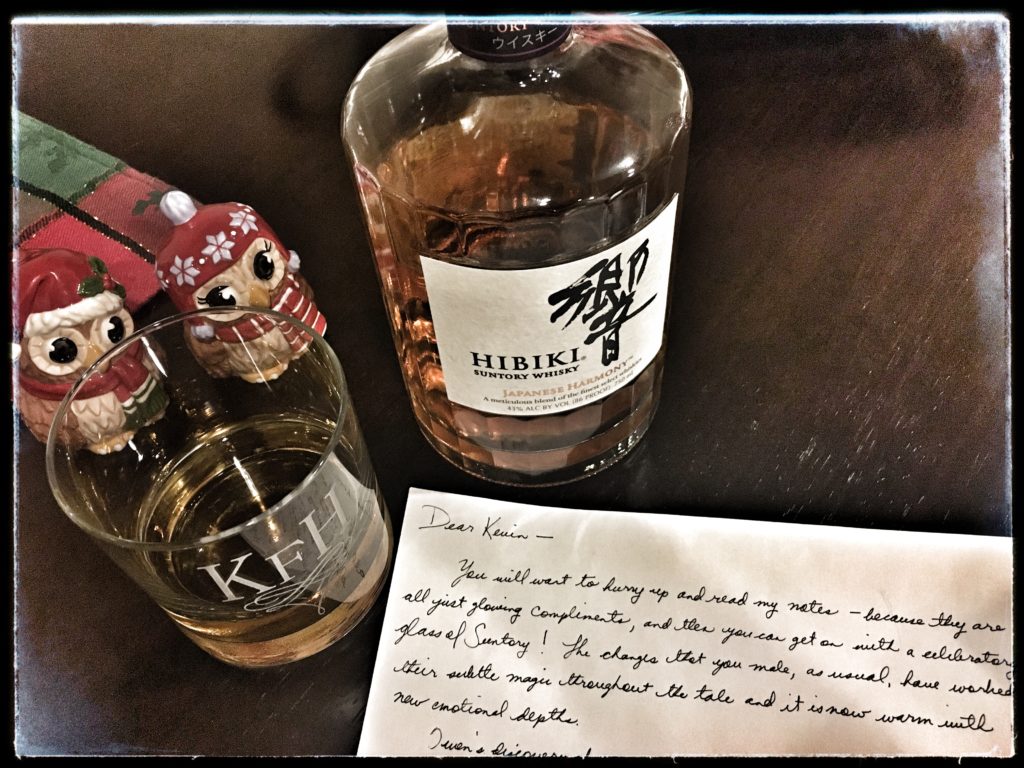 So yeah: This is one of my happy things in an otherwise heinous 2016. I got to have a bit of a time-machine experience, composing and editing in a way very few writers do anymore. I loved it. But, I admit, I wouldn't want to do a whole novel that way. A single story was perfect. And should you wind up owning this manuscript, I hope you'll enjoy reading it months ahead of everyone else: BESIEGED doesn't come out until July 11.
Anyway: Thanks for reading this & for reading my stories. If I could give y'all cake I totally would. I hope you do get to have some cake today. Just because you're spiffy.
Peace and gravy and no Nazis,
Kevin