Writer's Grove
Gnomes and halflings
April 15, 2019
It's out now! No Country for Old Gnomes is the second book in the Tales of Pell but you don't have to read the first one to enjoy it. Folks, this tale has some goodies I think you'll enjoy:
A goth gnome with purple bats on his cardigan
Halflings involved in organized crime—the seedy truth no one would tell you before!
A gryphon obsessed with omelets and umlauts
Dryads and drynads (you've always wondered what male dryads were called, and now you know)
An ovitaur (half human, half sheep) with a touch of kleptomania and also a really clunky automaton
A dwarf who seeks inner peace but runs into a cabbage cult and that really ruins his day
Trouble at the Toot Towers
Hotly contested muesli
Boning tea
A kobold bard
A troll gets it
So many puns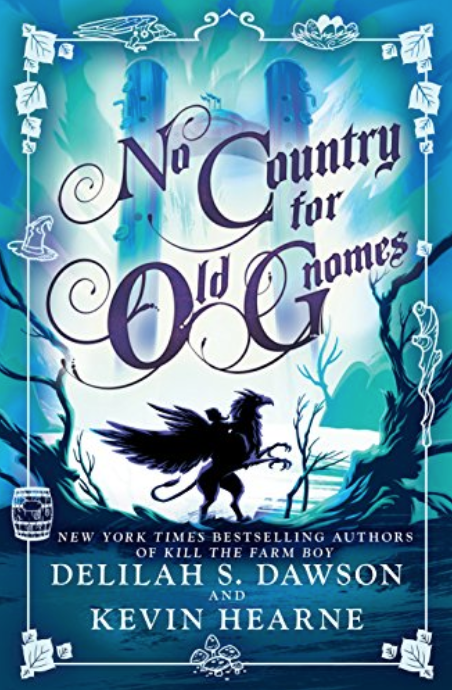 So give it a read, why dontcha? Guaranteed to be more fun than watching the news! Booklist said, "Fans and new readers will giggle and guffaw and be pleased to discover a third book is forthcoming for this thoroughly entertaining series."
That's true—The Princess Beard will be out in October! So if we don't visit a place near you for this tour, hopefully we'll see you then. But below is a list of where Delilah and I will be this week. If you can make it we would love to see you, and of course we will also sign anything else we've written in the past—Iron Druid stuff, A Plague of Giants, whatever!
April 15, 7 pm: Anderson's Bookshop in Naperville, IL, with special guest Luke Daniels!
April 16, 7 pm: Barnes & Noble at HarMar Mall, Roseville, MN
April 17, 7 pm: Powell's Books in Beaverton, OR
April 18, 7:30 pm: Mysterious Galaxy in San Diego, CA, with special guest Stephen Blackmoore!
April 19, 7 pm: The Poisoned Pen in Scottsdale, AZ
April 20, 6:30 pm: Murder by the Book in Houston, TX, with special guest Rachel Caine!
Any of the above stores will ship or hold a signed copy for you, by the way, if you can't make it to a signing. Just give them a call! And also you can get signed copies through Worldbuilders, all proceeds to charity. (Worldbuilders actually has all my stuff if you're looking for signed copies and other goodies.)
Hope you enjoy, my gnomies!