Writer's Grove
Gnomes Giveaway
March 6, 2019
To be clear before you get too excited: We are not giving away actual gnomes. But if you preorder No Country for Old Gnomes in print, ebook, or audio from any retailer in the US before April 16, Delilah and I will send you a signed poster (below) by way of thanks. The poster is illustrated by Kiji Art and features three of the many new characters you're going to meet in the book: Offi, Kirsi, and Gerd the gryphon. To get the poster, preorder No Country for Old Gnomes wherever you wish, then submit a picture of your receipt or a screencap of your confirmation on the page at this link, and it will be sent to you after April 16. It's that easy! Here's what the (unsigned) poster looks like: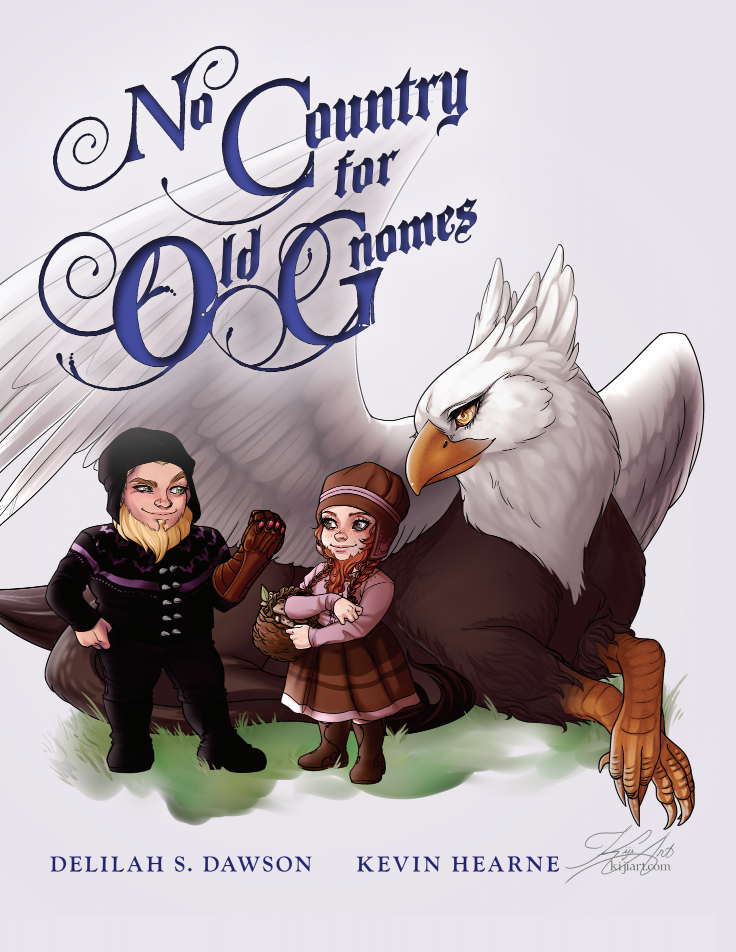 We will also be signing and giving away this poster on our tour, so if you attend any of these events and buy a copy of No Country for Old Gnomes, you'll score one:
April 15: Naperville, IL. Anderson's Bookshop, 7 pm. With special guest: audiobook narrator Luke Daniels!
April 16: Roseville, MN. Barnes & Noble, 7 pm.
April 17: Beaverton, OR. Powell's Books, 7 pm.
April 18: San Diego, CA. Mysterious Galaxy, 7:30 pm. With special guest: author Stephen Blackmoore!
April 19: Scottsdale, AZ. The Poisoned Pen, 7 pm.
April 20: Houston, TX. Murder By The Book, 6:30 pm. With special guest: author Rachel Caine!
Delilah and I will of course sign any of our other books too, so please come see us!
Want to learn more about No Country for Old Gnomes? OK, I gotcha. Here's a summary:
Go big or go gnome. War is coming, and it's gonna be Pell.
On one side stand the gnomes: smol, cheerful, possessing tidy cardigans and no taste for cruelty.


On the other side sit the halflings, proudly astride their war alpacas, carrying bags of grenades and hungry for a fight. And pretty much anything else.


It only takes one halfling bomb, and Offi Numminen's world is turned upside down—or downside up, really, since he lives in a hole in the ground. His goth cardigans and aggressive melancholy set him apart from the other gnomes, as does his decision to fight back against their halfling oppressors. Suddenly Offi is the leader of a band of lovable misfits and outcasts—from a gryphon who would literally kill for omelettes to a young dwarf herbalist who is better with bees than his cudgel to an assertive and cheerful teen witch with a beard as long as her book of curses—all on a journey to the Toot Towers to confront the dastardly villain intent on tearing Pell asunder.

These adventurers never fit in anywhere else, but as they become friends, fight mermaids, and get really angry at this one raccoon, they learn that there's nothing more heroic than being yourself.
Besides Offi and Kirsi and Gerd, you'll get to meet Båggi Biins, the dwarvelish herbalist and friend to bees; Faucon Pooternoob, the halfling hunter and occasional attorney; Agape Fallopia the ovitaur*, and more!
Please feel free to tell all your friends and relatives and alien overlords about this. Delilah and I would love to sign posters until we get carpal tunnel.** The thing is, this isn't a contest—it's a thank-you gift. If you're in the US, you preorder by April 15 and you fill out the form, then you will get a signed poster, by dinkum!***
Thank you in advance. We are so excited for you to read and we hope to see you on our tour! Right now we are finishing up edits on book 3, The Princess Beard, which will be out later this year, so if we don't see you in April, maybe we'll be near you in October! And hey, wanna see some more Pellish art? We have more right here and would love to see yours too if you're feeling inspired —send it our way! Happy reading!
*Ovitaurs are half human, half sheep
**Maybe we would not enjoy actual carpal tunnel but a delightful soreness after working hard would be pleasant, methinks
***This is a thing that gnomes tend to say, having never heard of golly