Writer's Grove
More Oberon and Starbuck
February 28, 2019
A new Oberon's Meaty Mystery is available today—a novella told entirely from Oberon's point of view—featuring Oberon, Starbuck, and Atticus in Tasmania a few months after the events of Scourged. (Events from that book are discussed and might be spoilers if you haven't read it yet.) It's in Death & Honey, available in ebook and audio now with a skull and bees on the cover that looks like this: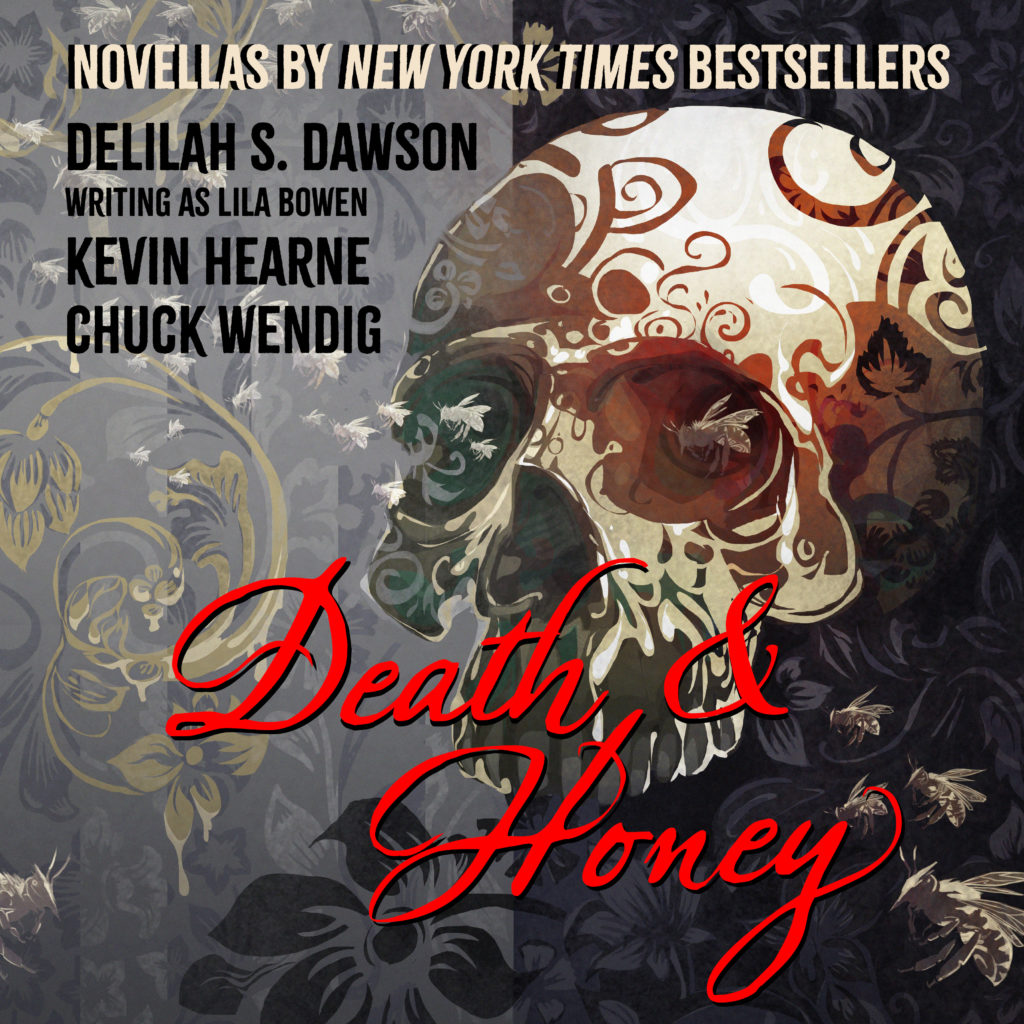 If you want the super sweet limited print edition which is signed by all three of us and has exclusive cover art plus more color illustrations inside by Galen Dara, you can order from Subterranean Press and it looks like this: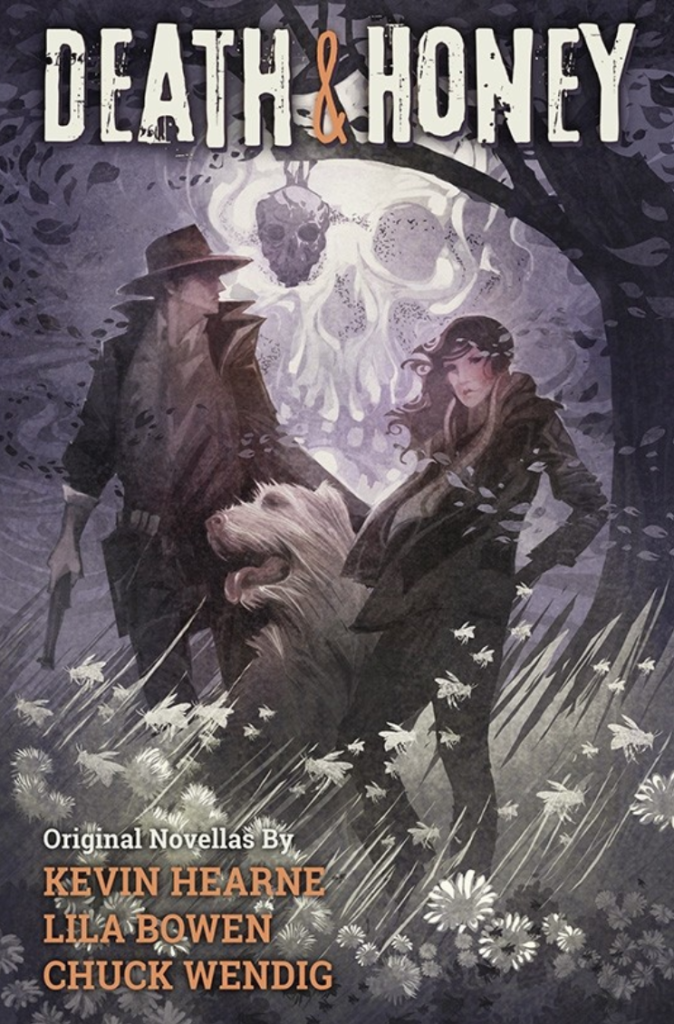 All three of us? Heck yeah. As you've no doubt noticed, Death & Honey also contains novellas from NYT bestsellers Chuck Wendig and Delilah S. Dawson writing as Lila Bowen. They each wrote a novella connected to their larger series, as I did. If you're already familiar with them, then woohoo! If not, this is a great introduction to their work. Chuck wrote a story featuring Wren from his Miriam Black series, and Delilah wrote a Rhett Walker story from her Shadow series. You know what? Here's a peek:
In The Buzz Kill by Kevin Hearne, Oberon the Irish wolfhound and Starbuck the Boston Terrier sink their teeth into a new Meaty Mystery when they discover a body underneath a beehive in Tasmania. It's been badly stung, but the bees aren't at fault: This is homicide. The hounds recruit the help of their Druid, Atticus O'Sullivan, and the Tasmanian police to track down the killer in the interest of a reward—but this time, they want more than food and justice. 

Grist of Bees, by Delilah S. Dawson writing as Lila Bowen, follows Rhett Walker, who has given up his destiny as the monster-hunting Shadow to settle down with his beloved Sam. But when the call to action grows too strong, Rhett saddles up to follow a peculiar bee into the unforgiving desert. The bee leads him to a weeping mother in a strangely prosperous valley, and Rhett has no choice but to hunt the creature that's stolen her child—even if it destroys a land of milk and honey.

Interlude: Tanager by Chuck Wendig returns us to the world of Miriam Black. Lauren "Wren" Martin is a young psychic woman who can see the stained souls of killers; it is her gift, or as she sees it, her curse. And up until now, it has been her mission to kill those killers, to remove them from the pattern so that they may not murder again. But now, after a death that may not have been deserved, she's left rudderless, without plan or purpose, until a woman with a strange power of her own takes her in and gives her a new mission—and a new target.
We wrote this collection around bees and dead bodies because we did a collection a few years back called Three Slices that centered around cheese wizards. One just naturally had to follow the other, right? It's only logical.
Super excited about the audio team on this: Luke Daniels narrates my story, Robin Miles narrates Delilah's, and Xe Sands narrates Chuck's. It's available through Audible and iTunes.
If you'd like to pick up the ebook, it's available via Kindle, Nook, or iBooks.
And again, to get that super fine limited edition print copy, order from Subterranean Press while you can; once they're gone, they're gone. Limited editions are definitely limited, as in there won't be any reprints.
in other news, whoa dang:
I'll be on tour in April with Delilah S. Dawson for No Country for Old Gnomes! We'll be joined in places by Luke Daniels, Stephen Blackmoore, and Rachel Caine! Dates, times, and details on my Appearances page.
Kill the Farm Boy is now out in paperback if you haven't visited the world of Pell yet!
A Blight of Blackwings, the second book in the Seven Kennings trilogy, is in edits and should be out next year—I'll have a publication date for you in a few months.
The Princess Beard will be out in October! (That sleeping princess at the beginning of Kill the Farm Boy is going to wake up, y'all.)
I'm working on Ink & Sigil, a new series set in the Iron Druid universe that will be primarily set in Glasgow but will also visit Philadelphia and Chattanooga and other places! It's so much fun. I just got back from a location scout in Glasgow and loved it there; what a great city and country!
Aaaaaaand, as if that were not enough: I have a special treat for y'all this summer. I've written an Owen and Slomo story—a novelette, really, at 15K words—called "First Dangle" that will be out in a collection of other Iron Druid shorts that have never been recorded before in audio. It will contain: "The Chapel Perilous," "First Dangle," "The Naughtiest Cherub," "The Waters," and a flash fiction sci-fi short I wrote called "Friendly Emily." That's to be narrated by Luke Daniels and I'll also be recording some author notes—liner notes?—to go with them because I have a microphone and I wanna use it. I'll give you a heads-up when I have a pub date.
That's all! Hope you enjoy Death & Honey and the other goodies coming up. I've been working lots! Peace & tacos unto thee. Thanks so much for reading.