Writer's Grove
Scourged tour and IDC fan kit
February 9, 2018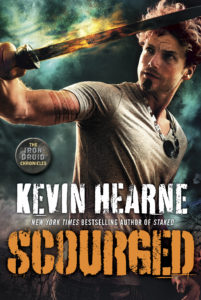 Soon! So sooooon—yea, April 3!— thou canst enjoy the final volume of the Iron Druid Chronicles! (Yes, indeed, it's the last book of the series.) Lots of loose ends wrapped up, obviously, and lots of causes from previous books have their effects here. What I'm very happy about is how the novellas and short stories tie in—not only the stories in Besieged, but Grimoire of the Lamb and "The Chapel Perilous" and so on. If you'd like a series chronology for a re-read, I have that on my Goodies page, and I am pumped for you to enjoy Scourged!
Because you've been so amazing in supporting this series, Del Rey is doing a spiffy giveaway for readers who preorder Scourged in hardcover, ebook, or audio! (It's US only though, because this is my US publisher doing this for the US market.) Until release day, April 3, preorder wherever you like—an indie store, online, wherever!—and upload a screenshot of your receipt on this page right here and fill out the form, and we'll send you and Iron Druid Fan Kit!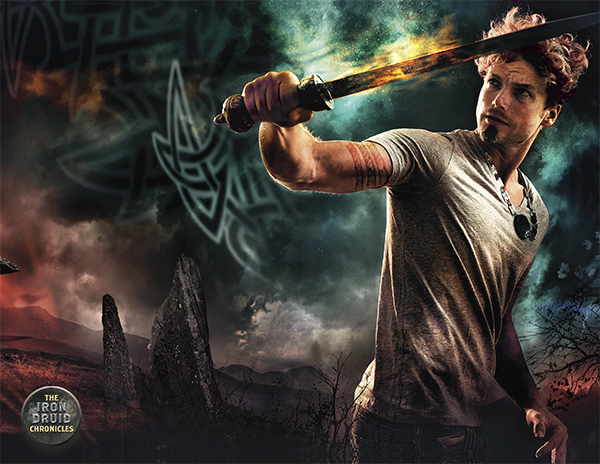 That may sound like we are sending you a kit to assemble an Iron Druid Fan with some model airplane glue, but I assure you it's not. Here's what you get:
1) A paperback copy of Hounded that you can give to a friend to get them hooked on the series (which will be complete at that point and bingeworthy) or keep for yourself
2) A spiffy Scourged bookmark
3) A super turbo spiffy exclusive print of the full cover art, pictured above, signed by me and perfect for reminding you, should you put it on your refrigerator, that you need more sausage. Or whiskey. Or both!
I'm so grateful to y'all for reading the series and spreading the word. I know my tour only visits a few places and you might not be able to make it, but if you're able to catch me somewhere I'd love to see you. And if you'd like a signed copy, well dang, The Poisoned Pen and The Tinker's Packs will ship anywhere in the world using copies I'm going to sign on release day. (Your preorder from them will get you the Iron Druid Fan Kit too if you upload your receipt.) Here's where I'll be if you can get there:
April 3: The Poisoned Pen, Scottsdale, AZ, 7 pm.
April 4: Barnes & Noble, Boulder, CO, 7 pm.
April 5: Murder By The Book, Houston, TX, 6:30 pm.
April 6: Barnes & Noble, Huntsville, AL, Bridge St Town Centre, 7 pm.
April 7: Doylestown Bookshop, Doylestown, PA, 4 pm, signing with awesome authors Chuck Wendig and Fran Wilde!
I try to visit new places every tour and Huntsville and Doylestown are new! Hoping that folks in the surrounding region can make it to those; I know Doylestown in particular is reachable from quite a few places, and it's on a Saturday AND Chuck and Fran are amazing, so that's worth a road trip!
Also: No formal signing, but I will swing through Toronto and sign stock at Bakka Phoenix Books the week of April 9 (preorder a signed copy from them if you like and they'll call you when it's ready), and I'll be at Creative Ink Festival in Burnaby, BC from May 18-20, so YAY CANADA!
Right now I'm working on A Blight of Blackwings, the sequel to A Plague of Giants. Thanks again for reading, & I hope to see you!
Peace & tacos—
Kevin