Writer's Grove
the preorder deal
September 11, 2017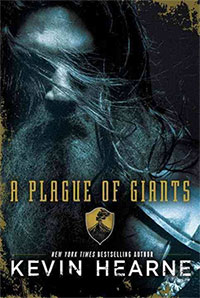 Had someone ask on the ol' social media why preorders are a big deal and it reminded me that it's not really common knowledge outside the sphere of the publishing biz. I do know other writers have explained it and I probably have before, too, years ago, but it won't hurt to share the info again. So here goes:
Preorders are super turbo mega helpful to authors. That doesn't mean you have to do it, or if you don't do it you're doing it wrong. Y'all should read and shop however, whenever, and wherever you like. I'm just explaining why it's helpful. Here goes…
About a month from release (which is where I'm at right now, a month until A PLAGUE OF GIANTS is out), bookstores start putting in their orders for new books. They have limited shelf space and on any given week they have hundreds of titles available. They can't order them all. They order a mere fraction of what's available, and they have to pick based on what they think will sell. And one of the best predictors of what will sell is what has already sold. Preorders! If people are enthusiastic enough about an upcoming release to preorder it, that tells bookstores that title has some buzz. Some juice. Some moxie. Bookstores are more likely to order a few copies of such titles for their shelves. And that is really the ball game, isn't it? People who don't see my book on the shelf can't pick it up, can't even become aware of its existence unless they're already following me. All that work the publisher did on the cover won't have a chance to work its magic if I'm not in the stores to begin with. Preorders are HUUUGE for that reason; it helps us reach folks who don't already know about us.
Because yeah, the publisher has sales teams pushing their books to bookstores, you bet. But Johnny Salesman covering Territory X has a huge catalog of titles to push and he probably hasn't read my fantasy novel. He's got a paragraph about it, a little blurb, and that's probably about it. He's also selling the next big cookbook and the next big thriller and so on and those are probably what he's going to mention in his sales call. Johnny's not going to do a deep dive into his catalog and magically strike up a conversation about my new release. Unless, of course, he hears from my editor that preorders on my book are really strong. He then gets to tell bookstores that hey, look at this fantasy novel, this thing has legs already. It's running fast and it's ready to leap off your shelves! You just gotta stock them!
And it works the other way as well: Say five people preorder a book at an indie store before Johnny Salesman arrives, months out. The buyer for that particular indie is going to look at that and say dang, my community is kind of excited for this already. I should probably order a few copies for the store. They might do it based on that alone, or they might ask the publisher's salesperson for more info about that title. And then the salesperson might go back to the publisher and say, hey, maybe we should throw some marketing muscle behind this title, folks seem to be excited about it. Either way, those preorders helped that author.
Ebook and audio preorders help with this too—those count as books!—and of course help sell more in their own formats. That's algorithmic stuff; sell a certain number of preorders on a site and that triggers a price drop, generating more interest and sales, and perhaps it'll pop up more often in the "customers also bought" section. Or it might even get bumped to the front page! Ever go to the front page of an online bookseller and wonder how those 20 books or so got front page promo out of MILLIONS available? Well, part of that's payola from publishers, probably. But the Hot New Releases section or Bestsellers section in each genre is based on what that retailer is already selling. Preorders, in both ebook and print, get titles some extra visibility. Retailers want to sell more of what's hot and so they put that cover in front of more eyeballs.
From a "Yay, career!" standpoint, preorders help an author's chances of hitting the NYT or USA Today lists, because regardless of whether you preordered six months or two days in advance of publication, those all count toward the first week of sales, and that first week is typically what gets looked at when determining whether to let that author write some more books down the road. Hitting a list is good.
From an "O, thank the gods!" standpoint, seeing some preorders means to authors that we can safely buy a taco for dinner. And maybe for breakfast too, because mmm breakfast tacos.
There are some upsides to preordering for readers, too.
1. If you preorder from an indie store, lots of times—like, almost all the time!—they'll call you when it's in store and ready to pick up. Which is often a few days before the release. This is the Secret No One Wants You to Know, except for me. For everyone who says they can't wait, well, you almost always wait less when you preorder from an indie store. The downside, if it is one, is that you pay up front when you place the preorder.
2. If you preorder from an online retailer, they won't charge you until the book comes out and you can cancel anytime.  And sometimes they ship early too. And if you preordered ebook or audio, it downloads in the night and you get to wake up to that spiffy story you wanted on release day.
3. If you like signed copies but the author isn't  touring near you, you can often get them anyway…by preordering! Call (or visit online) any of the bookstores on  the author's posted tour schedule and preorder a signed copy. Once the author swings through there, the bookstore has him/her sign it for ya and they ship it out.
So there you have it. That's why preordering is spiffy. You don't gotta do it. I'm grateful whenever you buy a book, wherever you buy it, and in whatever format. It's all good, thank you always!  Just…bonus thanks for preordering, I guess, because it's super nice and super helpful.
I'd be remiss if I didn't provide some preorder links for A PLAGUE OF GIANTS (Shelf Awareness gave it a kind review and a non-spoilery summary):
Amazon, B&N, iTunes, Kobo, Books-a-Million, Google Play, Hudson
If you want signed copies, you can get them from B&N or Books-a-Million, or any of the indies on my tour (below).
Oct 15 with Mysterious Galaxy at special ticketed event; or you can preorder signed copies from them to be shipped
Oct. 17 in San Francisco at Borderlands, 7 pm*
Oct. 18 in Portland/Beaverton at Powell's Books, 7 pm*
Oct. 19 in Seattle at University Temple UMC, books on-site from University Bookstore, 7 pm*
Oct. 20 in Phoenix/Scottsdale at The Poisoned Pen, 7 pm
Oct. 21 in Houston at Murder By The Book, 4:30 pm
Oct. 22 in Tampa at Inkwood Books, 4 pm**
Oct. 23 in Minneapolis at the HarMar Mall B&N, 7 pm
*with Chuck Wendig and Fran Wilde
**with Delilah S. Dawson